15 Free Office Softwares
November 18, 2022 |
 Downloads
( 46 )views
In this article, you will learn:
1. Microsoft Office

2. WPS

3. Adobe Acrobats

4. iLovepdf

5. Xodo

6. Pdf24

7. PDFopen

8. Soda

9. Foxit

10. Nitro

11. Smallpdf

12. Freepdfconvert

13. Sejda

14. Pdfcandy

15.Google
There are a lot of free office suites available for users on different devices to download. According to the feedback collected from different users including the reviews, comments, and ratings, the group of users and the specific features of products, our editors have picked 15 best free office suites they recommend to download in 2022 and will share the features, premium, pricing, free trial, devices, download, reviews, updates and other useful information about the office suites to help you learn more about it.

1. Microsoft Office
①  A Brief Introduction of Microsoft Office and Its Features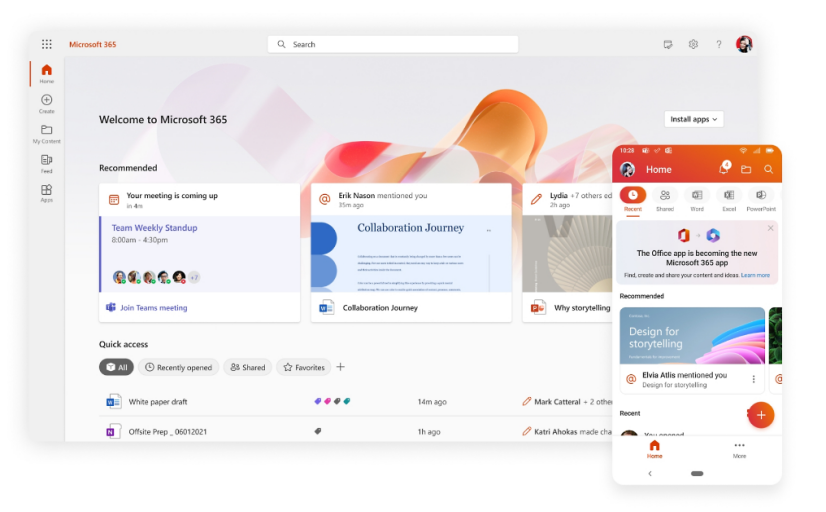 About Microsoft Office: It is the earliest office system of interrelated desktop applications, servers and services launched by Microsoft, of which the first version of Office included Word, Excel and PowerPoint. In 2020, Microsoft renamed its product Office 365 into Microsoft 365, which contains the above three apps, OutLook, OneDrive, OneNote and MS Teams, etc. Here are more details of Microsoft Office 2021.
Main Features: The three Microsoft Office applications (Word, Excel, PPT) have been widely and commonly used across the world to create documents, organize data and turn ideas into compelling presentations.
②  Free and Premium Features & Prices
Free Version: If you have an active school email address as a student, teacher, or faculty member, you are potentially eligible to get access to Microsoft 365 for free, including Word, Excel, PowerPoint , OneDrive, Outlook, Calendar and Skype. If you are someone else, there is a 1-month free trial of Microsoft 365, but a credit card number is required for automatic annual subscription of Microsoft Office after the time is up. Click the clink to get more information about Microsoft Office free trial.
Premium Version: The 1-month free trial of Microsoft Office enables you to edit your documents on up to five devices at the same time, including your mobile and PC. But only subscribed users will get Word, Excel, and PowerPoint with premium features and 1TB of cloud storage. Here are different pricing plans for different groups of people.
l Microsoft 365 Family: $99.99/year (up to six people in collaboration)
l Microsoft 365 Personal: $69.99/year
If you want to try Microsoft Office Premium, just click the link: Microsoft Office Premium for Free.
③  Available Devices and Download
Available Devices: Microsoft Office can be used on Android, iPad, iPhone, and Windows mobile devices. If you subscribe Microsoft 365 premium, you can use it on five different devices.
Where You Can Download Microsoft Office?
l Microsoft Official Website
l App Store
l Google Play
l Others ( Office Suites Download Links will give you an all-round overview)
④  Microsoft Office Updates
Microsoft Office 2022 is the latest version. You'll find the following features in it:
l New Co-authoring Features
l Inking Tools
l Data Types
l Translation
l Editing Tools
l Motion Graphics
All these features are available on iOS, Android, Windows 7, Windows 8, Windows 10 and PC. You can go to the official website to download it and check out their latest updates. If you want to download Microsoft Office for free on Windows, click the link: Free Download Microsoft Office for Windows
⑤  Reviews
Here are the rating scores of Microsoft Office in 2021 from two famous research websites, with the 2022 rating to be released in 2023.
l On the Gartner Website, there were 2106 reviews, of which 51% gave Microsoft Office five stars and 43% gave 4 stars. Microsoft Office got a final 4.5 out of 5.
l On Software Advice Website, 8635 users gave 5 stars to this office suite out of 12,800 Reviews in 2021. The final score was 4.65 out of 5.
In all, it is an easy-to-use office software that has been widely recognized by users, with great customer support and functionality.
⑥  Grow Your Microsoft Office Skills
If you want to learn more skills, go to Office's Quick Start to search guides you need on Microsoft official websites. You can also get tutorials on WPS to acquire office skills, just click: How to Tutorials to learn everything you need.
2. WPS
① Brief Introduction and features
WPS Office is a free office suite developed by Chinese software developer Kingsoft in 1988. The lightweight office suite contains four primary components and programs, namely, WPS Writer, WPS Presentation, WPS Spreadsheet and WPS PDF. With high compatibility, it offers users free and quick access to handling files of different formats. People can create, edit and convert their documents on different devices at any time.
② Premium and Free Trial of WPS
In addition to free basic services, WPS Office also provides many advanced and value-added services for its premium users. Premium users can get full access to PDF editing, file conversion, ad-free, 20-GB cloud storage and cloud collaboration through subscription.
WPS Premium has a quite competitive and affordable price compared with similar products. It charges only $29.99 per user per year. More importantly, users are able to start a 7-day free trial to enjoy full premium features before they make the final decision on subscription.
③ Available Devices and Download
WPS Office is available on different platforms and devices including Windows, MacOS, Linux, iOS and Android. Users can visit the official website or the app store in their devices to download it for free.
④ WPS Updates for PC, Mac, iOS and Linux
With users as its top priority, WPS Office has been working on enhancing user experience by introducing new features and making improvements of the product. For example, the latest version of WPS Office 2022 has allowed users to print PDF in batch, rotate text in Spreadsheet and merge mails in Writer for free. Meanwhile, the updates also include some stability improvements and bug fixes.
⑤ Reviews
With a great number of users worldwide, WPS Office has received much acclaims among them in recent years. The lightweight office suite has stood out among similar products for its quick response, rich features, competitive prices, free templates and other advantages.
⑥ How to Tutorials
In order to help users fully take advantage of WPS Office to boost their efficiency, our editors have written a great amount of tutorial articles in detail on different topics such as how to convert your word, excel, ppt, photos into PDF document in WPS Office online or offline for free. These tutorials will help you get a good command of the productivity tool and fully dig out its value.
3. Adobe Acrobats
4. iLovepdf
5. Xodo
6. Pdf24
7. PDFopen
8. Soda
9. Foxit
10. Nitro
11. Smallpdf
12. Freepdfconvert
13. Sejda
14. Pdfcandy
15.Google