Adobe PDF Editor Free Download in 2022
Although many customers found Adobe pdf editor free download to be overpriced, the company has maintained its market dominance for the past two decades since it was the creator of the pdf format. However, Acrobat has recently switched to a cloud subscription model, making it more accessible to those without access to a corporate budget.
There are three parts to Acrobat Pro DC: Acrobat DC, which allows for a wide range of pdf editing on desktop and mobile devices; Adobe Document Cloud, which allows for the creation and export of pdf files, as well as the storage, transmission, and collection of electronic signatures; and Acrobat Reader DC, which allows for the reading, printing, and signing of pdfs.
Acrobat Pro DC Features
The Tools tab in Acrobat Pro DC compiles all of the program's features into a single window, labeled according to their intended use: "Create & Edit," "Share & Review," "Forms & Signatures," "Protect & Standardize," and "Customize." If you have a pdf document open and want quick access to any of the tools, you can add a shortcut to that tool's page to the right sidebar. By clicking on a tool, you can access its associated commands or its toolbar if you already have a document open.
With Document view, each pdf opens in a new tab. The document is divided into three sections: a main working area with a toolbar containing some fundamental editing tools, a navigation pane, and a task pane.
Adobe pdf editor free online download continued availability of the necessary tools for working with pdfs in a business setting is a major plus. Pdfs are versatile document formats that may be created from many different sources (including Microsoft Office files, pictures, HTML, and scanned documents), distributed for review and signature, and secured with encryption, password protection, and text redaction.
With a yearly subscription and free trial, you can get Adobe Acrobat Pro DC pdf editor free download for Windows and macOS for $15 a month, or $180 total. Adobe Standard DC, the stripped-down version, is only for Windows, costs $13 per month with a yearly subscription, and lacks several advanced editing features. Each offers a risk-free demo period of seven days.
A Comparison of Adobe Acrobat DC vs. WPS Office
Pdfs can be made, altered, and shared with the help of Adobe Acrobat DC pdf editor for free online download. Pdfs can be created from Microsoft Office files and vice versa. The free Acrobat Reader mobile app allows you to view, annotate, and sign pdfs.
WPS Office is a package of file-sharing and productivity tools that helps businesses of any size produce, edit, and share presentations, documents, and spreadsheets with clients or team members. With WPS Office, you can;
Change the wording or replace images on a pdf.
You can underline, cross out, and make notes on the paper.
You can edit the backdrop, put a watermark, and add links.
Change pdf into Word, Excel, PowerPoint, or Text
Combine and divide pdfs
Get started with a risk-free, 7-day free trial online—no payment info required.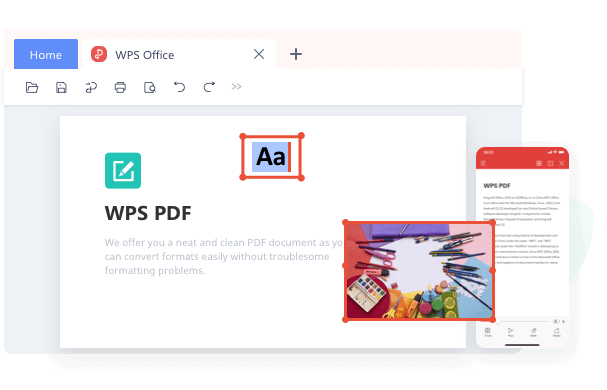 This pdf maker features a full word processor, so you can start with a blank page and easily turn it into a portable document format. Choose various fonts, typography, and layout options to format your document. It's possible to make any changes you like to the editor. Text boxes and images can be repositioned and resized by dragging the handles.
Written by:
Gayathri Rasangika
Gayathri has spent the last seven years as a freelance writer specializing in software. Please contact her for any information about impending app updates, software fixes, or anything else in this area. The Adobe pdf editor free download is discussed in this 2022 article.