Best 3 Software to Translate PDF Online (2023 Updated)
Translation is vital for better communication between different cultures. Moreover, it is necessary when you communicate internationally. A PDF translator translates your PDF document into a set location. Let's take an example here; you have a friend from France who sends you a PDF document written in French. You wouldn't be able to read it unless you have learned French, you are French, or you translate PDF online. There are numerous PDF translator software with great features, availability of tools online, and good customer reviews. One such software is the WPS Office PDF tool, which has the qualities mentioned above.
Why You Need a PDF Translator
Why is there a need for PDF translators? Why will you need to translate PDF online? A PDF translator helps you in many ways. Whether you are a student, teacher, or professional, you will need to translate PDF online. Below are a few reasons to download PDF translators:
1. Better Communication
A PDF translator will translate PDF online and make the document readable for you; this way, you can communicate much better. In short, a PDF translator ensures better communication between you and the sender.
2. Save Time and Money
You may receive a PDF document in a foreign language. What do you do next? Spend money hiring people to translate it? A free translate PDF online software ensures you don't waste your money and precious time translating documents.
Best Software to Translate PDF Online
We researched and found a variety of PDF translators; however, we filtered them and brought you the best ones. Below are the three best software to translate PDF online.
WPS Office is a free software allowing users to use the products for Word documents, Excel Spreadsheets, and PPT Presentations, with a membership bonus for new downloads and registrations. WPS Office has a free WPS PDF tool that allows its users to open, edit, translate, add signatures and notes, and do much more. WPS PDF is not only software but a dream come true for professionals, students, and teachers who receive PDFs in a foreign language. This software has three versions: standard, premium, and business. You can download the standard one for free and use it right away. Check the pricing here.
System Support
WPS PDF tool is free to download on Windows, MacOS, and Linux. Moreover, the software is also available on Android and IOS systems.
Features
WPS PDF tool allows you to translate PDF online, edit the texts and images, add signatures, fill, and add special notes to your PDF files. It's easy to use and has several more features to explore through the menu section.
Tips for Using
Download the WPS PDF tool here, and run it.

Open the software, and open a pdf file

Edit, translate, add a signature, and do whatever suits you on PDF.

Save the PDF file.
Reviews
An App Store review about the software states, "I have been using this wonderful app for quite some time, and the basic free version is sufficient for most of the jobs you need."
SwifDoo's free PDF software, with its instant translator named "Quick Translation", is a helpful feature for users receiving PDFs in a foreign language. If you struggle to read a foreign language PDF document, this software is here to help you. The tool has a free version that can be downloaded immediately and paid packages, which you can check on their website.
System Support
This software only supports Windows. It is compatible with Windows 7, 8, 10, and 11.
Features
SwifDoo translates PDFs online instantly. Usually, the software might ask you to upload the PDF file first; however, SwifDoo allows you to select any sentence or word and translate it instantly.
Tips for Using
Download the software from the official website

Run and install it.

Click the home bar and select quick translation

Tap on texts and select the target language.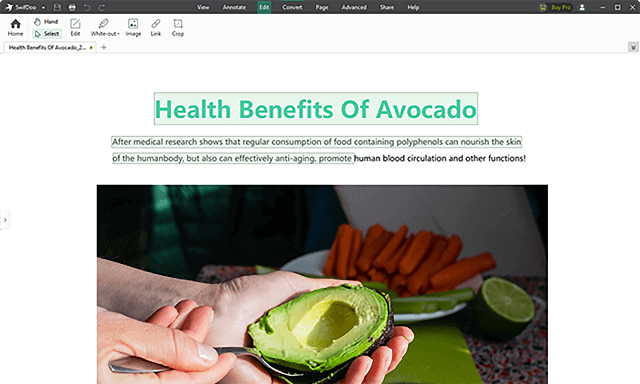 Google translate is one of the most popular PDF translation software. It was launched in 2006 and was developed for over a decade. It is an easy-to-use software, completely free, and has tools available online.
System Support
The software is available online and has an app on IOS and Android. The software supports Windows, MacOS, and Linus systems.
Features
The software is easy to use and download. Moreover, it supports image, document, and website text translation. Further, it supports 133 languages and is a neural machine translation.
Tips for Using
Download google translate on your device.

Upload the text, image, document, or open a website to translate

Choose the target language, and the software will translate it for you.
Reviews
An App Store user stats about Google Translate, "What an amazing application to translate any language from any other one. The results are also correct and helpful in their translation. I recommend this application because there is no better translation application than this. We can learn any language by using it in a very easiest way."
FAQs on Best Software to Translate PDF Online
What is the best software to translate PDF online?
WPS Office's PDF tool is the best software to translate PDF online for free because of its diverse features, availability, and system support.
Are PDF translation tools free?
Yes. WPS PDF Tool allows you to translate, view, edit, read, and collaborate online for free.; hence, it is the best software for your PDF files. Download yours here!
Learn More about the Software to Translate PDF Online
Everybody is eager to learn new languages, work for international clients, have foreign friends, or hire international employees. For that reason, you'll need software to translate PDF online. That's where the WPS PDF comes in.
WPS Office's PDF tool allows you to create, edit, translate, and do more with a single tap; this is all possible under one roof. WPS Office allows you to open PPTs, spreadsheets, word documents, and PDFs. You can open and edit them all in one application. Sounds magical, right? Don't wait; download yours here!