With the top PDF editors, you can accomplish even more with PDF files, but the critical question is which PDF editor is ideal for your requirements and business. Portable Document Format files can be modified using the same software as text documents, regardless of how they are presented. The leading PDF editors enable you to open nearly any PDF file to edit, modify, annotate, sign, or convert it to another popular file format, such as Microsoft Word.
Dr. John Warnock, a co-founder of Adobe, invented the PDF format in the early 1990s. He built it to accurately replicate the layouts and high-quality appearance of printouts in newspapers and magazines. The top PDF editors in the list make it even more straightforward for you if you frequently work with PDF files for work or leisure. These are the finest solutions for editing text, modifying graphics, and annotating PDF files from more than a dozen available in the market.
Best PDF Editors for Business
In 1993, Adobe Inc. developed Adobe Acrobat, a collection of application software to convert, edit and modify Portable Document Files(PDFs). Adobe Acrobat is a free cross-platform application available for download on Windows, macOS, and Linux. Premium versions of Acrobat Pro and Acrobat standard are available at $23.19 and $15.07, respectively.
Adobe Acrobat's primary functions are creating, reading, and manipulating PDF documents. Common picture and document formats can be imported and saved as PDFs. You can also import a webpage, the contents of the Windows clipboard, or the output from a scanner. However, once each PDF file is created, its inherent structure and flow can remain the same, given the nature of the format.
Furthermore, while Adobe Acrobat can change the contents of passages and visuals, it only repaginates part of the document to accommodate a larger or smaller document. Acrobat can crop PDF pages, rearrange them, deceive hyperlinks, verify a PDF file, add remarks, amend portions of the PDF file, and guarantee compliance with standards such as PDF/A.
Adobe and Microsoft's collaboration generates an elegant, safe, and connected hybrid workforce. Acrobat strategies are designed to work in parallel with your favorite Microsoft products. Free up time by designing, annotating, sharing, and signing documents directly from Microsoft 365, Teams, Outlook, and other applications.
Users can also connect intelligent seamless integration with Google, Box, and numerous other apps you use daily. For ultimate convenience, Acrobat includes file protection features that prevent your files from being copied, modified, or published. Adobe Acrobat assists organizations in meeting security and legal demands, including GLBA and FERPA.
Since 1989, the primary objective of the WPS Office has been to provide you with a one-stop working solution. A variety of office tools and a unique and interactive UI design ensure that you have the best office service possible. You can easily do all office PDF reading, editing, and manipulation on the go using your phone, iPad, or laptop. WPS Office enables you to design, view, edit, and share office PDF files and other file formats anywhere and whenever you want, whether you're out of the office, in class, traveling, before bedtime, or wherever you want.
The basic personal version is cost-free. For a monthly price of $3.99 or an annual subscription of $29.99, a professional-grade edition packed with all features is accessible. WPS Office 2016 was made available in 2016. As of 2019, a voluntary group, rather than Kingsoft, developed and supported the Linux version.
In China, the product has a lengthy development history under the names WPS and WPS Office.
For a while, Kingsoft marketed the office suite as KSOffice for the global market but changed it back to WPS Office. Since the introduction of WPS Office 2005, the user interface has resembled that of Microsoft 365, and in addition to supporting its files, it also supports Microsoft document files.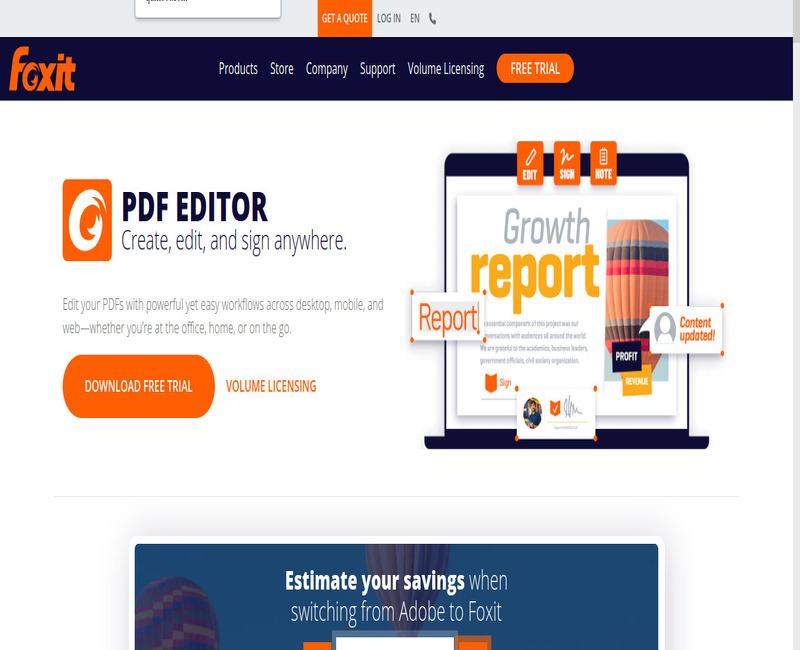 Foxit PDF Editor, once known as Foxit Reader, is a multilingual tool that allows you to create, view, modify, sign, and publish PDF files. Fuzhou, a Chinese software company, created Foxit Editor. Previous editions of Foxit Editors were remarkable for their fast startup times and binary executable sizes. Foxit v3.0 was discovered to be competitive with Adobe Acrobat. The Windows version supports annotating and saving incomplete PDF forms and PDF import/export, text conversion, highlighting, and drawing.
Foxit Editor had PDF creation features, including a Foxit PDF Printer for Windows, that allowed all programs to print output to PDF until version 9.7.2; they were removed from later versions in May 2020. Foxit PDF Editors also has an Enterprise version that demands a Foxit account to use. Foxit Software removes support for outdated systems and adds support for new ones. Although they were still supported, Windows 95, Mobile, RT, and Phone are no longer available. The Foxit website lists the currently supported systems, including earlier Linux versions, Windows versions, and Mac OS X. Mobile versions are available for phones and tablets running Apple iOS and Android.
However, the Ask Toolbar and OpenCandy, which downloaded the browser-hijacking malware Conduit, were included in the Foxit installer's bundle of potentially unwanted apps. The iPhone's mobile app reportedly sent analytics and other data to distant servers in China without encryption in July 2014, despite users' attempts to prevent such data collection.
From micro to large enterprises who desire to use electronic forms, pdf filler, a web-based automation tool, is the solution. pdfFiller key features include an online PDF editor and a collection of over 25 million fillable documents. Users of pdfFiller can modify an existing file to a fillable PDF format from scratch. pdfFiller editing tools for files can be used to modify, delete, amend, manipulate, and draw. PDFs also allow users to include logos, text fields, notes, photos, and video tutorials.
Using pdffiller may have benefits, such as:
Convenience: Users may update and sign documents from anywhere, thanks to Pdffiller's ability to be viewed from any device with access to the internet.Team projects and collaborations can benefit from the ability of several users to edit the same document at once provided by Pdffiller.Integration: Pdffiller can easily access and exchange documents with various other programs and services, such as Google Drive and Dropbox.E-signature: With Pdffiller, you can quickly and easily add a digital form to a document.
Drawbacks
Cost: Although they provide a free trial, Pdffiller is a paid service; therefore, not all users will find the free trial the most cost-effectiveLimited features: Pdffiller may have fewer sophisticated editing and formatting functions than other PDF editing applications.Security: Since Pdffiller stores documents in the cloud, it's crucial to consider your documents' security and privacy when using the service.
Nevertheless, Pdffiller is a helpful program for editing, signing, and distributing PDF files online. Although it provides a practical means to interact with documents, it is vital to consider the cost, restrictions, and security before using it.
5. Smallpdf
Smallpdf is a prestigious business that provides innovative document management products. It is based in Switzerland, a country known for its watches, banking, and minimalist design. Smallpdf, a company established in 2013, offers a lightweight, trustworthy alternative to cumbersome PDF software. Smallpdf has grown to be one of the world's most popular PDF programs, serving more than 500 million users, 200,000 unique businesses, and 24 different languages by stripping pointless functionality and placing a strong emphasis on the user experience.
Smallpdf has all the essential features of PDF solutions, despite being a light online PDF application. Users don't need to download or install the software to utilize it. On this platform, you can convert, merge, compress, and split PDF files, among other things. Smallpdf needs the powerful features of its desktop equivalents. For the appropriate user, this is a benefit, though.
Users who frequently work with PDF but don't use complicated or sophisticated capabilities will find it ideal. It only makes sense that Smallpdf has various security features, given that it is used by more than 15 million consumers and over 200,000 businesses worldwide. The application supports data encryption and digital signatures to increase the document's security. Every file transfer uses bank-grade 256-bit SSL encryption to protect the privacy of the data being transferred. All processed files are automatically removed from the servers.
6. Wondershare
Wondershare PDFelement is a basic PDF editor that does a fantastic job at its primary objective. The program offers sophisticated choices for individuals who need to do more with their documents in addition to the typical features you would anticipate from a modern PDF editor. The interface should be simple enough for both casual users and those with more complex needs to utilize, and the extensive help offered by the program should fill in any gaps.
The popularity of the PDF file format has led to many apps for working with PDF files and various utilities. Some PDF editors are essential, providing the most basic converting features, flagging, and other minor modifications. Others have editing skills that rival those of office suites and are much more capable. Understanding your demands is the first step in choosing a reliable PDF editor.
Between the two extremes, PDFelement is positioned in the middle. It's less robust than some of the top tools on the market, but it's also more than simply a PDF editor. It has several features that might benefit many users and allow you to do some fascinating things with your papers. Its downside is that it is more expensive than most other utilities in its class.
A free trial of PDFelement offers complete access to all of the program's capabilities for a limited time. In addition, there are paid subscription plans which may be purchased annually or every six months. Although there are no options for monthly subscriptions, the website at least provides a preview of the selected plan's monthly price. The annual pricing of PDFelement Standard is $69, while that of PDFelement Pro is $79
Now, if there's a brand that really means business, it is the Nitro PDF Pro. The PDF editor comes with many must-have tools, such as PDF conversions, eSignatures, and OCR, and is positioned as a crucial tool for small enterprises and individuals. So it's ideal for enhancing productivity and workflow efficiency in a single tool. The Nitro PDF editor program is accessible for Windows and Mac, as well as for iPad, iPhone, and iPod Touch.
Nitro PDF is a powerful PDF editing program that enables you to edit, annotate, and carry out a variety of modifications on documents. Using Nitro Pro is delightfully simple because of its beautiful UI. The drawback of Nitro PDF Pro is that it is expensive and requires a fee for each device you wish to use it on. Whether you require a PDF editor for Windows or Mac, the cost per license is $180.
Unusually, bulk discounts differ depending on your platform. For example, with Windows, you can purchase three and receive a freebie or purchase eight and receive a freebie. When purchasing five Mac licenses, you save 20%, and when purchasing 10, you save 24%. Nitro PDF Pro, like many other programs, allows you to generate documents from scratch utilizing all the above capabilities and additional tools. This event encompasses form creation, which competitors like Adobe Acrobat sometimes need help to provide. This is a helpful feature as you can now work across all things PDF within a single program.
Several file formats, particularly image formats, are compatible with Nitro PDF Pro. It will offer to start the OCR (Optical Character Recognition) procedure when it comes across a file without any text that may be selected. Please choose the language of the file, and Nitro PDF will start translating it. This program produces decent results that are changeable.
With a single cloud-based interface, businesses can interact on, annotate, share, sync, sign, and feature documents using the Lumin PDF platform. Users can reduce the size of papers, remove passwords from PDFs, and merge and split several files into required sections for removal. Companies use Lumin PDF to highlight keywords to record essential information, convert Microsoft PowerPoint, Word, and JPG files into PDFs, and share real-time feedback with team members.
It enables managers to annotate documents by adding shapes, photos, lines, and text rotate pages, and search and edit scanned documents using optical character recognition (OCR) technology. Additionally, the platform provides administrators with editable templates for maintaining student profiles, documenting teachers' work, planning instructional techniques, conducting surveys, and other tasks.
Final Thoughts
Users often use PDF editor software when handling PDF files on a regular basis, whether they are their own or ones they want to share with others. Contracts, proposals, and other documents that must be printed may need to be edited by users in PDF format. The top cross-platform PDF editor programs include Adobe Acrobat and WPS Office. They are free-to-use programs, and reasonably priced membership options are available for their premium features.