Everything about Converting ET to PDF for Free in 2022
While working in Microsoft Excel we might need to save a file permanently so that the dataset don't change at all. So, for windows 10 and windows 8 users I am going to show some easy tricks to convert ET to PDF format.
Facts about Converting ET to PDF
What is an ET format?
The first question that comes to our mind hearing the .ET format is what kind of file format is this. Well, don't put pressure on your mind because the ET extension is a spreadsheet workbook extension that supports various types of charts, formulas, and gridlines rows and column-wise. Mostly this ET format is used by business professionals to calculate their financial calculation. It's quite similar to Microsoft Excel's XLSX format which opens the door to open this file in your WPS Office Software.
Are ET Files Better Than PDF?
The ET format is better than PDF in some cases. But it does have some disadvantages too. When you open an ET format file you can change formulas or add various data, text, and images but after converting to PDF you can't change anything. So, I would prefer both files are better. The PDF format is safe as it's protected with good security and can be opened using any type of tool.
Are ET Files Easy to Read?
If you are working on your PC or Mac it's super easy to read both files using the proper tool. But PDF format is more suitable for reading docs or spreadsheets.
Best Tools to Convert ET to PDF
WPS PDF Tools
WPS PDF Tools is one of my favorite tools as I can convert any types of file to PDF within seconds. It's completely free and secure.
Cloudconvert
Cloudconvert is one of the best tools to convert ET extensions to PDF format. The main reason behind this is that it's free and you can convert online.
Converter365
Converter 365 is used worldwide by users to convert mostly PDF files. Feel free to convert ET files to PDF within seconds and it's really handy to use online.
Use WPS Office to Convert ET to PDF
In the following, I have shared how to convert ET to PDF using the WPS Office. Follow the steps below-
Steps:
1-Above all, open your WPS Office Software in your windows 10 or Mac and choose your ET extension file by double clicking the file.
2-After that, press the "Export to PDF" icon to convert to PDF.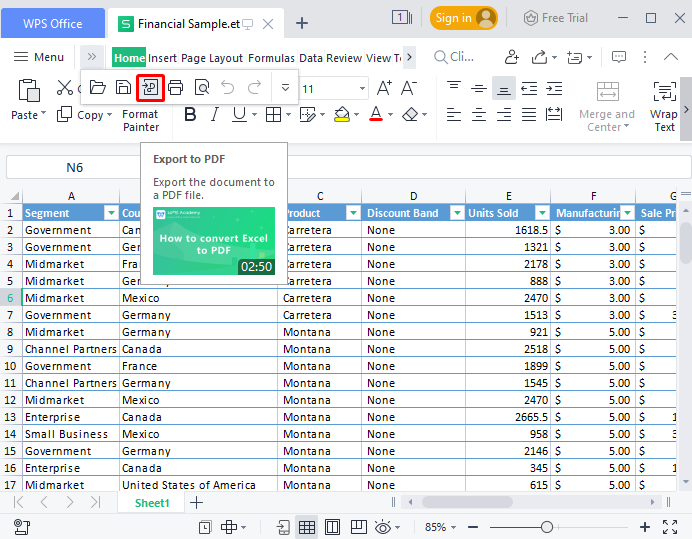 3-Hence, a new dialog box will pop up. From there choose "Export to PDF".
4-Finally, you will get your ET file converted to PDF successfully. Enjoy!
Conclusion
I have covered all the best tools to convert ET to PDF files. Hope you enjoyed the article. If you find any difficulties using the tools don't forget to let us know in the comment section. You can download WPS Office Software from the following link. It's super handy and easy to use for any type of file.