How to Add a PDF in Excel Using Three Best Tools?
Sometimes, the spreadsheet may have more room to include all the necessary information. Or sometimes you want to include the images. By learning to add PDF in Excel, you can easily include more info or visuals directly in your spreadsheet, which prevents the user from having to exit it and locate another document. Many organizations need to keep an audit trail of when data is stored and updated. It can be done by embedding a PDF into Excel, then noting the necessary information in the adjacent cells. This Article helps you learn three ways to learn how to add a pdf in excel.
How to Add a PDF in Excel Using Adobe Acrobat
Follow these simple steps to add a pdf in excel:
Open your files. Open the Excel spreadsheet you want to place the Link into and select Insert > Object.

Add your PDF. Tap and Create > Browse to check the PDF you want to insert.

Check the Display. Before clicking OK, check the boxes that say Link to file and Display as the icon.

Select Format Object on the right-click of the PDF icon.

Embed your PDF. Click Properties from the pop-up window, then size, and move within cells.
How to Add a PDF in Excel Using PDFelement
Follow these steps to add a pdf in excel :
Tap the "Insert" > "Object" button in the Text section by opening an excel document.

In the pop-up dialog box, go to the "Create from File" tab and use the "Browse" button to select the PDF document that you want to insert.

Change the icon display name by Selecting "Display as an icon."

To complete the process, then click the "OK" button.
How to Add a PDF in Excel Using WPS Office
Follow these steps to add a pdf in excel as an object :
First, you open your Excel spreadsheet and then go to the insert tab.
You will have to select where the object option in the Text section in the right corner.

Select where it is created from the file and check your folder so that you can select the PDF you want to insert through the pop-up window.

To finish, you must click the OK button to import the PDF to your Excel document as an attached document type.
Follow these steps to add a pdf in excel as a link :
You must open your Excel document.

Click the Insert tab, and tap where the images option is to insert an image in Excel.

Right-click through the image in Excel and then select. Now, you can select a PDF file to link to the image.
Using Tips for WPS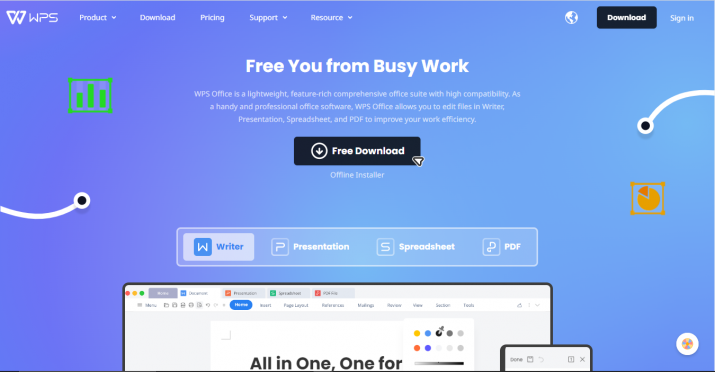 WPS Office is one of the most demanding, smallest-size, and all-in-one free office suites. It's available on Windows PC, MAC OS, Linux, Android, and iOS.WPS Office is one of the world's most popular, cross-platform, high-performing, all-in-one, yet considerably more affordable solutions. It integrates all office processor functions such as Word, PDF, Presentation, and Spreadsheets in one application. It is fully compatible and comparable to Microsoft Word, PowerPoint, Excel, Google Docs, and Adobe PDF format.WPS Office frees you from troublesome compatibility issues caused by file formats.
FAQs about WPS
Is something special about WPS?
WPS Office has an all-in-one suite, offering a word processor, presentation, spreadsheet, and PDF converter. WPS Office provides a free trial version where people can use all basic functions.
Is WPS PDF editor work without an Internet Connection?
Yes. One of the most amazing features of WPS PDF Editor Offline is that people can use it without an internet connection. You can edit your PDF on the go by saving time.
Get the Free Version of WPS
People use the ideal WPS Office software to process and create Excel, Word, and PowerPoint documents for free. With WPS Office Software, people can edit their PDF files on the go. WPS Office makes working people's lives and works more convenient with its amazing free features. People can use the WPS Office free online or download the software from the WPS Office website for offline use for free. So don't forget to pay a visit to the WPS Office website now and download WPS now.