Method to Add Images to PDF
To add image to PDF, you require a special tool called a PDF editor. Although most browsers are great for viewing and annotating PDF documents, you can only insert images into the PDF if the tool you are using allows you to edit the content of this file format. The biggest advantage of using such software applications or even online services is that the PDF file can be restored to its original format without editing it. You can do it directly from within the tool without all the hassle of converting back and forth into a different format.
This will greatly improve your productivity, especially if you are a creative professional and work within a stressful period.
Have You ever Wished to Add an Image into an Existing PDF Using WPS?
Possibly you are completing an online form and need to upload a photo as further documentation. There is a much easier way to avoid the effort of printing the form and scanning it again with the photo included. All you need is a good PDF Editor to insert a picture into a PDF. The benefit of using a PDF Editor is that you don't have to go back and change the original source file. You can easily insert any image into your PDF document.
You can choose from different kinds of tools online and offline offering multiple PDF editing features. Most of them provide the option to import photos, documents and even insert text into a PDF document. This guide will teach you how to add images into a PDF using the best PDF tools available. All these tools are free and simple to use:
Using a professional PDF editor like WPS Office's editor, you can try multiple methods to add images (of formats: JPG, PNG, GIF, TIFF, BMP) to PDF. Further, you can move, flip, rotate, resize, and crop the image after adding it. WPS makes it easy for you to add watermark, logo, or other photos to PDF to prevent it from being copied. Each of these steps is described below so you can replicate it.
Using WPS Office PDF Editor
Step 1: Go to WPS Office> PDF Editor tool.
Step 2: Click on the insert tab and from the toolbar choose the "add picture" option.
Step 3: Then locate the image file you want to insert OR click on the image to drag and drop it to its correct position.
Step 4: To adjust the size, click left and drag the corners of the image.
Step 5: Now press Ctrl+S OR File> Save to save the changes.
To make some elements visible behind this image, you can adjust the transparency accordingly. Simply select the image, adjust its transparency from the right toolbar and choose the percentage that suits best. Looking for other options to settle your picture? You can crop your picture, adjust it by flipping and rotating. You can also clip this image in your PDF.
Insert Image into PDF by the "Add Image" Button
Using a professional PDF editor like PDFelement, you can use multiple methods to add images(including JPG, PNG, GIF, TIFF, BMP) to PDF. You can move, rotate, resize, and crop the image after adding it to PDF. PDFelement makes it easy for you to add watermark, logo, or other photos to PDF. Each of these methods is described in a step-wise manner, so you can replicate it.
The first method involves importing your image into the PDF document after putting the latter in Edit mode. This mode allows you to change existing text, images, and other objects in your target document. This is one of the most important features of a true PDF editor because most tools that claim to be PDF editors will only allow you to mask the content and add on top of it instead of letting you remove and replace it. Let's see how it works:
Step 1: Click the "Add Image" Button
Launch PDFelement and import the document using the add icon. Or simply dragging it into the interface or even the icon.
Click "Edit" at the top of the software window and then the "Add Image" icon in the toolbar below it. Then you can place your mouse on the area you want to insert the image.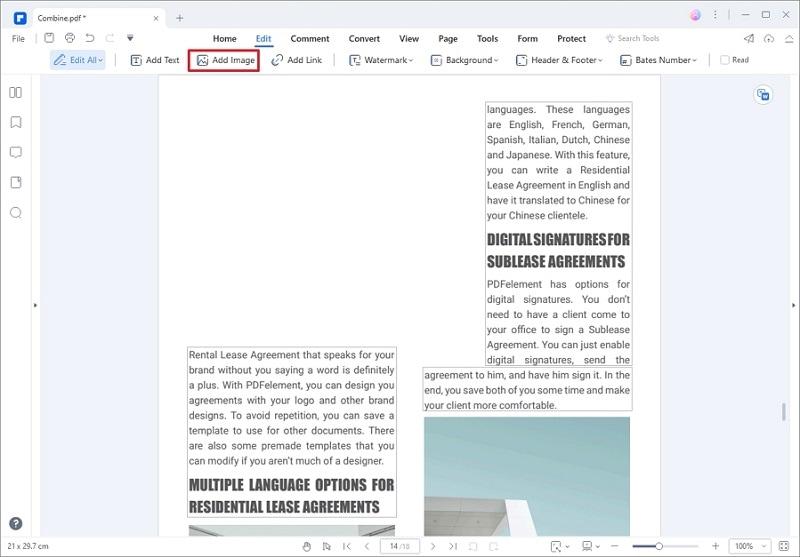 Step 2: Select and Insert Image into PDF
In the pop-up, choose the image in the "Open" window and click "Open". If you want to add multiple images to a PDF, just press "Ctrl" and select more pictures.
Then, the image will be inserted into this PDF document successfully. You can edit, crop, and rotate the images as you like.
Drag and Drop the Image into the PDF
Another method you can use is to simply drag the image file into the PDF while it's open. This method gives you even more flexibility and speed in executing tasks such as this one. Here are the steps to take it:
Step 1: Save the image file to your desktop.
Step 2: Open the PDFelement window and resize it, so you can view your desktop.
Step 3: Drag the image to where you want to insert it in the PDF.
Step 4: Choose the "Add as an Image" option and the picture will be inserted into the PDF.
How to Add Image to PDF Online
As an alternative, you can use an online PDF editor like HiPDF. The service is hosted on a remote server that you can access through their website. Here's what you need to do to insert your image into a PDF document:
Step 1: Open a browser window and go to the HiPDF website.
Step 2: Click the "Edit PDF" option, and in the new page, click the "Choose File" button or one of the cloud provider icons below the window to import the file.
Step 3: Click on the "Add Image" button in the toolbar above your PDF.
Step 4: Once you see the image on your PDF, position it where you want.
Step 5: Hit the "Apply" button at the bottom, save the file to a local folder, and you're done!
How to Copy and Paste Image into PDF
If your image is in another file type like a Word document, you can simply copy it from there and paste it directly into your PDF file. The reason this is an easy way is that the copy-paste function is an intuitive and natural one for anyone working on Windows or even Mac. Here's how to do it:
Step 1: Open the source document in Word or its native application.
Step 2: Open the PDF in PDFelement.
Step 3: Do "Ctrl+C" to copy the image, and toggle to PDFelement.
Step 4: Do "Ctrl+V" to paste the image, then re-position it anywhere you want.
FAQS
Q1: Which type of image can be used within a PDF?
Ans: JPEG files are the most commonly used type of image file for both sharing online and within document files. They are popular because the degree of compression on the image can be adjusted, so the storage size and image quality can be played around with to get the best solution for the user.
Q2: How to Add Image to PDF Without Adobe Acrobat?
Ans: Free download WPS and start your free trial. Free Download.
Why to Recommend WPS
The WPS Office tool is one of the tools you can use for free. Adding an image to a PDF online is quite simple with the help of WPS Office, a strong online tool. You can include almost any kind of image format, including GIF, PNG, JPG, and TIFF. Every user's navigation is made simple by the easy conversion procedure and the clear UI. There is no registration fee and this program is free. WPS Office is compatible with all widely used web browsers and operating systems, including Linux, Windows, Mac, and Android.