If there is a business receives a financial report from a third-party vendor in PDF format, it won't be able to play with the data until it is in an accessible format. To manipulate the data for analysis, it has to be in the most favorable format: Excel xls or xlsx. Converting PDF to Excel is crucial for organizing, sorting, and analyzing data for decision-making. When the business converts PDF to Excel, they can analyze the data and visually represent it more meaningfully, like creating charts and graphs. This is why converting PDF data to Excel is important. In this article, we will demonstrate 8 ways to Convert PDF to Excel. Some of these methods are free, while others may be paid, and you can choose the best.
Benefits of Converting PDF to Excel
1. By converting PDF files to Excel makes data extraction and accessibility very easy because in Excel, data is in a more favorable form for editing.
2. Transferring PDF data to Excel manually is troublesome, and there is an absolute chance of errors. This is why an online or offline tool is recommended for converting PDF to a spreadsheet. Moreover, it also increases efficiency by saving time and effort.
3. Excel is a powerful tool for data analysis, and converting PDF to XLS enables you to better analyze charts, graphs, pivot tables, and complex calculations.
4. Converting PDF data to Excel allows you to preserve the document's original formatting, which is important if you present data in a certain way.
5. Converting PDF to Excel spreadsheet using an online or offline tool is a cost-effective way of storing your data in editable format.
How to Convert PDF to Excel Free Offline - 4 Easy Ways
You can use different tools to convert PDF to Excel offline. They include WPS Office, Nitro Pro, Foxit Phantom PDF, and Able2Extract Professional. After getting familiar with these tools, you will know How to Convert PDF to Excel using offline applications.
Using WPS Office
WPS Office is one of the best free offline software to convert PDF to Excel. It has a powerful PDF reader and editor and also features PDF to Excel converter. Follow the below steps to know How to Convert PDF to Excel using WPS Office offline version.
Open WPS Office and click on PDF to Word button.
You will see different options. Choose PDF to Excel and upload any PDF file.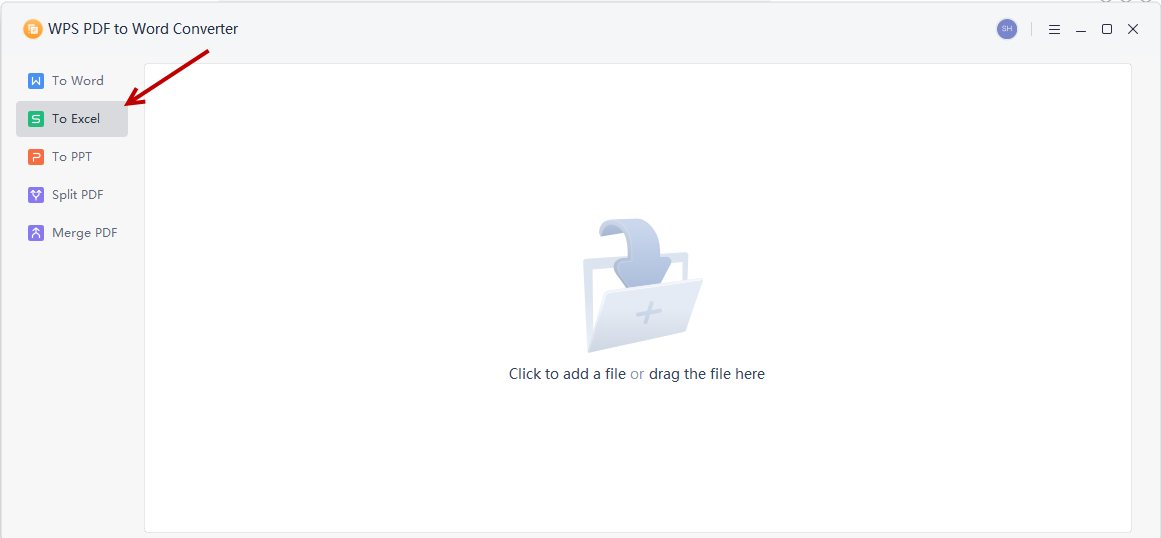 Once you upload a file, you will find different options for customization. It includes changing the path of the converted file, the Excel version you want to use, and setting the required format. After customizing settings, click on convert.
This way, your PDF will be converted to Excel in just a few steps. You can add multiple files in one go with the batch convert feature.
Using Nitro Pro
Nitro Pro is another excellent tool to convert your PDF to Excel spreadsheets. You can use Nitro Pro to convert multiple PDFs to Excel at once. Moreover, it can also convert other formats like Word and Powerpoint to Excel in seconds. It has additional features like PDF editing, merging, and compression. It is not free, and you must buy the premium version after a seven-day free trial. However, the free trial is available for Windows and macOS, not mobile phones.
Using Able2Extract Professional
This very powerful tool offers PDF-to-Excel conversion and additional features like batch conversion, custom PDF-to-Excel conversion options, and even the ability to convert scanned PDF files to Excel. It's an all-in-one PDF solution, allowing you to convert, create, OCR, edit, compare, secure, and sign your PDF files. It offers a free trial, but you must buy a premium application subscription to unlock all the features.
Foxit Phantom PDF
Foxit Phantom PDF is yet another outstanding tool to convert PDFs to spreadsheets. It has free and paid versions, and the premium version has advanced features like redaction, password protection, digital signatures, and OCR. It allows you to create and convert PDFs, edit PDFs like delete text, images, and pages, and annotate and mark up PDF documents. It is a powerful converter, and an awesome PDF converts that you can use to create interactive PDFs with features like PDF forms, including the ability to add form fields, buttons, and more.
How to Convert PDF to Excel Free Online - 4 Ways
If you don't want to install additional softwares on your PC, you can still convert PDF to Excel Spreadsheets using online conversion tools. Below are a few top-notch online applications that are handy in converting PDF to XLS.
With WPS Office
As discussed earlier, WPS Office is a free tool available online and offline that you can use to convert PDF to Excel. To convert PDF to Excel online using WPS Office, follow the below-mentioned steps.
Visit the official website of WPS Office and choose PDF to Excel tool.

Select a PDF file from your local storage.
Once your PDF file is uploaded, you can customize it like convert all pages or select specific pages.

Then, click on Convert, and conversion will start. It might take some time depending on the size of the document.

Finally, you can download the converted Excel file to your computer.
With ZamZar
ZamZar is an online tool that helps you convert your PDF to spreadsheets. It is a free tool and a very easy-to-use tool. Simply go to ZamZar's Official website, choose PDF to Excel, upload your PDF file, choose your desired Excel format, and finally click Convert. Once your document is converted, you will get a link from where you can download your Xls file. This versatile tool allows you to convert your files to more than 100 different formats. This tool is free and also has a premium version with additional features.
With Smallpdf
SmallPDF is an excellent PDF converter that converts your files from PDF to Excel online. It offers an easy-to-use drag-and-drop method, simply drag your PDF and drop it into the powerful PDF converter tool. In a fraction of a time, you will have your PDF converted to Excel. It is not a simple tool, but the premium version has advanced features like batch conversion, OCR, PDF compression and editing, and conversion. It has a free trial and different plans of paid subscription, but the free trial gives you access to 21 Smallpdf tools, which is more than enough.
iLovePDF
iLovePDF is an online tool used for converting PDF to Excel online. It has a friendly user interface that is simple and easy to use. It is free and has a paid version, and multiple features like batch conversion, customization, OCR, PDF repair, and digital signatures are available in the premium version. To convert PDF using ILovePDF, visit its official website, select a file from your local computer or any drive, and click on convert. It's that easy and simple to use, but you have to create an account to use the free trial of this website.
FAQs of Converting PDF to Excel Spreadsheet
Can I convert a PDF file to Excel without losing formatting?
Yes, you can convert PDF to Excel without losing its formatting by incorporating software like WPS Office in the process.
Can I convert a scanned PDF to Excel?
You can convert scanned PDF to Excel Spreadsheet using optical character recognition software.
How accurate is PDF to Excel conversion?
The accuracy of converting PDF to XLS depends on different factors like the PDF documents' quality and the software you use.
How to convert PDF to Excel without Adobe?
You can use PDF Converter software like WPS Office if you don't want to use Adobe.
Can I convert multiple PDF files to Excel at once?
Yes, with the help of a feature called batch convert, you can convert multiple PDFs to XLS or XLSX.
How can I convert a password-protected PDF to Excel?
To convert password-protected PDF to Excel, you must first unlock the password. Then use any online or offline software like WPS Office to convert it.
Conclusion
Keeping the efficiency, security, and formatting of PDF files, they are undoubtedly one of the best formats to keep your data in, but this data is inaccessible. To make it accessible, you must convert PDF to Excel using different online and offline applications. It is a wise choice to choose software that offers both versions and is free of cost. WPS Office is one of the best software available online and offline and lets you convert PDF to Excel spreadsheets. This application is free of cost, and it is compatible with Microsoft Excel as well, which makes it a stunning choice. Moreover, it is compatible with multiple operating systems, including Windows, macOS, and Linux.