How to Convert PDF to PNG Online by Using WPS PDF Tool?
People dealing with pdf documents in their student or professional life mostly don't want the whole document to swipe every time they read it. Especially if they need just one page out of a hundred from that document. In such a situation, a question clicks in their mind "How to convert pdf to png online?" The answer is simple that is "download a pdf converter online."
You may find a lot of websites that can help you convert pdf to png online, into separate image files. The major perk is they don't compromise on image quality. Converting pdf to png is a matter of a couple of clicks. It's simple, easy to deal with, and safe.
What is a WPS pdf to png converter?
WPS pdf to Png converter helps you to convert every page of a document or a specific single page from the whole document into an image. You can download a picture in any format; it can be in the form of JPG, PNG, or any other form that suits you.
Why use the WPS pdf to png converter?
Convert pdf to png online
Easy to use and converts pdf into the images within a couple of seconds
It ensures 100% privacy. Your photos will not be shared with any third party, and they will be automatically deleted within an hour.
It's an online tool so you don't have to worry about its windows, Linux or Mac version.
You can also convert the pdf into png images offline using the WPS pdf tool.
Normal sized pdfs are converted into the png files very quickly
No compromise on image quality
You can resize the images
How to convert pdf to png online by using the WPS pdf tool?
You can use WPS pdf to image converter for free for seven days. It will convert your pdf files into PNG or JGP.
Step1:
Upload the pdf file from your device into the pdf to picture converter by clicking on "Select file."
Step2:
All the pdf pages will appear individually. And all of these will be converted into separates image in the form of PNG or JPG. You can select or deselect the pages according to your choice.
Step3:
Select PNG to get the image in PNG format.
Select "convert into 20 picture" (number of images depends on the number of pages in the pdf) to get all images separately, or select "convert to a long picture" to get one long image of all the pictures.
Step 4:
After completing the conversion process, your image in PNG format will be downloaded.
Note: free version allows only two pics. You have to upgrade to the premium version for a pdf file with more pages.
Download pdf converter:
Download pdf converter by WPS to convert pdf into PNG images offline. It offers the same features but with a watermark in the free version. But no doubt, you can also convert pdf to png online.
1-Go to tools.
2-Click on Pdf to picture.
It will give you many options like image formate, remove the watermark( in the premium version), and select the number of pages and their quality. After all this, your image will be ready to export.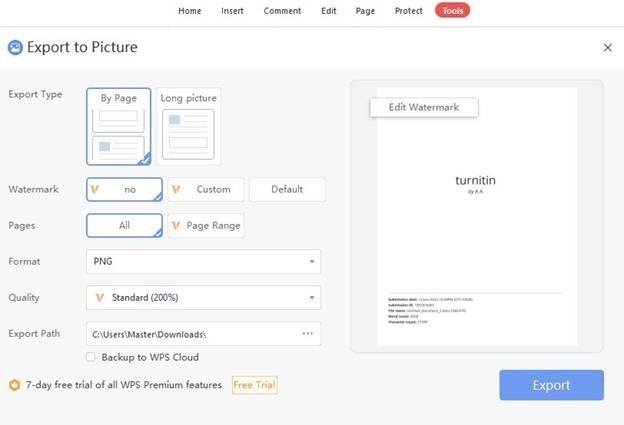 Conclusion:
It's not difficult now to convert pdf to png online with the help of the WPS pdf converter online tool. You can also use it offline; the method for both is so simple that even a layman can understand it. Download the pdf converter to enjoy these features.