Multiple Ways to Crop a PDF
March 17, 2023 |
 PDF Tutorials
( 34 )views
In this article, you will learn:
The PDF format is a great way to save documents with the formatting and text locked in place — but the fact that you can't alter the text doesn't mean you can't alter other things about the document.
If you ever need to crop a PDF for any reason — say, for example, you need the text part of the document without the signatures, or you need to send one specific clause to someone without sending them the whole thing.
There are a few different ways to crop a PDF on a Windows computer, but the easiest way is through the use of the snipping tool — this method doesn't require you to use any third-party websites or to convert it to a different type of document first.
How to Crop a PDF on Windows Without a Paid Service
Step 1. Open the PDF in your computer's default PDF viewer.
Step 2. Press the Windows key to open the search bar and type "snip" to find and open the snipping tool.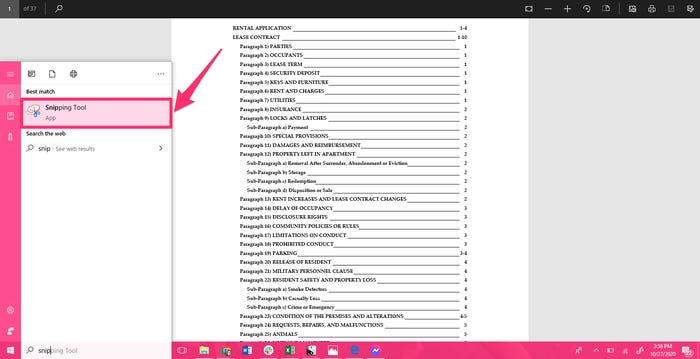 Open the snipping tool. Melanie Weir/Business Insider
Step 3. In the snipping tool window, select the shape that works best for what you want to do — rectangular will probably work best under most circumstances.
Step 4. Once you choose a snipping shape, the page will gray out, and your cursor will turn into a crosshair selection tool. Click and drag to select the rectangular shape you want to crop from the PDF, and let go to confirm your selection.
Click and drag your cursor to crop the area of your choosing.
Step 5. When you're finished, a window containing your cropped area will appear. In the top right corner of the window, click "File" and select "Save As…" and choose a name for your cropped image, as well as the type of file to save it as.
Step 6: Click "File" and "Save As..." to save the image in whatever format you prefer.
How to Easily Combine PDFs on Windows
Sometimes, you may want to take multiple cropped PDFs and turn them into one consolidated PDF document. This sounds like a complex process, but it's actually fairly simple.
Step 1. Open File Explorer on your computer.
Step 2. Find the documents or images you wish to combine and hover over them, checking the box in the top left corner of each one you want included.
Note: It is easier to do this if you save them all to one folder — that way you can simply select them by clicking and dragging over them all at once.
Open File Explorer and check all the items you wish to combine.
Step 3. Right-click over one of the selected items, and choose "Print" from the dropdown menu.
Right click the items and select "Print."
Step 4. A Print menu will appear. Click the field labeled "Printer" at the top left of the window, and select "Microsoft Print to PDF" from the dropdown menu.
Under "Printer," choose "Microsoft Print to PDF."
Step 5. Change any of the other document settings you may desire, including size — which you can alter by changing the size of the paper you're "printing on" — and layout.
Step 6. When you are finished, click "Print."
Benefits of a Using a Free PDF Editor to Crop your PDF Files
As you can see, cropping a PDF is easy and straightforward on a Mac. What if you want more control of your files? From editing text of scanned PDFs to rotating pages, a free PDF editor can make editing and sharing PDF files easier.
PDF Editing Tools Offer More Control of Your Files
If you need extensive editing control over a PDF file, your Mac's Preview tool won't cut it. Free PDF editing tools like Sizle give you total control over your file.
Change font size, color, and styling.

Crop and color images.

Add comments, notes, and annotations to your PDF.

Rotate and resize documents.

Convert other documents types to PDF.

Convert PDF to Word, Excel, JPG, and many other formats.

Scan and convert hardcopy into a PDF.

Easily edit scanned and hardcopy images.

Add signatures to documents.

Highlight, strikethrough, or underline content inside a PDF.

Fill out and save forms in PDF format.

Split and Merge PDF documents.

Search for text inside multiple PDF documents.
You Can Safely and Easily Share PDFs with a Free PDF Editor
Most online PDF editors will offer an easy and secure way to share files. Sharing a file is simply a click away. Companies can create internal workgroups or workspaces that will easily share files between team members. This can make managing files for remote employees simple and effective as well.
The most popular online PDF editors will feature extensive analytics as well. As a manager, you'll have no problem tracking when your employees open, view, edit, and share any PDF file.
Using an online PDF editing tool is one of the best ways to keep your team on track and makes collaboration easy. You'll never miss another deadline while using an online pdf editor to manage your workflow.
Share Your Work Across All Devices and Operating Systems
Using an online PDF editor means you will have zero compatibility problems. There is no need to download any software. All edits are performed directly in a browser window and can be accessed from any device connected to the internet. Make edits on your Mac and send them to team members using Windows, Linux, iOS, or Android.
Files can be easily shared with anyone in the world no matter what computer, tablet, or smartphone they use. As long as they have access to a web browser, they can view and edit the PDF.
The versatility of PDF files also makes them the best way to share files with customers and clients. You won't have to worry if your clients one the appropriate software to open your files and documents. Simply convert your document to PDF and share it easily across all operating systems.
FAQS
How do I crop multiple PDFs at once?
To auto-crop multiple pages in a PDF document, first designate a selected area on one page. Then select all pages as your desired page range or enter a range of consecutive pages that you want to crop. When you select Crop, Acrobat will apply the same cropping process to all designated pages.
Is it possible to crop a PDF page?
To crop a PDF, you first select the area you want to keep, and then discard the rest. If you want to view the dimensions of the content you're selecting, choose Tools > Show Inspector, then click the Crop Inspector button and choose a unit of measurement that's displayed in the Crop Inspector window.
Reasons to Choose WPS
Windows support WPS Office, Linux, Android, iOS and other platforms, xp, windows 7, windows 10 and other MAC systems are supported, either on the PC or cell phones, can provide users with a variety of document services. And it is an office software that supports online editing. Now go to the official website to download can also experience free membership features, receive 7 days of membership access, free to use all the editing features inside. Master a variety of PDF document merging and conversion methods are very useful for later work, I believe it will also become the best assistant for your office.