How to Delete Pages from PDF
August 16, 2022 |
 How to Tutorials
( 93 )views
In this article, you will learn:
Steps to Delete Pages from PDF

Conclusion
You think some of the pages in your PDF may be removed? If so, removing one or more pages from your PDF file is simple. We'll demonstrate how to do this with Chrome, Edge, or Preview.
Use Google Chrome or Microsoft Edge for a quick and simple approach to remove pages from a PDF. In these web browsers, you essentially open your PDF and print a fresh copy of it using the virtual PDF printer. Only the pages that you wish to keep are included in this copy.
If your PDF contains clickable web links (hyperlinks), this method has a drawback in that they will not function in the generated PDF. Other than that, using this approach is quite good.
Steps to Delete Pages from PDF
Step 1
To get started, locate your PDF in File Explorer on Windows or Finder on Mac. Right-click your PDF and choose Open With > Google Chrome (or Microsoft Edge). We'll choose "Google Chrome."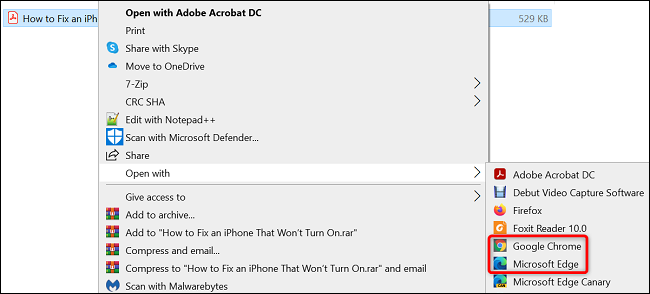 Step 2
When your PDF's preview appears in Chrome, at the top-right corner, click the "Print" option (a printer icon).
Step 3
Select "Save as PDF" under the "Destination" drop-down option in the "Print" panel on the right. Choose Pages > Custom and enter the page numbers of the pages you want to keep in your file. The new PDF file you're creating will not contain any pages that you don't specifically mention.
For instance, write 1, 2, 5, and 6 with a comma separating the numbers if you only wish to save those pages. Use a dash (-) separator when using a range to ensure that all of the pages in that range are included. Enter 1-25, for instance, to include all pages between 1 and 25. There will be 1 and 25.)
When you're ready, at the bottom of the "Print" panel, click "Save."
Step 4
In the "Save As" window that opens, select a folder to save your PDF in. Optionally, enter your PDF's name in the "File Name" field. Then click "Save."
Chrome will make a PDF that only contains your mentioned page numbers. You'll find this file in your specified folder
Conclusion
WPS Office Delete Pages from PDF tool. WPS Office is a free online tool you can use to quickly remove pages from a PDF.
If you are working with a large PDF file sometimes, it is not uncommon to remove pages from it. It might be because these pages are redundant or you simply don't need those pages. Whatever the case, it is crucial to know how to remove pages from PDF correctly because you might end up having a long day if you mess up with the wrong pages. To avert such problems, you ought to use a proper tool. In this article, we are taking you through a detailed guide on how to remove pages from PDF with ease and speed.
WPS Office - PDF Editor is the best all-in-one PDF software used by plenty of people, organizations, and companies worldwide. The ease of use, speed, compatibility, affordability, and assortment of excellent features make it a top choice PDF solution. With WPS Office, users can edit, create and convert, annotate, print, protect, perform OCR, compress, and share PDF.