Method to Edit Protected PDF on Mac
PDF file, as we know, is hard to edit without the professional PDF editor, and if you want to edit protected PDF, it becomes more challenging. Some people add an owner password to protect their PDF from editing and printing. To edit a protected PDF, you will need to you unlock the PDF first, then edit the file with a PDF Editor.
Here in this guide, we will look at 3 ways to edit a secured PDF even without password, or using Chrome to edit the locked PDF online free.
You can add passwords to PDF files to secure your PDF contents. If you get a password-protected PDF but do not have a password from the owner, it is hard for you to edit the PDF, even you cannot open the PDF with opening password protected. No worry! Follow this guide, you can easily print, copy and edit password protected PDF documents on Mac OS X (macOS 10.15 Catalina included) and Windows. PDFelement Pro will help you.
Edit and Unlock Protected PDF File on Mac
To edit password-protected PDF, you need a PDF editor with PDF password remover function like PDFelement Pro. It's a program that can easily unlock PDF documents without passwords. With this software, you can convert or edit documents with passwords. Typical PDF files which are naturally read-only can now be edited as a simple Word document thanks to the powerful features. Editing protected PDF files on Mac (macOS 10.15 Catalina) can now be easy. You can even convert, add bookmarks, annotations, delete pages, or add pages to password-secured PDF on your computer.
Here are some easy steps on how to edit protected PDF on Mac by using PDFelement Pro for Mac (macOS 10.15 Catalina included).
Step 1. Import Protected PDF Files
You need to install the software on your Mac so that you can begin the decrypting process. Once you have installed the software, you are ready to import files. Importing files can be as easy as clicking the "Open" option from the software and then browsing it to look for the file you need.
Step 2. Convert to Word File Format
Click "Tool" > "PDF Converter" to activate the conversion process. Then you can click on "To Word" to start the conversion. Once you have done this, you can now edit a protected PDF file.
Note: If you get the PDF with opening password-protected, you need to ask for the password from the owner to open the PDF file first.
PDFelement Pro can help you go through editing protected PDF files on Mac without trouble. With its user-friendly interface, you can easily access its options and do your editing job in the least time necessary.
Step 3. Start Editing Protected PDF
Now go to "Text" tab and you can edit the protected PDF file as your needs.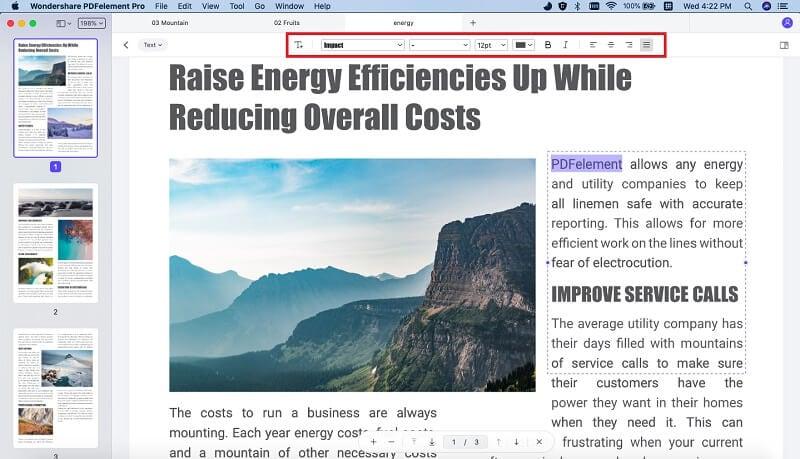 Using PDFelement Pro to Edit Protected PDF
PDFelement Pro is a professional PDF editor. With the help of this PDF editor, you can not only edit protected PDF files easily but also can convert and edit scanned PDFs with an advanced OCR function. This PDF editor will make your work with PDF documents as easy as Word documents.
FAQS
Q 1: How do I edit a protected PDF on a Mac?
Ans:Open the protected PDF in Adobe. Go to Tools>Protect>Encrypt and choose Remove Security, enter the editing password to unlock the PDF. Now, you will be able to edit the secured PDF in Adobe.
Q 2: What does Protected PDF mean?
Ans: A secured PDF is a protected PDF. That means users are restricted from changing or performing certain actions on it. The PDF can be encrypted or require an access code in these cases. Organizations use secured PDFs to assure clients that their documents are authentic.
Why Choose WPS PDF Editor
Directly remove PDF permission password and allow you to edit and convert protected PDF.

You can easily edit, delete, add, mark up, annotate and do any changes to PDF texts and images.

Convert native and protected PDF to Word with the original layout.

You can also combine multiple PDF files and compressor split PDF easily.

The powerful OCR feature enables you to edit and convert scanned PDF.
Surely, there are many options to edit a protected PDF, as long as you install a PDF editor with unlock feature, which often comes with a high price tag. But if you want to edit a secured PDF without password, you can have a professional PDF password remover to remove the security is WPS Office.
WPS Office is supported by Windows, Linux, Android, iOS and other platforms, xp, windows 7, windows 10 and other MAC systems are supported, either on the PC or cell phones, can provide users with a variety of document services. And it is an office software that supports online editing. Now go to the official website to download can also experience free membership features, receive 7 days membership access, free to use all the editing features inside. Mastering a variety of PDF document merging and conversion methods are very useful for later work, I believe it will also become the best assistant for your office.