How to Merge Pdfs Using Smallpdf(The Ultimate Guide)
September 14, 2023
344 views
Smallpdf is an online platform with features that allow users to merge their files. Document merging has proven to be an effective way to unify different documents, and Smallpdf has simplified the process for its users.
Merging files with Smallpdf can be confusing for most users. Have you been on the lookout for how to merge PDFs with Smallpdf without compromising quality? You are at the right place, as we have developed a guide to walk you through creating PDFs using Smallpdf. Read on to find out more.
Overview of merging PDFS in Smallpdf
Merge PDF is a feature offered by Smallpdf, a platform providing solutions to PDF-related tasks. The merge PDf enables users to combine various PDF files into a single PDF document. Users are not required to sign up on the platform before they can merge PDFs using this Smallpdf feature.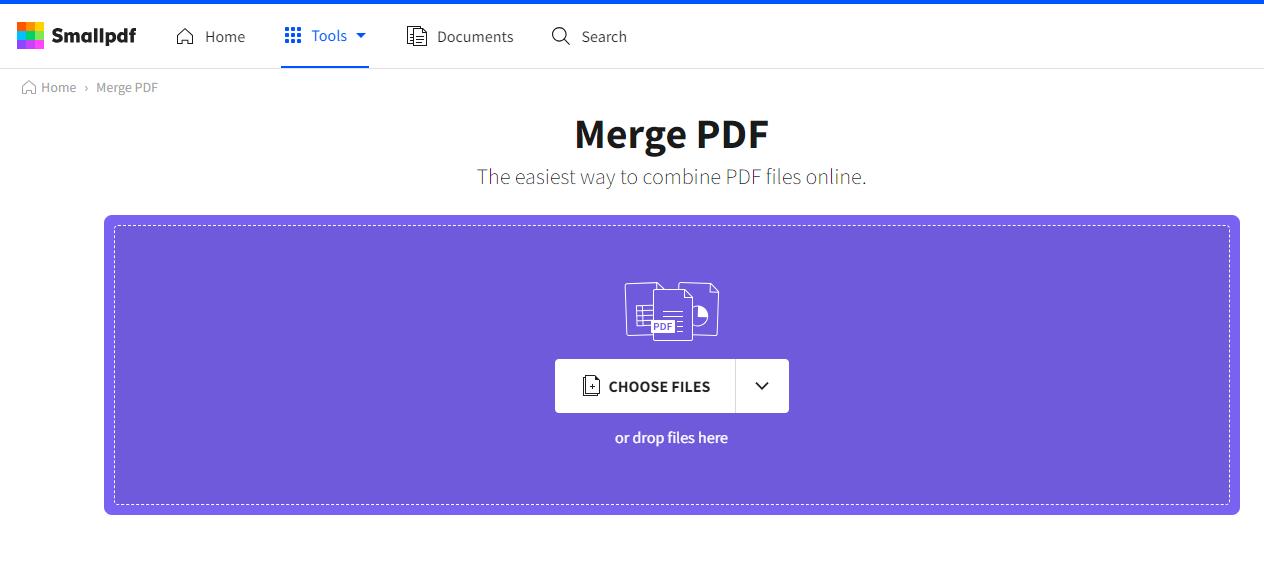 The best part is that the entire process can be concluded in minutes. Users can also access all basic features on all Smallpdf merge PDFs for free.
While using merge PDF, your document's security issue should not be a cause for concern as the platform deletes all uploaded files permanently within an hour.
All processing is also done on the cloud, preserving your phone storage. The best part is that the feature is compatible with different operating systems, being a browser-based platform.
Key Features of Smallpdf Merge PDF
Smallpdf Merge PDF boasts several features that are beneficial to users. Here are some of those features:
Cloud Processing: Because Smallpdf Merge PDF is browser-based, all files are processed on the cloud.

Reliable file merging tool: You no longer have to pay a premium sum for software to merge your files. Smallpdf provides a reliable way of combining PDF files for free.

File security: The feature ensures that file security is not compromised by permanently deleting all uploaded files within one hour.

Compatible with different operating systems: the merge PDF works well on Linux, Windows, and Max.

Easy tool for merging PDFs: Users can easily merge them in minutes without signing up on the platform.

Flexibility: The tool offers flexibility as you can rearrange, edit, delete, and add more files to the uploaded documents before merging.

Preview feature: You can preview the document to verify if there are errors before downloading it.
How to Merge PDFs Online using Smallpdf
Here is a step-by-step process to merge PDFs online using Smallpdf.
Step 1: On the homepage of the Smallpdf website, select Merge Pdf
Smallpdf homepage
Step 2: Click "Choose Files" or " Drop file" to upload the files you want to merge from your device.
Smallpdf Merge PDF homepage
Alternatively, click the drop-down arrow to upload the files from your device or retrieve files from Smallpdf or a cloud storage platform like Google or Dropbox.
Merge PDF page to select file to merge
Step 3: Click the "add PDF, image, Word, Excel, and PowerPoint files" to add multiple documents.
Merge PDF document add page
You can rotate the pages by clicking on the "rotate" tab.
Merge PDF document page rotate window.
Delete any page on the document by clicking the "delete" tab, selecting the page, and clicking the "delete" icon.
Merge PDF document page delete window.
To extract pages from the PDF, click the "Extract" tab, select the page, and click the blue "Extract" button on the top right side.
Merge PDF document page extract window
Split pdf by clicking the "Split" tab and selecting the "scissors" icon on the page where you want to split the file.
Merge PDF document split page.
Step 4: Click the "Finish" button once you are done making adjustments.
Merge PDF document merge finish page
Step 5: Download the document to your device by clicking the "download" button.
Merge PDF page to download merged documents
Clicking the "share" tab will generate a link you can share with your team to access the document.
Merge PDF file export window
You can also export the file in other formats by clicking the "export as" tab.
WPS Office Vs. SmallPDF
WPS PDF is one of the functional PDF editing tools offered by the WPS Office. This tool is minimalist but with an efficient user interface. This allows users with minimal technical experience to work on PDF files without hassles.
Smallpdf has also become popular as another efficient PDF editing tool. As efficient as Smallpdf may be, it has some limitations compared to other PDF tools. Here, we will compare both software to help users make informed decisions on the one that best serves their purpose.
#1. Features
The features offered by WPS PDF are more comprehensive, offering users more PDF editing options. With WPS Office, you can edit, sign, merge, and delete pages from your document. Users can also edit, add, and remove images from documents. Teams can also collaborate and share files in real time.
Smallpdf also offers PDF editing tools. These tools allow users to sign, merge, and add or delete images. However, these tools are limited as teams cannot collaborate on the platform, nor does it allow for real-time sharing of documents.
#2. User Interface
WPS PDF has a great user interface, so users can easily navigate the platform. It also allows users to adjust the layout to their preferences. This can help save time and improve user experience.
Smallpdf has an intuitive and modern interface but does not offer users a customization feature. New users may need help navigating the platform. However, with frequent use, it becomes easier to navigate the platform.
#3. File and Platform Format Compatibility
The WPS PDF viewer can open and read files in several formats. Whether working on PDF, PowerPoint, Word, TXT, or Excel, you can easily open and read the files. WPS PDF is compatible with multiple platforms and can be easily accessed on Windows, IOS, Android, and Mac.
Although Smallpdf users can open and work on different file formats, the online platform is limited in file and platform compatibility. This can make the platform unsuitable for users working on file formats like TXT.
#4. Security
One of the vital things every user is concerned about is the security of the documents. Users want to ensure that their documents are restricted from unauthorized access. The WPS PDF and Smallpdf allow users to add passwords to their documents, preventing unauthorized access.
With both PDF editors, users can remove parts of the documents they want to keep confidential before sharing. However, the WPS PDF editor also shows users who can access their documents, and therefore, should be considered by businesses who want to keep their sensitive files confidential.
Best Alternatives — WPS Office
Smallpdf Merge PDF offers functional PDF tools that helps users to carry out Pdf-related tasks. However, Merge PDF may not be suitable for users looking for a more versatile office software. The WPS Office of ideal for such users.
WPS Office as a comprehensive, professional office software offers users tools that help them create, edit, merge, and annotate documents in different formats, including Word, Presentation, Excel, and PDF.
WPS Office home page
It is a modernized and powerful office tool app and is compatible with several platforms, lightweight, and rich in features. You can download the app for free and access its powerful tools.
WPS Office and Smallpdf Merge PDF allows users to merge their PDFs. However, these PDF editors differ in several ways.
If you are looking for software that offers only PDF tools, consider Smallpdf. On the other hand, WPS Office has a wider range and more advanced features. It is what you can refer to as a one-stop shop for all document-related tasks.
Regarding pricing, both PDFeditors offer free and paid versions to users. The features users can access is dependent on the payment plan they are on.
However, the paid version of WPS is more affordable in the long run. Users can have lifetime access to the pro features for a one-time payment of $29.99.
The choice between WPS Office and Smallpdf depends on the solution users seek. A user seeking a specific PDF solution may opt for Smallpdf, while the WPS Office is ideal for those working on a more diversified range of documents.
FAQs About Smallpdf Merge PDFs
Q1: Are there any file size limitations for merging PDFs in Smallpdf?
A1: Your file size is not a limitation to merging files on Smallpdf. You can easily merge your PDF files using the Smallpdf Merge pdfs.
Q2: Must I sign up before using the Smallpdf Merge PDFs?
A1: Users are not required to sign up on the platform before merging their documents with Smallpdf Merge PDFs online. All you need to do is visit the website, upload your document, and merge in a few clicks.
Summary
The Smallpdf Merge PDF is a great tool to combine or compress PDF files. Its features enable users to edit their PDFs without compromising document integrity.
However, the WPS PDF editor offers more extensive and comprehensive tools for all document-related tasks. Users looking for a platform with extensive features for PDF and non-PDF document tasks should check out the WPS Office software.