How to Open Password Protected PDF Using Best Online and Offline Ways
Have you ever received a password-protected PDF that you wanted to edit or view the content of the file? PDF (Portable Document Format) is a widely used file format nowadays due to its password protection and content security feature. Opening an encrypted PDF becomes challenging if you don't know the password.
In this article, we're going to discuss some best tricks on "how to open password protected PDFs".
How to Open Password Protected PDF Online
Method 1:Using Google Drive
Use of Google drive is one of the easiest ways to remove or open password-protected PDFs. The process is straightforward if you're logged in to your Google account. Just follow the below guidelines.
1-Open google drive.
2-Open the settings menu by Clicking on the gear icon in the upper right corner.
3-Choose the "Convert uploaded files to Google docs editor format in the settings pop-up window."
4-Now upload your encrypted file to the drive, right-click on it and select open with > Google Docs.
5-Now go to the File menu in the upper left corner and download the selected file as a Microsoft Word document.
6-You'll see that the encrypted PDF file is now converted to an editable Word file without losing any content.
Method 2:Using Smallpdf Online Tool
There're many online tools available that can easily remove the password from an encrypted file. Smallpdf is one such tool. Follow the below-outlined steps to achieve the same:
1-Browse for the Smallpdf online tool and visit the "Tools" section in the navigation bar.
2-Select the "Unlock PDF" from all available options.
3-A new window opens, click on the Choose file button to select the file, or drag and drop your file here.
4-A pop-up message will appear telling you to confirm whether you have the right to open the document or not. Check the box and click Unlock PDF button.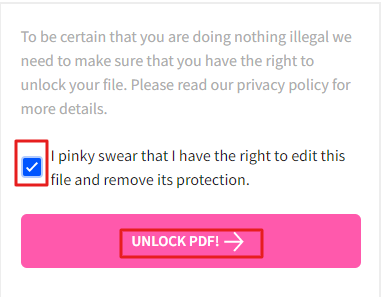 5-The decryption process will start, and wait for the tool to complete this difficult task.
6-Now you can modify the opendPDF or download this decrypted PDF to your PC.
How to Open Password Protected PDF Offline Using Adobe Acrobat
Adobe Acrobat is One of the most powerful PDF editing software that can be used to open password-protected PDFs offline. This toolkit is embellished with various services, but you need to subscribe to the premium plan to access all its features.
To open password protected file, follow the below steps:
1-Launch the encrypted file in Adobe.
2-Go to the File menu, click "Properties," and hit the "Permission Details" tab.
3-In the security tab, select "Security method," From the drop-down, choose no security and hit Ok to save this decrypted file.
Wrap Up
We hope that this guide on "how to open password protected PDF" has helped you and solved your problems. You can also Download WPS Office software, an all-in-one toolkit, to make the word, PDF, Powerpoint, and Excel Sheets. A plus point of this software suite over others is that it is affordable and has a user-friendly Interface.
.