Just Read This Article to Help You Solve the Test PDF Puzzle
Why do people need test pdf?We all have been at the point where we are excited about a new computer, Mac or Windows. However, there are many things that are discovered when you start working, especially dealing with documents. In such times, one realizes the need for a test pdf. Sadly, many people do not know how to do it. Luckily, you can find all the help you need by reading this article.
Part 1:Why Need Test PDF
Millions of people send and receive documents for personal and professional use. PDF files are one of the most commonly shared forms of documents. It allows the users to send and receive information that can remain secure in most circumstances, such as important company data and binding legal information.
However, the first thing you need to understand is if your computer has a PDF reader,like WPS Office. Of course, you can only determine this by having a sample file by your side to test PDF. There are more than one ways that can help you access a sample file.
Some mediums allow you to create your own test pdf, and others may also provide you with samples to try. The choices are endless.
Part 2:Different Types of Test PDF Files
One of the easiest ways to find a PDF reader on your computer is by downloading a test PDF file on your Device. You can understand that you have a functional PDF reader if the test PDF file opens.
1.One Page
Many people need to access one-page pdf files every day. It can be frustrating to be unable to access your PDF file. The following steps are a test PDF to ensure that your Device has a PDF reader for one-page PDFs.
Step 1:Go to your search engine and open this link "http://s29.q4cdn.com/175625835/files/doc_downloads/test.pdf"
Link to a PDF sample one page
Step 2:You may not have a PDF reader if the file does not open.
Step 3:Download the File
link to a PDF file with multiple pages
Step 4:Access the file in your designated folder
Downloaded PDF file in device
Step5:Once downloaded, you can access your single-page pdf with or without the internet
2.Multiple Pages
Just single-page PDFs people also have problems accessing their PDFs with multiple pages. In such times, the best way to access your multi-page PDFs is by using a reliable test PDF. These steps can help you see if your Device has a PDF reader.
Step 1:Open https://www.ucd.ie/t4cms/Test%20PDF-8mb.pdf on your search engine
multiple page pdf sample
Step 2:You may not have a PDF reader if the file does not open.
Step 3:Download the test PDF file
pdf file pointing and the download button
Step 4:Access the file in the designated folder
downloaded multiple pages pdf
Step 5:Now, you can use your multiple-page test PDF file with or without an internet connection.
Part 3:Where to Get PDF Samples
Many people understand that they need a sample document to test PDFs. One of the first things that come to mind is where to get the sample document. Well, worry no more. The following ways can help you access sample documents.
1.Small PDF
It is not as hard to access sample PDFs as you may think. You can get access to a one-page sample test pdf from the Small PDF. It is also an ideal place for you to convert, compress, and edit PDF files when needed.
Small PDF has more than 20 tools related to PDFs that can make your personal and professional life easier. It has over a billion users worldwide, which ensures its promise. You can also use this platform to download your test PDF by following these steps.
Step 1:Visit smallpdf.com
homepage of small pdf with highlighted link
Step 2:Land on their Blog Section
blog section of smallpdf
Step 3:Find the Sample PDF by following https://smallpdf.com/blog/sample-pdf
Download sample PDF icon on Small PDF
Many people want to test PDF samples from different sources. In such times, one always looks for reliable sources to ensure the presence of a PDF reader in their systems. In these times, you cannot overlook the great option of WPS Office. While other platforms let you download a PDF, WPS Office allows you to create your own test pdf sample. In addition, you can also edit your PDF files and also discover beautiful pdf templates on the platform.
It is a trusted medium for more than 1.2 billion users worldwide and provides compatibility with major platforms such as Linux, Windows, Mac, Android, and many other options.
One of the best things is that WPS Office is very easy to use and does not have a challenging learning curve. Therefore, it is easy to use for beginners are professionals alike.
These steps can help you create a PDF in the WPS office.
Step 1:Visit WPS Office home on your Device
Step 2:Click the "New" option from the left vertical menu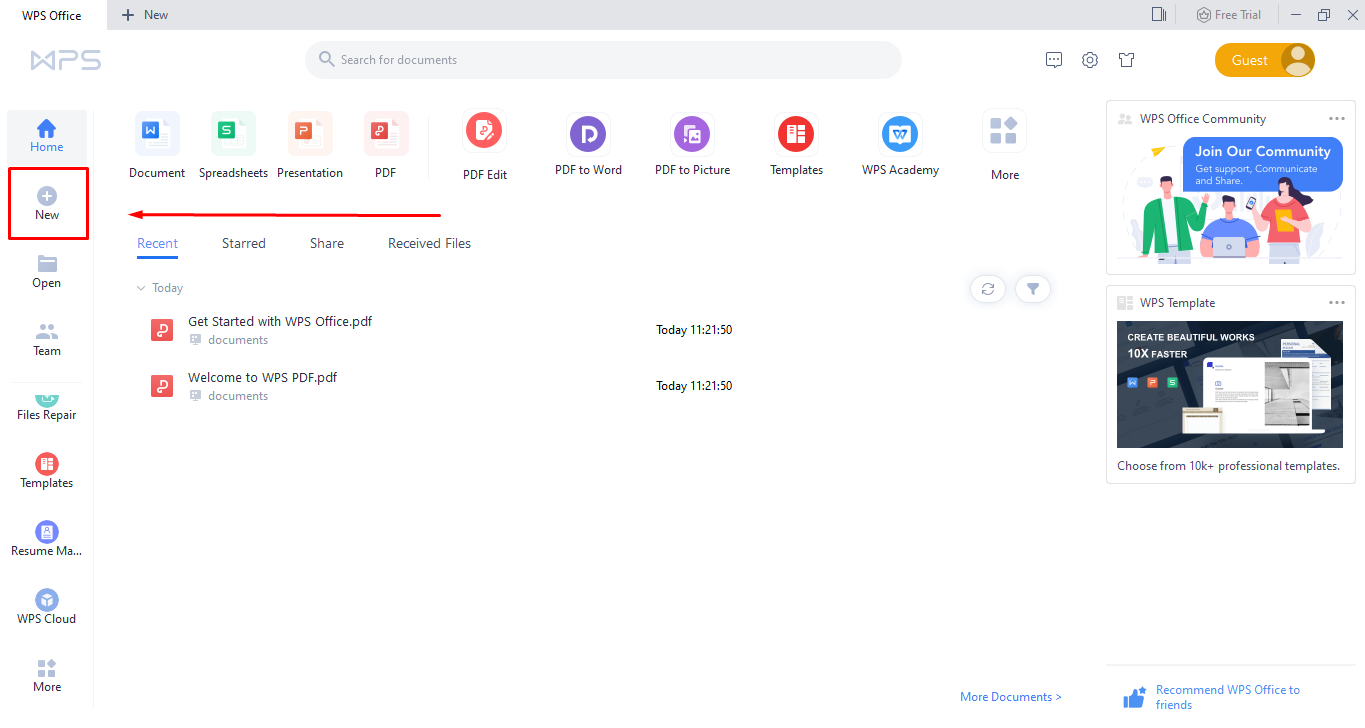 pointed to the new icon on WPS
Step 3:Go to the "Create a Blank PDF" option
create a blank pdf option of WPS
Step 4:Enter the blank document and discover the options to add to your PDF in the taskbar.
Creating new pdf on WPS
Step 5:You can save your Sample PDF by clicking the pointed icon or pressing "Ctrl+S."
Part 4:Advanced PDF tools
The advancements in tools and technology have enabled people to test PDFs more efficiently nowadays. You can experience your test pdf at home with the help of advanced PDF tools.
There are many tools that can help you test pdf without the need for any professional help. All you need is a little bit of know-how about these tools.
1. Applitools
In a time when many tools and apps can test the functionality of your app by UI, people really look for options that automatically access the user experience of an app. In such times, Applitools is a platform that examines every UI element in an app to ensure its functioning. You can test PDFs easily with Applitools.
Step 1:Visit Applitools.com
home page of Applitools
Step 2:Visit the "Use Cases" section
Applitools homepage pointing at use cases
Step 3:Go to "PDF testing" in the Use Cases
PDF testing option on Applitools
Step 4:Press Get Started
get started button on Applitools
Step 5:Login/sign up with Github or your email
Applitools sign up/log in page
Step 6:You can reach the following platform for UI and AI testing of your
Applitools platform homepage
2. PDF Unit
PDFs have become an important part of every individual's life. From a range of bills to insurance policies, and work documents, most things are dealt with and exchanged in PDFs. In such times, it is very important to test PDFs and ensure that you can access every document in time. This practice can be strengthened a lot with the help of the PDF Unit.
PDFUnit is available as a Java API, a.NET API, and XML dialect and as a Perl module. It automatically monitors PDF documents in all directories. Here are some steps that you can follow on PDFUnit.
Step 1:Go to pdfunit.com
PDFUnit Homepage
Step 2:Press "Download Test Version"
Step 3:Visit the Samples
sample for PDFUnit
Step 4:Test Your Document
FAQs to Consider
Even after detailed guides on using PDFs and getting to test PDFs, there can be many ambiguities. Here are the answers to some of the common questions that people new to test pdf ask.
Q1. How to solve the problem of not being able to view pdf files?
PDFs are one of the most common forms of sharing documentation. Yet, there are many people who still face difficulty in opening their documents on an everyday basis. It can be very frustrating. Therefore, you need to test pdf to ensure that you can access all your PDFs without a hassle. Here are a few steps that can help you in opening your PDFs without any restrictions or errors.
Step 1:Open Google Chrome Browser Tab
Step 2:Click the three dots on the top right
Step 3:Go to "Settings" from the Menu
Step 4:Look at Privacy and Security and find "site settings."
Step 5:Find "PDF Options" at the bottom of the page
Step 6:Enable Your PDFs by selecting "Open PDFs
Q2. How many MB should a PDF be?
Many people deal with PDF files every day. Every file can be a different size. However, test pdf generally agree that PDF files should not be bigger than 1 MB. If you have a bigger file PDF test, you can easily compress your pdf file with Acrobat.
Q3. How do I make a large PDF test?
It can be challenging for many people to use large PDF files for testing. However, test PDFs can be made easier with the following steps.
Step 1:Go to pdflabs.com and press "PDFtk Free"
Step 2:Press the green Button with the words "Download PDFtk Free!"
Step 3:Once downloaded, you can use the "add file'' feature to add the desired file
Step 4:Use the command "pdftk 100MB.pdf 100MB.pdf 100MB.pdf 100MB.pdf 100MB.pdf cat output 500_MB.pdf" for large non-optimized PDFs
Final Thoughts on Test PDF for Users
PDFs are used everywhere in the world by people who want to ensure the safety and integrity of their work. It is the most secure way to get word across about things without compromising the quality of their work. Of course, in such times, you also encounter some problems that can be sorted by test pdf.
You must also ensure the safety of your documents by using WPS Office. WPS office provides options to create, view, edit, and share PDFs easily. It is an office suite trusted by more than 1.2 billion people worldwide, and the family is still growing.