Free Download PDF Form Filler (Windows, Mac, iPhone)
You must be tired of installing various types of software but couldn't find the right tool to fill your PDF form. Well, you don't need to move here and there anymore as I am describing some free PDF form filler tools and their downloading process. There are several tools available in the market that can read, view or convert your PDF documents. But few tools have these amazing features where you will get to fill your form with desired text and signatures. After filling you can easily store the filled form in your local storage without any signing-in process. Don't worry, these tools are absolutely free and completely safe, and secure to use.
In the following, I have shared 3 quick and best tools to download free PDF form filler to work both online and offline. The following tools are supported for Windows, Linux, Mac, and iPhone users. Follow the instructions below to learn the techniques.
1. WPS PDF Form Filler
WPS office is one of the most top-rated software nowadays due to its amazing and powerful features. With a user-friendly interface, this tool attracts students and a high-security system aggregates enterprises worldwide. WPS PDF tools make your editing work so simple that you won't need to go for other software. Similarly, filling out PDF forms is super simple as they have introduced a separate tool named "Fill and Sign" for filling work. Without moving here and there let's learn the downloading steps and filling steps.
Useful Tips:
PDF viewers can read PDf files but PDF editor software can edit PDf extensions. For this reason, filling PDF form can be done using an application that can edit PDFs. Try the WPS office for filling out PDF forms for free.
Steps:
To start with go to your browser and search by typing "download wps office" in the search bar.

Next, from the result choose "Free Download WPS Office" to start downloading.
Thereafter, hit the "Free Download" button from their official site.
Now, install the app and open the PDF form which you want to fill out.
Then, press the "Edit" option to fill the form with desired text and select an item from the drop-down list. It's that simple.
2. FoxitPDF for Filling Form
In some situations, you can also try the FoxitPDF software for filling PDF documents. This tool is very user-friendly and you might need to purchase their subscription after several trials.
Steps:
In the same fashion, search with "download foxit pdf editor" and choose the first result from the output.
Simply, hit the "Download Free Trial" option to start downloading it.

Thereafter, install the downloaded file and run the software.
Hence, open your PDF form with this FoxitPDF app.
Therefore, click the "Edit" option to fill the form with desired text, signatures, and images. You can also use the "fill & sign" option too.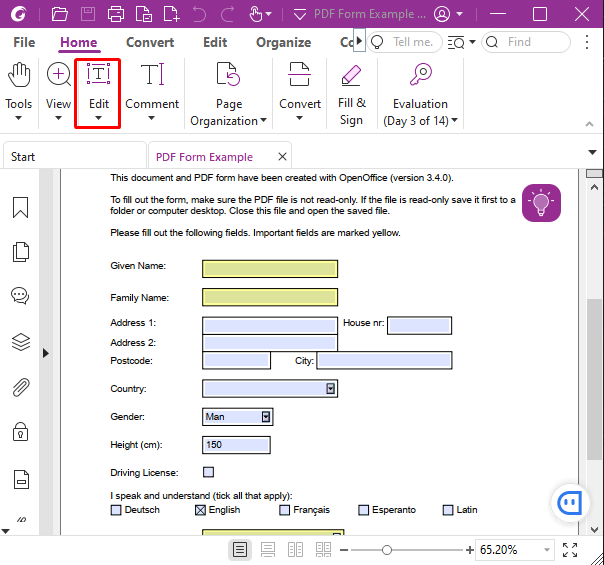 3. PDFelement PDF Form Filler
Wondershare is quite a handy tool for editing and filling PDF documents. Within a few days, they have made a big place in users' hearts with their amazing and superb features. For the filling, editing, and annotating PDF files this is one of my favorite tools.
Steps:
In the same fashion, just like the previous method, we will search for "pdfelement" in our web browser.

From there we will choose "Wondershare PDFelement".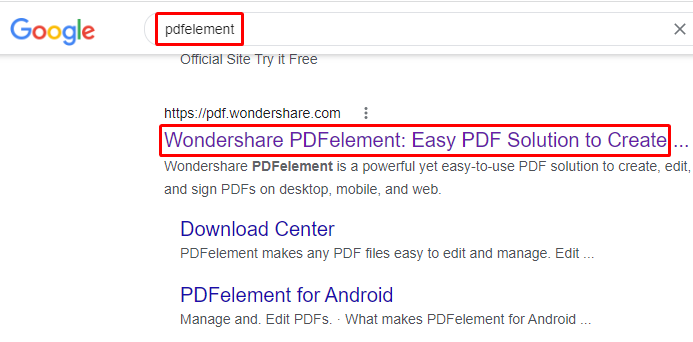 Therefore, we will click the "Free Download" option to start downloading.

After the download is completed double click the file to install it.
Simply, drag or open your won PDF form with the PDFelement app.
Now, click on the "Edit" option to insert text, and images and fill out the form. Simple isn't it?
FAQs
1. Can I open and choose options from the drop-down list of a PDF form?
If the chosen application has editing features rather than viewing then definitely you can choose your desired option from a drop-down list. WPS Office can be your first choice if you are looking for such a tool.
2. Do I have to purchase a subscription plan while saving the document?
The answer is no. you can try WPS Office where you will get to use free trials for filling PDFs. But after several trials you might need to purchase their weekly and monthly plans.
Free Download WPS Office Suite
In the above article, I have described all the ways to download PDF form filler for Windows, Mac, and iPhone in a simple way. I have also shared the best tools for editing work for both online and offline users. Last but not least don't forget to download the WPS Office suite as this is the best tool to read, convert, and edit any type of document. It is compared as an alternative to Microsoft Office due to its multiple features and is used by 300 million people all over the world. It's absolutely free for Windows, Mac, and iPhone users. Below I have shared the latest version of WPS Office Suite. Just click and enjoy. Thanks!