Top 5 PDF Signer for PC
January 4, 2023 |
 PDF Softwares
( 31 )views
In this article, you will learn:
1. WPS

Free Trial of PDF Signer of WPS Office
Nowadays, more and more businesses are streamlining their processes and using smart devices such as the iPad or computer to replace old paper systems.
Many files in the company need to be signed. So in these days of quick tech advancements, it is highly inefficient for anyone to spend time printing out a document, sending it off to recipients, asking them to sign then having them returning it to be filed.
To save you time, we've created a list of the top free PDF signing tools and you can quickly sign PDF documents with electronic signatures.
1. WPS
Wondering how to add a signature to PDF? This free tutorial offered by WPS Official Academy will take you through the simple steps to insert a signature in a PDF file in WPS Office. No hesitation to read and master within 3 minutes!
There are various reasons why you need to add a signature to PDF in WPS Office. And WPS Office is sure to provide you with the fastest method.
Steps to add signature to PDF in WPS Office
1. Open the PDF document in WPS Office.
2. In the Insert tab, click the Sign drop-down button, and select Create Signature, whose shortcut is Alt+U.
3. In the PDF signature dialog, WPS offers three options, including Input, Image and Draw.
Click Input, enter the content in the box, and you can click to modify the font in the upper-right corner.
Click Image to select and insert the local image as the signature.
Click Draw, and you can drag the mouse to create your signature.
4. Click OK, and adjust the size and position of your signature as needed.
Note: Click Sign again, and you can quickly insert the created signature in current file.
And only the WPS Premium users can save the signature in WPS Cloud and easily use it in other documents.
It's very simple to insert a signature in a PDF file in WPS Office. Have you mastered it?
WPS Academy provides you with more advanced operations concerning PDF editing in WPS Office.
2. EasePDF
EasePDF is a brand that has just been created but it has been researching PDF for more than 10 years. Now they have more than 20 tools, including Word to PDF Converter, Excel to PDF Converter, eSign PDF, Split PDF, Merge PDF, Unlock PDF and so on. They will keep developing better qualified and more user-friendly online conversion for their customers.
The interface of EasePDF is very concise. You can see the Sign PDF tool by clicking the drop-down icon of the All PDF Tools button. The tool in this editor can easily add a digital signature to PDF online with just a few clicks.
Pros
Free and easy to useMultiple upload methodsThe file will be full confidentialityNo registration requiredEasily create digital signaturesDiversified signature methods
Cons
No desktop version
3. Smallpdf
Smallpdf, which is crafted in Switzerland, boasts a comprehensive suite of more than 18 PDF tools in 24 languages and over 500 million users. The interface is designed with the icons as well as all the tools. This makes it easy to not only upload the files required but to also work on them as one desires.
There is a growing need for businesses to sign a PDF easily and digitally, so Smallpdf is a good choice for you to sign a PDF electronically. You can see the Sign PDF tool on the last line of the homepage. There are two ways for you to sign a PDF. First, you can request a signature. That means you can get PDF files signed by others and track progress. Second, sign a signature by yourself.
Pros
Can get PDF files signed by others and track progressEasy to signWorks on all operating systems
Cons
There are some advertisements on the interfaceSometimes the online processing of the PDF takes too longOnly process twice per hour for free
4. Sejda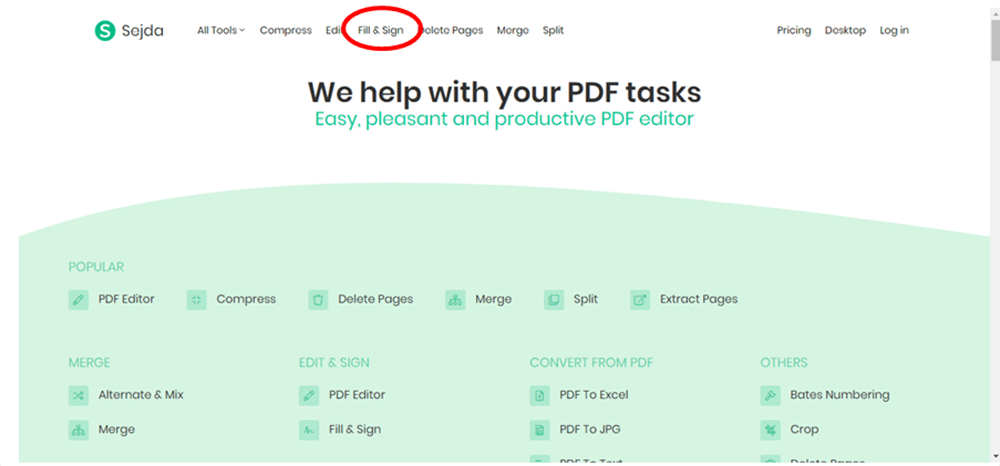 Sejda, created in 2010. This online editor is truly value people in different countries for the reason that it has nearly 20 languages. It's a useful and excellent tool for editing PDF. There is a great ability for this editor: a user can do roll-back the changes. It's a very comfortable feature.
Besides, Sejda contains a Sign PDF tool in its editor, which means that users can directly and digitally sign their PDF without uploading the same files again. There are 3 methods for you to create a signature. First, type your name. Second, draw your signature using your mouse or trackpad. Third, upload an image with your signature.
Pros
Simple and easy to useProvide with 12 different fonts to signDiversified signature methodsEncrypted transmission
Cons
Pages contain too much content, not so user-friendly
5. Soda PDF
Soda PDF is an editor that can manage your PDF documents online. It is also a very important editor for your work. A large number of functionalities offered to this editor. Soda PDF replaces many other small editors that offer only one or two of its functionalities.
When you use the Sign PDF tool of this editor, you don't need to worry about the security of the file. They use secure technology to establish an encrypted link between their web server and your browser so that all data remains private. Your files can only store on the server for 24 hours to limit any unauthorized access and then will permanently remove from the servers.
Pros
Files encryptionProcess files on any deviceEasy to useCloud storage accessAuthentication
Cons
Only a handful of languages supportedOnly free three times per hour
Free Trial of PDF Signer of WPS Office
In this list of the top signing tool, we've shown you awesome PDF signing tools. You can choose WPS the best way to sign the PDF on your computer. WPS has its features. Which can solve all your problems.