How to Download PDF Editor (Online 2023)
While working with a lot of PDF files you might face difficulties with editing your PDF documents. A proper PDF editor with all the aspects can be your solution in this case. There are multiple PDF editors in the market with various features. But is there any PDF editor which has every tool like merging, combining, style changing, and editing images and texts? The answer is yes. With PDF editor you can edit, combine or separate multiple PDF documents, change texts and images, and at the same time manage your documents. In addition to that, rotating pages, annotating, adding watermarks, and signing can be done for windows, Mac, and iPhone users. Today in this article I have come up with some free PDF editors for your regular basis work. These editors are both available for online and offline uses. So without moving here and there let's dig in right now.
In the following, I have described the 2 best PDF editors to download. These two PDF editors are available for windows and iOS users. Follow the instructions below to learn how to download the best PDF editor.
1. Download WPS PDF Editor
WPS Office Suite is one of the best free PDF editors for students, teachers, and business professionals. It is compared to Microsoft Office as it has Word, Spreadsheet, and PowerPoint features. In addition, you can open any documents and edit them according to your choice. This software is available for both online and offline works and is supported by Windows, Mac, and iPhone users. The main feature of which WPS is popular to all is that you can convert, annotate, merge, and edit PDF documents and share them directly to any server. We often worry that will my file be the same even after editing and adding texts, styles, signatures, and images. The answer is yes, it will remain the same even after editing or adding multiple items inside the PDF extensions with the WPS PDF editor. So without moving here and there let's learn how we can download the WPS PDF editor for free.
Using Tips:
Editing is the easiest work to do if you have a user-friendly interface and multiple tools. WPS Office can be your first choice as it has all the PDF editor tools within itself. Taking users' problems in mind it kept its editing tools simple.
Steps:
First, start by opening your browser, and in the search box search with "WPS PDF editor".
Click the first result to download the WPS PDF editor.

If you want you can directly click this link to go to the download page.
Next, opening the page click on "Free Download" to start downloading.

After the download is complete install it.
Then, drop your PDF document inside the WPS Office app to edit.
Simply, click the "Edit" option to edit your PDF documents. Simple isn't it?
2. Download PDFelement
If you want you can also use the PDFelement software to edit your PDF documents. The problem is that files converted to PDF using the PDFelement tool can be edited easily. Otherwise, PDF sourced from outside won't remain the same after editing. Follow the instruction to learn about downloading PDFelement PDF editor.
Steps:
Similarly, opening your browser search for "pdfelement" in the search box.

After that open the "Wondershare PDFelement' search result.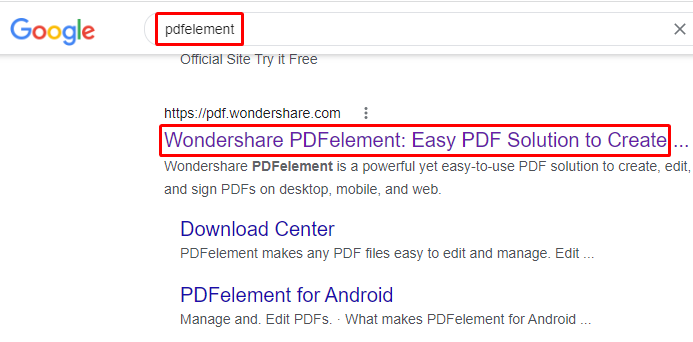 Going inside the page press "Free Download".

After the download is complete install it on your device.
After installing, double-click to open your PDF extensions.
Thereafter, hit the "Edit" option from the top ribbon to edit. After the editing is complete save it and enjoy.
FAQs
1. How to edit images in PDF?
This is the question I get to hear from several users. It's very simple. Without using a PDF viewer go for WPS Office or other tools which can edit PDFs. Simply, visit the "Edit" option and add or change images from the document.
2. Can I attach a handwritten or digital signature with a PDF editor?
Yes, you can. With the WPS PDF editor, you can add your own handwritten and digital signature to any location of the PDF document.
Free Download WPS Office Suite
In the above article, I have described all the ways to download PDF editors for windows, Mac, and iPhone in a simple way. I have also shared the best tools for editing work for both online and offline users. If you find the article useful don't forget to let us know in the comment section below. Last but not least don't forget to download the WPS Office suite as this is the best tool to read, convert, and edit any type of document. It is compared as an alternative to Microsoft office due to its multiple features and is used by 300 million people all over the world. It's absolutely free for windows, Mac, and iPhone users. Below I have shared the latest version of WPS Office Suite. Just click and enjoy. Thanks