Smallpdf Extension Reader for Chrome (Free 2023)
With over more than 15 million users Smallpdf is leading the software industry with its great functionalities and optimization. Smallpdf extension reader for chrome can be used as a PDF reader. Besides reading PDF files you can convert, organize, and split PDF documents utilizing the extension. Business professionals can add templates and electronic signatures with the help of this extension. The main reason people love using this extension is its security. Because you drop your file and after completing your task of editing or converting it automatically removes the file from the server. Sometimes while converting PDF to word the font style of the PDF changes to a different style.
How to Install and Use Smallpdf Extension Reader for Chrome
In the following, I have shared step by step process to install and use Smallpdf extension reader for chrome.
Steps:
In the first step, start with clicking the following link to open the extension in your chrome browser swiftly.

To the right side of the tab press the "Add to Chrome" option.
Accordingly, click "Add Extension" confirming the installation to run.
In general, the installation will be completed within a few seconds. Hence, to check whether the extension is added or not go to the Chrome Menu icon > More Tools > Extensions.
Finally, you will be in the "Extensions" window we have perfectly installed the "Smallpdf" extension.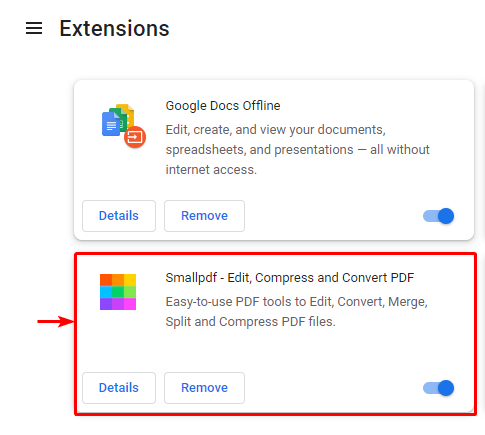 Without any hesitation, we are ready to use it. To use it let's pin this extension tool to our top ribbon. To do so-
Click the "Extension" icon and press the "Pin" icon once to enable it.
Now open your PDF document with this Smallpdf extension reader in the chrome browser and enjoy reading. While reading you can "Unlock" and "Protect" your PDF using the extension. Enjoy!
Looking for information about the free trial provided by Smallpdf? Check here: All You Need to Know About Smallpdf Free Trial
Free Trial of WPS Office Suite
WPS Office Suite is a tremendous software for windows, Mac, Android, and iOS users due to its versatility. Using this software and android app you can open and read any type of file and also convert those to any extension you like. In recent years, they came out with their extension tool for chrome and android apps for mobile users. Although it's recommended as an alternative to Microsoft Office. So what are you waiting for? Go and download it right now. BelowI have shared the downloading link for an upgraded version of 2022 which is completely free.
In this article, I have explained the benefits, features, pros, and cons of the Smallpdf extension reader for chrome. If you enjoyed my article please give a thumbs up in the comment section. Thanks!