The Instructions for Creating a Direct Deposit Form PDF
A direct deposit form PDF gives permission for a third party to transfer funds to a bank account, typically an employer for payroll. A canceled check is typically required when an employer requests authorisation to make sure the account is legitimate. Following completion, a company will have the ability to transfer funds right to an employee's bank account.

Conversely, while filling out a direct deposit form PDF, you face certain difficulties that lead to mistakes, such as creating a signature, dealing with bad quality forms, etc. Fortunately, with the help of the WPS PDF Tools, you will get rid of all PDF-related problems. WPS PDF Tools assists you in viewing, editing, and collaborating on PDF documents online using this PDF application. However, this robust PDF application includes some top-notch functionality, such as the ability to comment on PDF files, sign contracts, and print documents. Most importantly, downloading costs a student or visitor absolutely nothing.
How do I Use the WPS PDF Tools to Make a Direct Deposit Form PDF?
Making a direct deposit form PDF is simple with WPS. First, you need to open the app, then select + from the left-hand menu. Immediately after completing this step, click Create PDF. Thanks to the tool's wealth of features, you can edit, add text boxes and different shapes, sign, and collaborate online. After finishing the direct deposit form PDF, you need to save the file. Furthermore, it also promises to provide you with a high-quality direct deposit form PDF.
How to Make your Direct Deposit Form PDF Fillable?
Students often need to be made aware that all Direct deposit forms (PDF) are editable. Unfortunately, only some PDF files can be filled up. To make the forms fillable, you need to convert them to interactive fillable forms. On the contrary, many sites on the internet will assist you in creating interactive PDF forms, but they either consume a lot of time or cost huge bucks to create interactive forms. Nevertheless, with the help of the ideal WPS PDF tool, which is free and quick, forms can be made fillable.
Steps to Filling out a Direct Deposit Form PDF
The converting and editing of direct deposit forms (PDF) have been made easier by the WPS PDF tool. The aforementioned features are highly advantageous in both editable and non-editable forms. Below are the steps to filling out both flat forms (non-interactive).
Step 1: Open WPS and then select PDF Editor from the menu.
Step 2: Make the necessary alterations to the PDF file.
Step 3: You must save the document after making all the necessary modifications. By exporting the document in a readable format, you may decide whether to share it with friends or colleagues.


Easy Way to Create a Signature for a Direct Deposit Form PDF
When tourists go to a foreign country for vacations, they need help with the direct deposit form PDF. One of the most common errors is converting a direct deposit form PDF file to a Word document and then attaching a picture of their signature. This process requires an abundance of time and will cause you hassle. To overcome this error, the preferred tool will be the WPS PDF tool. Unlike other sites or apps, you don't need to convert your file to Word. With just one click, sign the form box, and then you can quickly generate your signature and use it to sign documents.
On the other hand, you can use the WPS PDF editor to sign your direct deposit form PDF document using one of three varieties of e-signature, including a draw, text, or picture signature. This allows you to fill out and sign the direct deposit form PDF online however you'd like.
WPS electronic signatures are secure to use. Your signature and a PDF document will be removed from our system an hour later. 100% confidentiality is promised.
How do I create an e-signature?
Select your selected file after opening the software.After uploading, select the pen-iconed fill and sign menu from the toolbar on the right side. After clicking, there is a sign option at the top; select it to add your signature.
To create your e-signature, click New Signature and select one of the three signatures.
You must select your chosen type of signature and then click OK.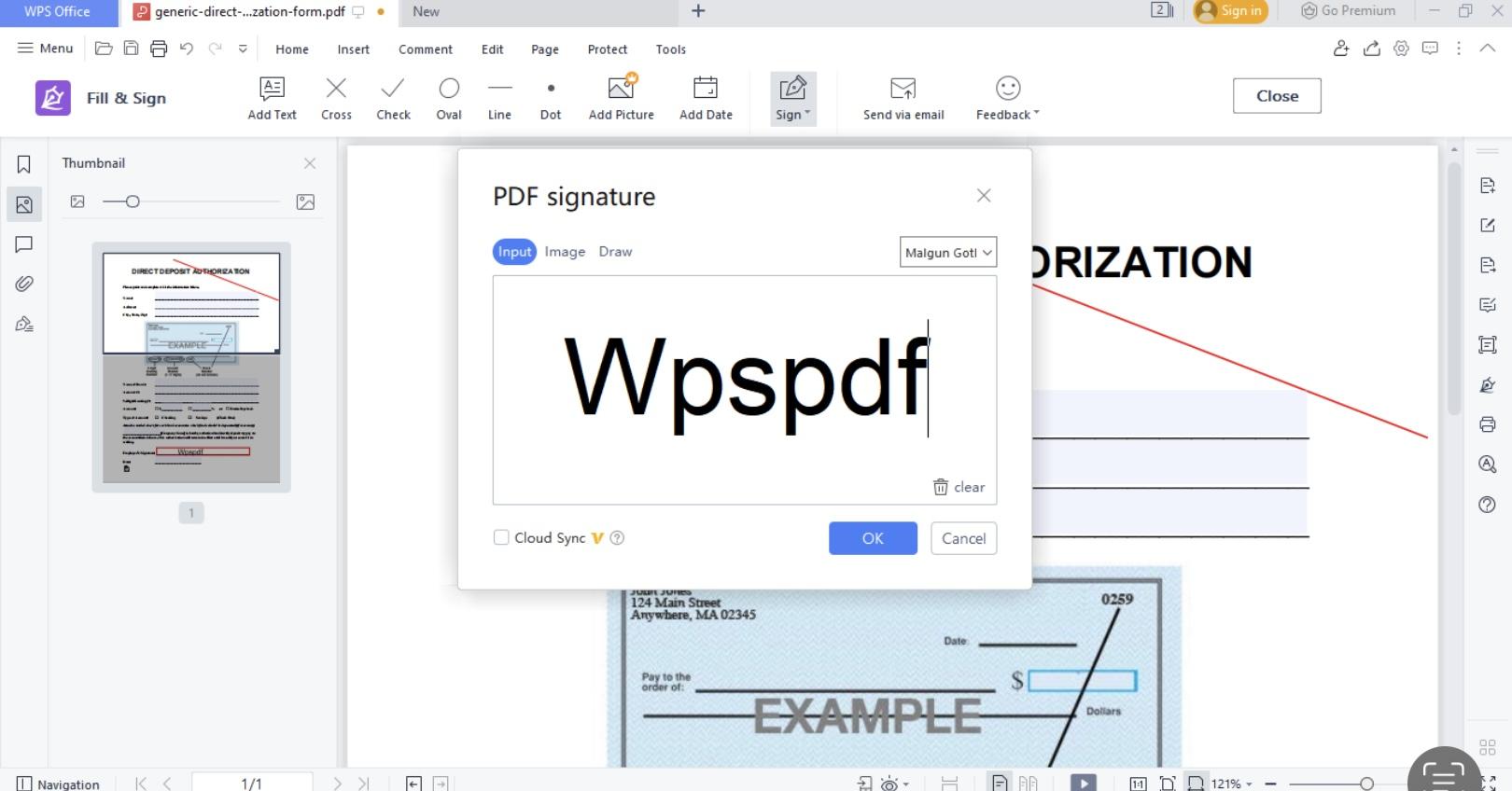 Once you click OK, you can move the signature to your preferred location on the form.


Convert your Direct Deposit Form PDF to any Format
The comfort level differs from human to human; some may prefer filling out a direct deposit form in Word, while others are more inclined towards PDF. WPS will help you meet your needs with its PDF converter feature, which allows you to convert your pdf file to any format, making sharing easier.


Merge Important Documents with your Direct Deposit Form PDF
Sometimes, a proprietor is advised to attach a voided check with their direct deposit form PDF, but they need to correct a mistake by sending them separately, which often leads to confusion.
You can find a few tools on the internet to solve the preceding issue, although they are not free and need more productivity. If you're still looking for a merging tool that meets your expectations, then the WPS PDF Tool guarantees to live up to your expectations.


Several Advantages of the PDF Merger
WPS PDF Merger allows for an unlimited number of PDF file imports. Multiple PDF files can be batch uploaded at once and quickly combined. With this feature, you can merge any document, be it a check or deposit slip, with your direct deposit form PDF.A free trial is available for WPS PDF Merger. Without downloading anything or registering, you can combine numerous PDF files in your browser.Combine PDF files from any location with internet access to save time and effort. This program is compatible with several operating systems, including Windows, Mac, Android, and many others, and it operates in web browsers.
Enhance the quality of the Direct Deposit Form PDF
One of the most common mistakes that are made by students while filling out the direct deposit form PDF is opting for low-quality forms, which makes it a bit strenuous to understand. However, you won't need to worry because your issue will be resolved using the WPS PDF tool. Here are some of its features.
There are three compression ratios supported by WPS PDF Compressor: HD, Recommended, and Smallest. To compress your direct deposit form PDF while preserving excellent quality, you can pick a ratio based on your needs.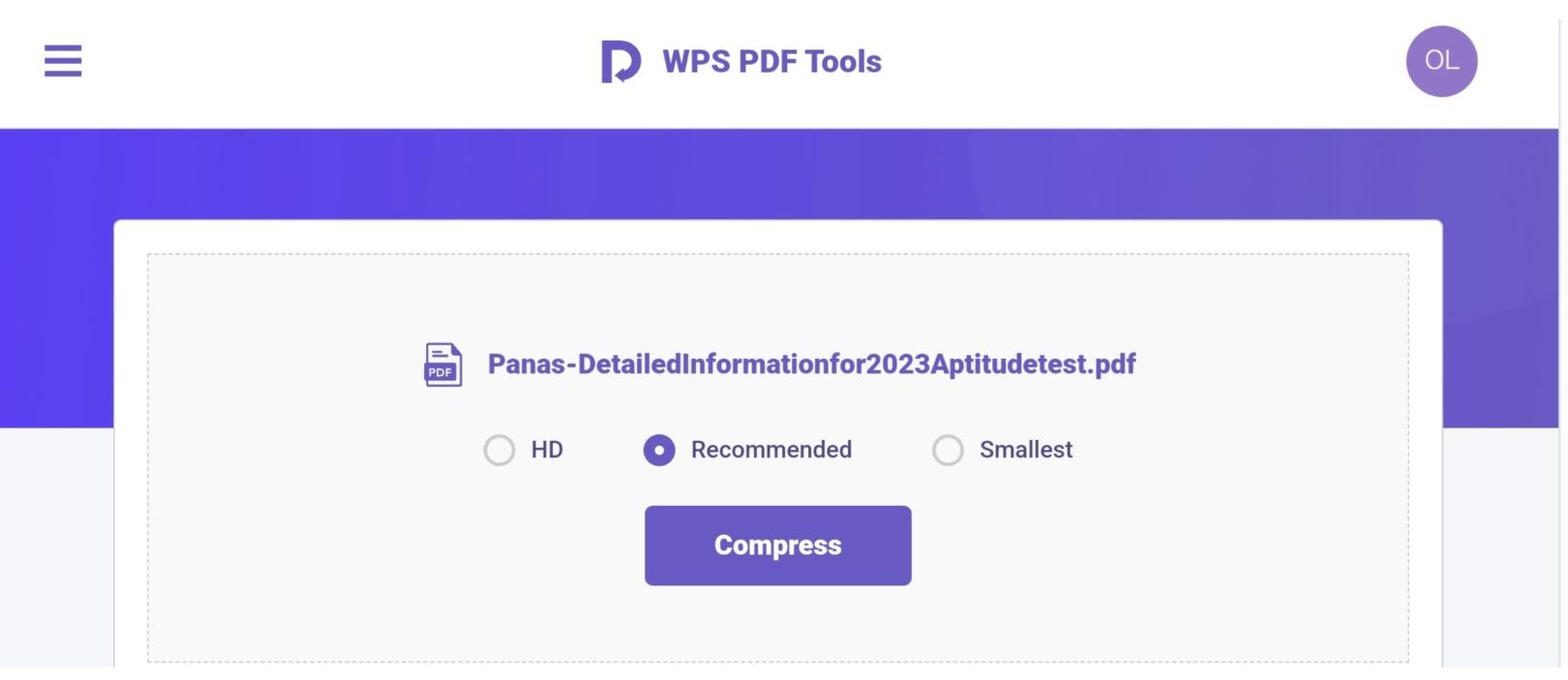 Moreover, your direct deposit form PDF won't be harmed by the compression process, and all of your data will be retained. Use WPS Office for PC or our online tool to compress your direct deposit form PDF if you're looking for more sophisticated solutions.
What Makes the WPS PDF Tool a Better Option for Creating a Direct Deposit Form PDF?
You may find all the necessary functions for your direct deposit form PDF, including editing, creating, and combining, in the WPS PDF tool. The tool is also very quick and simple to use. Download the WPS PDF tool if you want to take advantage of all the top-notch features associated with PDF. Furthermore, The program is also totally free and available for offline as well as online use.