The Ultimate Guide to Open Source PDF Makers
As technology continues to evolve, the need for paper documents has diminished, making digital documents increasingly important in our daily lives. One popular file format for digital documents is the Portable Document Format (PDF), and with the abundance of open source PDF maker software available, it is easier than ever to create PDF documents. In this article, we'll explore the best open source PDF maker software options, including WPS PDF, and provide some useful tips for creating high-quality PDF documents.
One of the most impressive free PDF maker software options available is WPS PDF. This software provides users with a variety of features that are essential for creating professional-grade PDF documents. With its intuitive interface and user-friendly design, WPS PDF is a great choice for beginners and professionals alike. It also supports multiple platforms, so you can create PDF documents on your Windows, Mac, or iPhone device that too offline.
Features:
WPS PDF Creator allows you to create PDF documents from a variety of file types, including Word, Excel, and PowerPoint.

It includes an OCR (Optical Character Recognition) function for converting scanned PDF documents into editable text.
Pros:
WPS PDF Creator is simple to use and features an intuitive UI.

It offers a wide number of customization possibilities, allowing you to tailor the PDF document to your specific requirements.
Cons:
Some adverts may appear in the free edition of WPS PDF Creator, which may be irritating to certain users.
Another great open source PDF maker software option is PDFCreator. It is a highly customizable software that offers users a wide range of features, such as password protection, watermarking, and merging multiple PDF files. PDFCreator also has a virtual PDF printer that allows users to convert any document into a PDF format.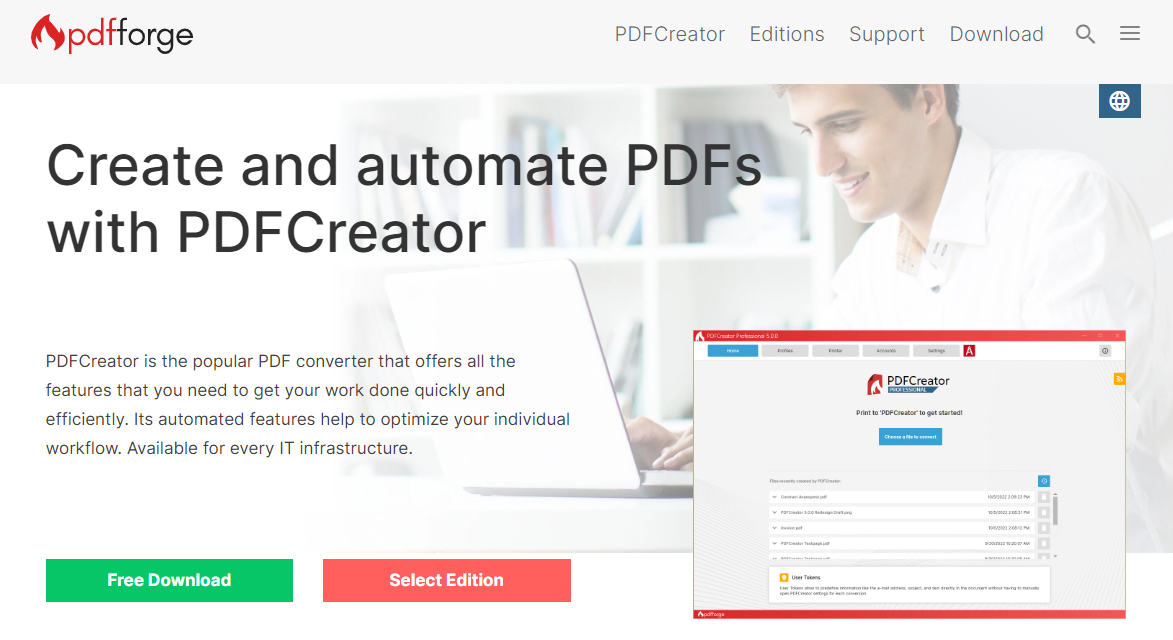 Features:
Make PDFs out of any printable document.

Combine several files into a single PDF.
Pros:
PDFCreator supports a variety of languages.
Cons:
While working with huge files, PDFCreator might be slow.
Review:
Jun 15, 2021
"Easy to use and such a helpful product"
What do you like best about PDFCreator?
I like the ease of use and that you can turn almost any document or picture into a PDF document, which in some instances is easier to edit.
Foxit PhantomPDF is another popular PDF maker that lets you create, edit, and convert PDF files both online and offline. Like WPS, Foxit is not open source, but it does offer a free trial version that lets you test out its features. With Foxit PhantomPDF, you can create new PDF files or convert other file formats to PDF. The software also lets you add and edit text, images, and other media to your PDFs, as well as annotate, highlight, and comment on PDF documents. Foxit PhantomPDF also offers features like OCR, form filling, and digital signatures.
Features:
PDF editing features, such as the ability to add, delete, and rearrange pages in a PDF file.
Pros:
The software is user-friendly and simple to use, making it suitable for users of all skill levels.
Cons:
Some of the more sophisticated features discovered include advanced security and collaboration tools.
Review:
Mar 20, 2023
"Used it a few times for basic needs"
What do you like best about Foxit PDF Editor?
It was very easy to use the interface from the get go.
FAQ
Which PDF maker is free open source?
PDFCreator is a free open-source PDF maker available that can be used to create PDF documents.
How do I make a PDF in WPS Office for free?
To create a PDF file in WPS Office for free, you can follow these steps:
Open the document that you want to convert to PDF in WPS Writer, Spreadsheet, or Presentation.

Click on the "File" tab in the top-left corner of the ribbon menu and select "Export" from the drop-down menu.

In the "Export" dialog box, select "PDF" as the export format.

You can customize the PDF settings by clicking on the "Options" button. In the "PDF Options" dialog box, you can choose the page range, set the image quality, enable/disable encryption, and other options.

Click on the "Export" button to save your document as a PDF file.
Alternatively, you can also use the "PDF" button in the Home tab of the ribbon menu to create a new blank PDF document in WPS PDF Editor. Then you can use the editing tools in WPS PDF Editor to add text, images, or other content to the PDF file.
Empowering Document Managing
Open source PDF maker software provides an efficient and cost-effective way to create professional-grade PDF documents. While there are many open source PDF maker software options available, we recommend WPS PDF as the best software for its versatility, ease of use, and powerful features. So, download WPS PDF now and start creating high-quality PDF documents in no time!