Top 5 PDF Organizer for PC
January 4, 2023 |
 PDF Softwares
( 44 )views
In this article, you will learn:
What is pdf organizer and why you need on PC?

1. WPS PDF

2. UPDF

3. Adobe Acrobat DC

4. Nitro PDF Pro

5. PDF Complete

Free Trial PDF Organizer of WPS Office
What is pdf organizer and why you need on PC?
Pdfs are currently everywhere as so many organizations have come to appreciate how secure they can be. You will therefore at any one point required to have a pdf organizer. A pdf organizer enables you to have your pdf document in order. This implies that you can add new pages to a pdf, delete some pages or even rearrange existing pages of the pdf. This article takes you through what is pdf organizer and explains why the WPS PDF tool for organizing your pdf is the best.
1. WPS PDF
The WPS pdf organizer is a tool available online that you can use to organize your pdf document. You can now easily sort, add or delete pages on your pdf. It is part of the one-in-all pdf tool package in the WPS office pdf software
Why You Should Choose the WPS Pdf Organizer
There are many reasons why this WPS pdf tool is the best and why most people use it to organize their pdf files. Some of these reasons include:
1-Wide range of features available
The WPS PDF tool has all the features you need to put your document in order. Very few pdf organizers enable you to add, delete and rearrange the pages in your pdf. All these features are available for you if you understand what is pdf organizer and how to use it.
2-Easy to use WPS PDF tool
The online WPS pdf organizer is the simplest organizer to use. It has a nice user-friendly interface that does not confuse you. this is why you should have the all-in-one pdf tool since all other features are this way.
3-Privacy and security are guaranteed
With the WPS office, the privacy and security of your document are well considered. You don't have to worry about your document ending in the wrong hands and causing harm to you or your organization. One such measure to protect your document is when the pdf editor automatically deletes your document within an hour of uploading. More security options can be found when you use the WPS application a one-in-all pdf tall offline.
4-It is free
Unlike other popular pdf organizers, this WPS PDF tool is free. You don't need any subscription to organize your file. You just need to have an idea about what is pdf organizer.
How To Use the Online WPS Pdf Organizer?
As mentioned before, using the online pdf organizer is very easy. Here are the steps to follow and organize your file:
Step1: Visit the WPS pdf website https://pdf.wps.com and go to the pdf organizer tool
Step2: click on the 'select file' icon and upload the files you want to organize
Step3: you can then do the various functions on your pdf. You can add pages, delete or reorder.
Using WPS Pdf Offline
In case you are not able to use the online pdf organizer, then you will require to download the one-in-all pdf tool, that is, the WPS office app. It is a little more economical since you won't need an internet connection although you may need to go premium to use it.
How To Organize a Pdf Offline?
To organize a pdf offline using the all-in-one PDF tool, follow these steps:
Step1: open your app on any device you are using
Step2: Tap on the PDF tools icon and access the pdf organizer tool
Step3: you can now proceed with the online pdf organizer
2. UPDF
UPDF is a lightweight and free PDF editor with robust PDF organizer tools to help arrange your PDF pages and manipulate them in different ways. You can reorder, rotate, delete, insert, replace, and extract pages from PDF. It also comes with features such as PDF editing, PDF reading, and a PDF converter.
The UI is very modern and simple, making it an ideal tool for new users with no prior experience with PDF tools. The thumbnail view makes it easy to handle any size of PDF file, including very large documents. It's a dual-OS product, which means you can download the PDF organizer for PC Windows or PDF organizer Mac version based on the system you're currently using.
Key Features
Edit PDF: Manipulate any content in a PDF file, including text, images, objects, etc.Read PDF: A book-like PDF reading experience with handy navigation tools, bookmarking, PDF search, and other features that make reading PDFs a natural and intuitive experience.Organize PDF: With UPDF, you can extract, replace, delete, add, reorder, and rotate PDF pages - a pro-level free PDF organizer for PC Windows and Mac.Convert PDF: Transform PDF to other file formats easily, and it supports the conversion from PDF to Word, Excel, PowerPoint, etc.Protect PDF: You can set an open password or permissions password to a PDF document.
How to Use the UPDF PDF Organizer Module
Open your PDF file in UPDF.Click the Organize Pages tab on the left toolbar.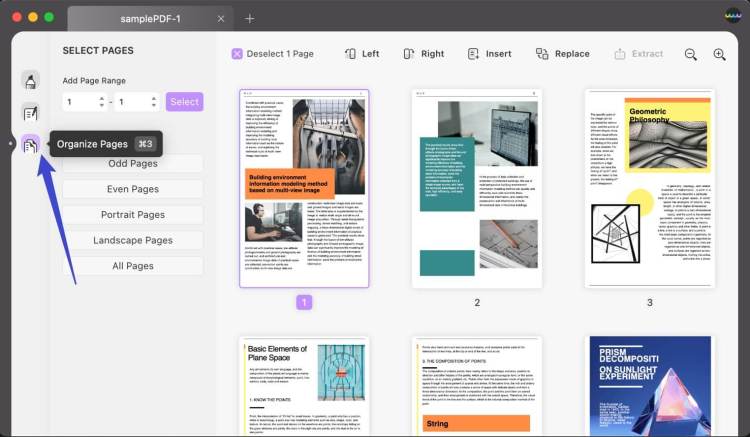 Access all the tools you need to reorder, replace, add, delete, split, and rotate PDF pages.Save the file with a different name or share it with others.
As a powerful and free PDF editor, UPDF doesn't skimp on advanced PDF editing features. Take advantage of this desktop PDF organizer, editor, and reading tool to modify, add or delete existing content within your PDF pages. You can also use this robust PDF tool to view and read PDFs in a natural manner.
3. Adobe Acrobat DC
Although Acrobat DC is a powerful PDF editor, it also has a PDF page organizer feature to help get your PDF files in shape. Offering an impressive range of PDF organizing and management tools, this desktop software allows you to rotate, reorder, insert, and remove pages. These features reside in the Organize Pages section of the Tools menu - let's look at how it works.
Acrobat DC Key Features
Create, Reader, View, and Edit PDFPDF ProtectionAnnotation ToolOrganize PDF Files and PagesCreate, convert, fill, and sign PDF formsOCR to convert scanned PDFs to editable or searchable PDFsTo and From PDF ConversionsOther Advanced Tools: Color Management, Print Production (Pro DC only), Preflight Tools (Pro DC only), etc.
Using the PDF Organizer Function in Adobe Acrobat DC
Open the PDF file.Click on Tools and select Organize Pages - you can also select Organize Pages in the sidebar menu on the right.Use the secondary toolbar to extract, replace, split, insert, or add pages.To reorder pages, drag the corresponding thumbnail of that page to its new position and drop it thereSave the file to preserve the changes
4. Nitro PDF Pro
Nitro PDF Pro is another robust PDF organizer and editor with a host of basic and advanced tools for PDF management. It is only available for PC Windows and iOS devices, but the company purchased PDFpen and PDFpenPro a while ago to expand its portfolio into the Mac space. Nitro itself is a versatile PDF handling utility with a very MS Office-like UI that makes it easy for first-time users to get the hang of the software.
Nitro PDF Pro Key Features
Create PDF: Convert other files to PDF or combine several files to create a single PDFEdit PDF: Full PDF editing capabilitiesFile Conversion: Convert PDF to other formats such as MS Office files, images, and other formatsOCR: Scanned PDFs can be converted to searchable or editable filesElectronic Signature and Digital Signature: Create signatures, apply them to documents, and send files for others to sign (with tracking and confirmation)PDF Security: Password protection, redaction, digital signature validation, etc.Forms: Create and edit XFA forms, and fill and sign PDF formsAnnotate PDFs: Collaborate effectively with others with extensive tools for commenting, reviewing, feedback, and notes
How to Organize PDF Pages (Rearrange) with Nitro PDF Pro
Open the PDF fileClick the Pages tab in the left sidebar navigation panel
You will see a Pages pane, where you can select and drag a page to a different position in the documentSave the PDF file to your desktop
*Tip: Select multiple pages by holding down the Ctrl key and clicking on the pages you want to choose.
5. PDF Complete
PDF Complete is another Windows-only application on PC that comes with a built-in PDF organizer function. The software is available in two editions - Corporate and Office - and both of them have the PDF page changer utility included in them. This function allows you to insert, delete, reorder, rotate, and extract pages, as well as combine PDF documents. Let's look at some of the key features of the advanced Office edition of PDF Complete:
PDF Complete Office Edition Key Features
Create PDF: Generate PDF files from other applications, a scanner, or other file typesEdit PDF: Edit images and text in an editable PDF fileAnnotate PDF: Add text boxes, comments, and other markupsPDF Organizer: Combine files, manipulate pages, extract pages, etc.PDF Protection: Passwords, e-signing, redaction, etc.
How to Move Pages with PDF Complete?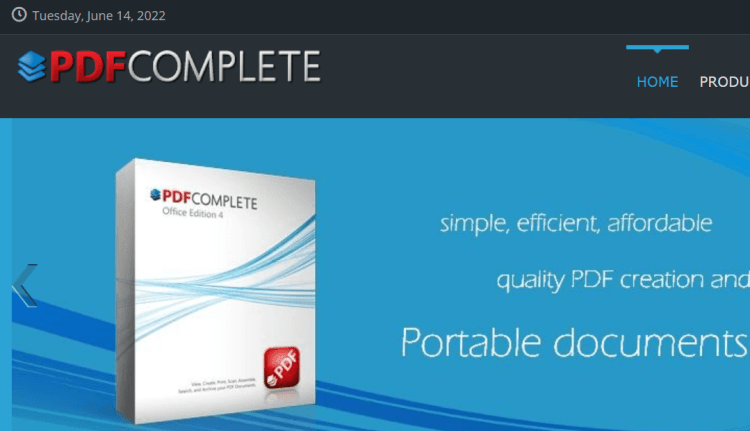 Open the PDF fileScroll to the page you want to move and right-click itIn the contextual menu, select Move PagesSelect the page or a page range using the radio buttons in the Move Pages dialogInput the destination page number where you want the selected page or pages to be moved toClick OK to save your changes, then save the file
Free Trial PDF Organizer of WPS Office
The PDF Organizer tools for desktop that we've seen today are all amazing utilities in their own right. However, why should you pay a premium price when all you need is to move a few PDF pages around and maybe replace, add, or delete some? WPS is the world's first free premium PDF organizer utility because it offers advanced tools such as intricate PDF editing without the usual hefty price tag or ongoing subscription. With new features being added at a rapid pace, you'll soon see truly advanced tools such as OCR, which normally costs quite a bit as part of a premium PDF editor. In short, why pay a fee when you can get WPS for free?