Invented in 1992 by Adobe, PDF has become an indispensable partner for researchers once it is introduced, for it's pretty easy to store and transfer. At the same time, no matter what software and system you open PDF files on, the style and content of PDF files will not change, and the information in the files will not be lost. Therefore, official documents, contracts, and other important documents will be saved in PDF formats.
Nowadays, as the application scenario of PDF and the demand for PDF keeps climbing, the demand for PDF editing are also on the rise. Under many circumstances, you have to selectively extract pages from PDF, or merge multiple pdf files. If you have the best PDF merging and splitting tools, you can greatly improve the efficiency of work.
In this article, 8 best PDF split and merge software both online and offline will be recommended. They are available for Windows and Mac and hope they can be of great assistance to you.
1. WPS
WPS is a professional PDF online conversion and editing tool which advocates the concept of Simplicity, Free, and Quickness. Although it has a rich functional menu and contains 20+ features, you can easily know how to operate quickly through its clear and concise interface.
As a cross-platform supported online PDF editing software, it offers lots of basic PDF editing, converting, and creating tools. PDF split and merge online tools are included of course. Now let's go experience how to split a PDF and how to merge a PDF with high accuracy on WPS PDF.
Pros:
100% free.Available on any device and system.Excellent PDF split and merge output quality.Provides 3 powerful splitting modes.Provides 2 excellent merging modes.Available on any device and system.Integrated with Google Drive, Dropbox, and OneDrive.User-friendly interface.No pop-up advertisement.
2. iLovePDF
iLoverPDF offers free PDF merge and split online tools for your manipulation. It's available on the web and can be used as desktop-based software both on Windows and Mac.
This tool supports 2 different modes to split PDFs. The first one is to split PDF pages by customizing the splitting pages. And the other one is to extract all the pages or those you need. Both these methods are pretty easy to go. If it outputs 2+ files, it will be saved as Zip files. You could also combine one or more PDF files into a single file.
Pros:
100% free.No sign-up required.Can split large PDF files into several at once.Super easy to operate.Supports drag and drop features.Secure connection Https.Integrated with Google Drive, Dropbox, and OneDrive.
Cons:
Can't adjust the PDF pages order when merge PDF.
3. PDF2Go
PDF2Go takes a visual explosion of all its features on the homepage. As a powerful PDF splitter and merger, it offers more personalized function in some details.
To ensure your firm interest in its PDF splitter, it provides some optional settings, such as Split PDF into equal parts, and Split PDF every few pages. The preview interface allows you to determine which pages you want to reserve or delete when you separate PDF pages. However, that doesn't work when you combine PDF pages. You can only see the cover thumbnails of the PDF files, and you can't adjust the order of each individual pages. What's remarkable is that it supports adjusting the output size of PDF files like A3, A4(Standard), A4(Small), letter, etc.
Pros:
Supports uploading files from URLs, Dropbox or Google Drive.Supports adjusting the size of output files before merging.Provides several split modes.Uploaded files will be deleted in 24 hours.
Cons:
Can't adjust the order of each individual pages when merge PDF files.Pages deletion fails for several times when split PDF files.
4. Smallpdf
Smallpdf shows its ambitions on offering all useful tools needed to deal with PDF files. It offers 21 tools to convert, compress, and edit PDFs for free, among which it supports page extraction from PDF and working as a PDF combiner. You can divide one file into multiple smaller files, or extract specific pages to a brand new file. Meanwhile, it is able to combine several different PDF files into a new one in just a few clicks.
Pros:
Super easy to extract or split PDF files.Quick PDF files combiner.256-Bit TLS encryption.Free trial for 7 days.Save to local or upload to Drive or Dropbox directly.
Cons:
Expensive PDF files combiner for Page mode.Not supports batch splitting.There will be ads/advertisements.
5. PDF Converter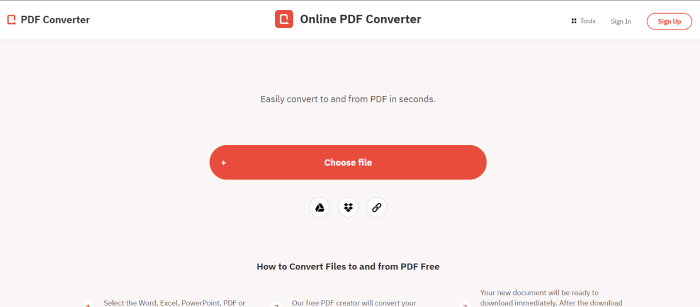 PDF Converter has been digging into developing a more versatile PDF conversion tool since 2005. It can easily convert files to and from PDF in seconds. Over the years, this tool also crosses a big step forward on enriching its PDF editing or conversion features. Both PDF splitting and merging features play an important role on helping it win a great amount of loyal users.
This tool supports to split PDF pages and save one part of them instead of downloading all of them as a required thing. You can also adjust the order of PDF pages by easily dragging and dropping them. In the meanwhile, this web-based merge tool is super easy to use. You are able to compress the PDF files when you finish merging to save the space of your computer.
Pros:
A reliable PDF converter.A powerful PDF merger.Supports to upload files from Google Drive, Dropbox or URLs.Secure information for automatic deletion of your files and 256-bit encryption.
Cons:
Not supports cloud storage directly.Only one free trial every hour.
Free Trial of PDF Splitter of WPS Office
As a necessity to help our better work, WPS is the best PDF splitter above have been tested and proved to be easy to use and practical. They provide the best solutions to PDF combining and splitting in different modes. Besides, there are lots of successfully hidden features not mentioned such as PDF compression, PDF encryption, and PDF conversion. Among these powerful tools, WPS is the best PDF splitter and merger that we like the most, for the reason that WPS can work on any device easily for free, no matter if you are using a mobile, computer, or tablet.