What is a PDF: All You Need to Know is Here
What is a pdf?Whether you are a student or a professional, you need to work with pdf files at least once. If you are a tech novice and don't know technical jargon, it might be difficult to deal with these files.

If you are thinking about what is a pdf, you are at the right place. Keep reading to find out all about pdf files and learn how to create them in this blog.
Part 1:What is PDF
The acronym PDF is a short form of Portable Document Format. The good thing about this document format is that it has great visibility on all devices. Besides that, it is not heavy on storage and can allow users to create great documents in small-sized files.
This format was initially created by Adobe, but this format is free to use for even those users who don't have an adobe subscription. For example, you can use WPS Office to process your PDF files, it is a all-in-one PDF solution. You can read on to learn more about what is a PDF and how to use it.
Part 2: Why Need PDF
Now that you know what is a pdf, you must be wondering about the reasons why it is used in the first place. Here are some amazing benefits people avail by using the PDF format:
This file format is easy to share and makes it effortless to share documents on the go.

Once protected with a password, the contents of a PDF file cannot be altered in any way.

The PDF file format can be printed by using any computer.

This document format is more secure and reliable compared to the other file formats.

PDF files look elegant on all devices and have the same aspect ratio regardless of the device on which they are viewed.
Part 3: What You Can Do in PDF
After knowing the pdf meaning, you must be curious about what can be done with this file format. Here are some of the great features you can get by using the PDF format for your personal and business needs:
You can edit your desired documents in PDF format.

It is easier to add comments in PDF files.

You can reduce the size and compress any PDF on the go.

OCR tools can be used for recognizing text from PDFs.

You can combine two PDF files to make them one.

Splitting PDF files allows you to break one PDF into multiple files.
Part 4: How to Get PDF File
The pdf download process is super easy, and the creation process of a PDF file is also effortless if you have the right software tools on your device. Here is how you can get PDF files on your computer easily:
Step 1: Proceed by visiting the WPS website and downloading WPS Office for free on your Windows PC or Mac.
Step 2: Locate the "PDF" tab once you open the WPS Office software.
pdf tab in wps
Step 3: To make a new PDF file on your computer, select the "Create PDF from the File" or "Create blank PDF" button.
blank pdf wps
Step 4: You can choose "Edit" to make changes to an existing/new PDF file or use "Fill and Sign" to sign your PDF file within minutes.
"sign pdf wps
Step 5: Finally, click on the "Create" button in the PDF tab of WPS Office to save your new PDF file.
save pdf wps
Part 5: What Types of Documents Can Be Converted to PDF
One of the best things that make PDF format great for all users is that it can be converted into the following formats with the help of a pdf converter:
Document Formats
Slideshow Format
Text Formats
Image Formats
BMP

GIF

JPEG

JPG

PNG

TIFF

TIF
Part 6: Several Good PDF Editors
Here is an overview of some of the best tools that people rely on for editing PDFs. If you are looking for great tools for novice PDF editors, you can pick any of the tools mentioned below to get started!
wps pdf tool
Once you know what is a pdf and want to create the best PDF documents that are fit for your personal or business needs, you can rely on WPS Office to get the job done. The good thing about the WPS Office PDF tool is that it is an all-in-one option.
You can use this tool to create a PDF from scratch, or you can use it to edit any PDF that is already stored on your device. By accessing the online WPS Template Library, you can also import any great PDF template to create PDFs on the go.
You can export your desired PDF file in different types of PDF formats with WPS Office. Besides that, it is a tool that you can use on your PC as well as your smartphone.
Pros
This is a great tool for people who are starting to work with PDF documents.

Using WPS Office is completely free, and you can sign in to get additional features.

This tool can be used for all professional PDF needs.
Cons
This tool doesn't have AI assistance for creating and editing PDFs.
2. Adobe Acrobat
adobe acrobat
As you have already read about what is a pdf, the PDF file format itself was created by Adobe. Your business might require you to use Adobe Acrobat to create and edit PDF files for this reason.
Keep in mind that you don't necessarily need to rely on this tool alone to edit PDFs. Adobe Acrobat is a great tool for those who have been using Adobe services for a long time because of organizational rules.
Pros
This tool can give high-quality PDF output.

It can be used seamlessly with other Adobe products.

Adobe Acrobat pdf tools are integrated with cloud storage.
Cons
This tool is an expensive PDF editor.

It is difficult to use for people working with PDFs for the first time.

It requires users to use the internet to access several editing features.
3. PDFCandy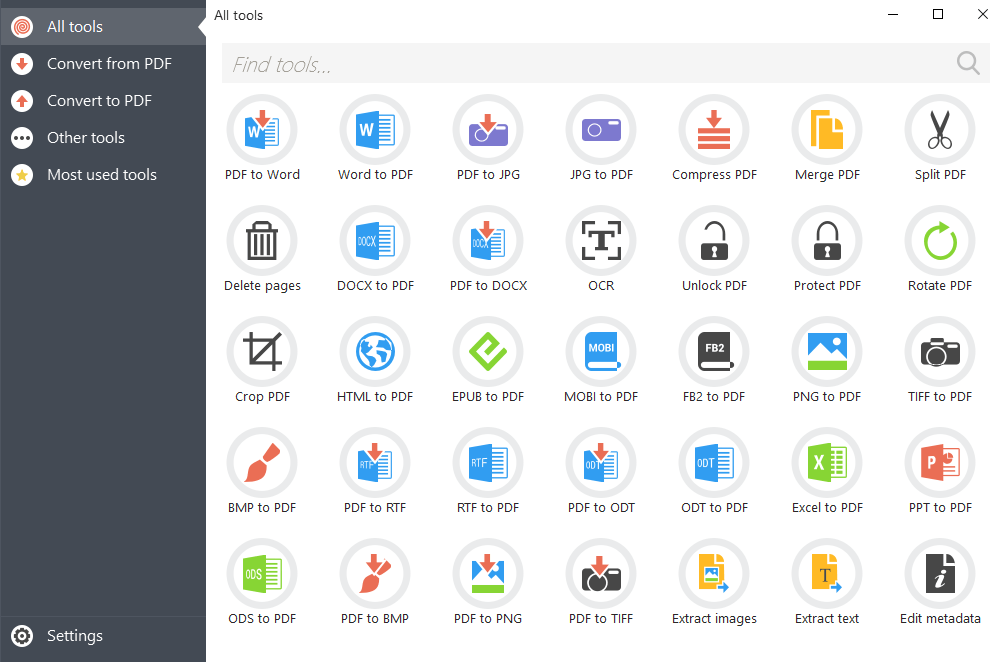 pdfcandy interface
If you are looking for an offline tool that can help you with your PDF creation, you should consider using PDFCandy. As the name suggests, this tool packs a ton of quirky PDF editing features that you can use to meet your editing needs.

The good thing about this tool is that it can work with both small and large PDF files seamlessly without wasting the time of the users.
Pros
It has a simple interface for people working on PDFs for the first time.

Using this tool can allow a person to convert PDFs in various formats.

This PDF editing tool can be used on a low-end computer.
Cons
Working with PDFCandy can be tedious.

PDFCandy lacks editing features for power users.

This PDF editing tool cannot be used on a web browser.
4. iLovePDF
ilovepdf interface
If you don't want to install a tool on your device to edit PDFs, then you can use iLovePDF to edit PDFs online. This tool has great reviews and can be used for editing PDFs absolutely free. The iLovePDF tool can also be used for PDF file conversion.
Pros
The iLovePDF has a great user interface for both novices and professionals.

It is capable of giving high-quality PDF output in all scenarios.

You can use iLovePDF on different browsers easily.
Cons
The iLovePDF tool has a file size limit.

Using iLovePDF allows you to only convert some files daily.

You will see tons of ads when using the iLovePDF tool.
5. SmallPDF
smallpdf interface
The name of this tool suggests that it can only be used for compressing PDFs, but in reality, it can help you get a lot more done with PDF files. SmallPDF is a great tool to use if you don't want to install software on your computer.
Pros
The SmallPDF tool has a great interface.

Using SmallPDF allows you to access cloud-based features.

Working with SmallPDF ensures that you get high-quality output.
Cons
The free version of SmallPDF lacks features.

Using the pro version of SmallPDF is expensive.

You can only use SmallPDF when connected to the internet.
FAQs
Here are the answers to some of your common queries:
Q1. What is JPEG?
JPEG is one of the most famous file formats for images. This format is useful because it can compress the size of an image without compromising too much on quality.
Q2. Can l edit PDFs for free?
Contrary to what many people think, you don't need a free tool to edit PDF files. You can edit your PDF for free by downloading WPS Office on your Windows, Mac, Android, Linux, or iOS device.
Q3. Can l use a PDF editor on my phone?
The easiest way you can edit a PDF on your smartphone is by installing and using the WPS Office app on your smartphone.
Get Tasks Done with PDFs and WPS Office
We hope that you now know what is a pdf and how to use it properly by reading this blog. If you are looking for the best way of creating and editing PDFs on the go, you should consider using WPS Office.
The best thing about WPS Office is that it is free to use and has a user-friendly interface. You can start using this app even if you are not a "tech geek" and have never worked with any PDF tool before.
More than 500 million users worldwide trust WPS Office. You can start your journey of working with PDF files by downloading WPS Office right now!