17 Types of Printable Work Order PDF Templates Free (Complete Guide)
If you are doing business and handling an organization, the work order templates are the need of the hour for you. The printable work order templates pdf are considered essential tools for efficiency, effective communication among workers & organizations, and improved productivity.
Delve into this complete guide and unlock valuable insights into various work order templates that cater to different needs and industries. From maintenance and repairs to service requests and project management, you'll gain a thorough understanding of the diverse range of templates available.
What is a Work Order Template and Why important?
A work order template is a legal and former document. It helps you to organize and track the work progress of your assigned tasks and projects. These templates consist of detailed instructions and necessary information about your projects.
Whether you assign your task to an individual or a team, these templates provide you with all the essential information, such as descriptions, deadlines, tools, resources, payments, and deliverables.
The printable work order templates PDF are essential for clarity and communication. This clarity and conciseness of description lead you to better work execution.
Additionally, whether you are a requester or a worker, these work order templates benefit you in the long run. They help you improve the workflow and avoid errors, disputes, or mishaps regarding specifically assigned projects.
Top 17 Types with Printable Work Order PDF Templates Free
Maintenance Work Order template
The maintenance work order template is a comprehensive form that facilitates the supervisors, managers, and workers to maintain and track work performance effectively. This printable work order template consists of a specific and accurate starting date, time, contact details of the investor and technician, detailed description of work order type, equipment, completion date, home address, and signature or approval.
This maintenance work order template is not in PDF form, but using WPS Office users can convert any file format into a printable work order template PDF for ease of use making sure the formatting of the documents remains intact.
Download Steps: Download and Install WPS office>Click on New>Select All Types>Search bar>search for template>Download>Edit and personalize>Save.
Facilities Maintenance Work Order Template Pdf
If you want to prioritize and categorize your work effectively, the facilities maintenance work order template PDF is your go-to choice. It's a free printable work order template PDF.
This template should have the specific elements that cater to the needs of facility maintenance order number, time, date, location, room information, and requestor information, and clearly tell you the location and site details. It consists of contact no as well to contact workers or technicians any time you want to take updates about the requested tasks.
Although this template is not in PDF form yet, you can use WPS Office to convert it into printable PDF format.
Management Work Request Template PDF
Management work request template enables you to manage the work and track its progress and completion conveniently. The personal and contact information is a must-have part of this printable work order template pdf. In addition to assistance information, it also contains contractor/requestor detailed information from contact no to residential address. The type of work and equipment can be elaborated on in the specific section to avoid misconceptions or confusion.
Service Work Order Template Pdf
This service work order template is a printable detailed form in pdf format that comes in handy while assigning tasks to the workers. It doesn't leave even the tiniest detail about the worker, contractor, or contract as well. From worker's personal contact and residence to work type, tools, complete description, and expected deliverables are also defined in this template.
Custodial Work Order Request Template PDF
For managing and requesting the custodian task efficiently, you should opt for Custodial Work Order Request Template PDF form. It facilitates you to do and track your custodial tasks smoothly for schools, offices, hospitals, and other private or government buildings.
You can add not only contact details but also write the starting and ending date accurately to make sure the work can be done properly. These are the best free printable work order template PDF.
Contractor Work Order Request Template PDF
For making a contract between stakeholders and contractors, the contractor Work Order Request Template PDF is the best form for successful project completion. You can note down all the ins and outs of your contract that help you to manage and fulfill the project without any hassle or dispute. The contact information and detailed job description keep the workers aware of their daily progress.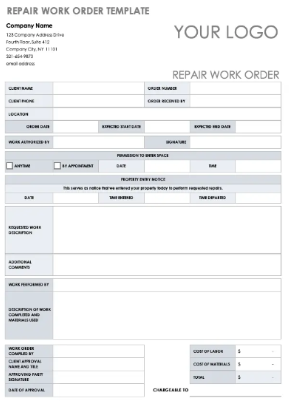 Repair Work Order Template Pdf
If you are going to give a repair and maintenance project to any individual or a team, you should use the printable repair work order template PDF. You should add the details about the requestor as well as the worker. The assigned date and completion date should also be necessary to mention on the form to give an exact deadline for submission of the project. In the end, both parties should agree and sign the contract form.
Construction Survey Work Order template
Whether you are a surveyor, task manager, or construction team, you require a standardized format that helps you to organize your work performance. The Construction Survey Work Order template can contain the information about buyer and seller. It has fields of sale contract date, acceptance deadline date of the contract, title order, and survey order details.
Resident Work Order Request Template Pdf
The Resident Work Order Request Template PDF allows residents and contractors to manage the repairing and maintenance of the required tasks of residential properties and be printed easily. This template included the information about name, address, contact details, and work order request description.
Field Work Order Template PDF
To assign field-related activities, the contractor uses a printable field work order template PDF. It's the simplest and easiest way to track and streamline your effort to maintain the field projects. It consists of the contact information of the contractor and requestor as well. You can also mention project type, details, time, date, and delivery date.
Tenant Work Order Template PDF
Whether you are an individual or a group who has the property, you need to maintain the renting and leasing of their property reliably. You should use the printable tenant work order template pdf with the essential information such as reported date, name, address, contact numbers, description of problems, assessment of the problem, and assigned party to keep both parties aware of all the details of specific properties.
Vehicle Work Order Template PDF
Before giving your vehicle to unknown hands for repair, assembly, and maintenance, you should take some precautionary steps. The printable vehicle work order template pdf owes the responsibility to give you assurance of both persons' reliability. The contract type, repair details, service needed, contact information, and cost are the essential fields of this form.
Chemistry Department Work Order Template PDF
The printable Chemistry Department Work Order Template PDF is a great source that stands alone when you are dealing with any task in the chemistry department. This template provides you with the opportunity to write not only details about the project but also about contacts, time, date, project description, and departments as well. It clears even a single doubt in a contract.
Automotive Work Order Template PDF
If you want to repair, wash, polish, and lubricate your vehicle, you can sign and get a signed worker on the printable Automotive Work Order Template PDF. This form prevents you from any inconvenience. It has the complete details about your vehicle, repairing types, labor details, and date & time as well.
Work Change Order Forms
If you are working on an assigned task already and during work, you need some other changes in the specific tasks; you should use the printable work change order form. It consisted of the previous work and required changing. The time also should be mentioned on it with the addition of verbal authorization. It has the contact details of the contractor and architect. It has also fields issued by and reviewed by.
Stop Work Order Template PDF
If you want to stop the previously assigned project due to an emergency, or any other usual or unusual issue, you have to inform the contractor of the current situation. The printable stop work order template facilitates you to add the accurate reason behind stopping the job and contract. It contains the areas to add the project manager as well as the requested party name, place of work, and stopping the work.
IT Work Order Template PDF
For IT-related tasks, you should choose the printable IT work order templates in PDF form to maintain the efficiency of projects. This template has all the necessary information about the requestor and technician. It also has the fields of contact information, request overview, action required, place, business needs, and type of requested work.
How to Make a Printable Work Order Template PDF?
You can make a printable work order pdf template in the WPS office. You just have to do a single thing, follow these steps:
Step 1: In your browser, visit WPS Office
Step 2: Download the WPS Office suite on your system
Step 3: Go to the Home Page and select the Template.
WPS Office interface
Step 4: In the Templates window go to the Search Bar and search for the Work Order Templates.
WPS Office templates
Step 5: Select your required template and then click on Free Use to use the desired template for projects.
WPS Office templates download and use
How to Fill a Printable Work Order Template PDF?
To fill a printable work order template PDF, you can use the WPS office suite. Follow these instructions:
Step 1: Open WPS Office on your system and browse for the PDF template that you want to edit.
Step 2: Once the PDF is displayed, visit the ribbon menu and select the "Fill & Sign" tab. This allows users to edit and personalize their Word Order Template.
Fill Work Order Template using WPS Office
Step 3: Users can also use WPS Office to sign their PDFs. Simply click on "Sign" under the "Fill & Sign" tab.
Sign PDFs using WPS Office
FAQs
Q1. What should be included in a work order template?
A work order template should consist of the essential information that would be helpful to track the work performance. This includes, header (company name, logo, contact details), work order number, requestor information, date, time, deadlines, task description, tools & resources, priority/urgency level, assigned to, authorization, terms & conditions, and footer (legal disclaimers)
You can create, edit, and customize any printable work order pdf template. It becomes easy to edit and print any type of template in the WPS office.
Q2. What's The Difference Between a Work Order and an Invoice?
A work order is an authorized form that contains the details about a specific task to be done while an invoice is the documents that are used for keeping the records of buying or selling a service or product, and requesting payment. In short, the work order is used to track the progress of tasks but the invoice is used to request payment for an already sold service or product.
Organize your work better with Printable Work Order PDF Templates
As a businessman and contractor, you can get optimal advantages from work order PDF templates. These printable templates are user-friendly and the best option to track and standardize your projects. You can effectively manage your workflow and enhance your productivity.
If you want to streamline your work order process, you should use the printable templates in PDF format. For this purpose, you should use a WPS office that facilitates you to convert any type of document into a pdf.
WPS office is a dynamic suite and the best alternative to MS office. It provides you with the office software with Writer, Spreadsheets, Presentations and PDF Toolkit.
To get significant advantages and boost your business workflow explore WPS Office now!