Best Money Order Templates PDF Free Download
It may be 2023, but the exchange of money can still be fraught with unreliability, especially given the prevalent rise in scams. To mitigate risks and provide a sense of security, money order reports play a crucial role. By employing a money order template, you gain a time-saving and convenient tool to clearly outline conditions and minimize the potential for errors. In this article, we will delve into various money order templates, to help you select a template that best suits your needs.
Money Order Templates——Where to Download
template.net is widely renowned for its extensive and diverse collection of templates, making it the go-to platform for all your template needs. Whether you're looking for a money order template or any other type of document template, template.net has got you covered. With its vast library and range of editing tools, ensures that you'll find the perfect customizable template for your specific requirement.
Below are some of the most vital template forms from Template.Net; though they have different purposes; however, they all deal with financial transactions in common.
Pros
A large variety of templates

It has a clean interface, so accessing it becomes easier

It supports editing online and saves you time.

It provides premium and printable quality templates

It gives you suggestions to help you with your work
Cons
It does not come for free, i.e. $22 annually.

The free version has limited features.

You might face payment issues.
With an array of meticulously crafted templates created by industry experts, SampleTemplates.com ensures that you find the perfect template to enhance your project. So for those seeking a reliable money order template, SampleTemplates.com goes above and beyond to provide a seamless and convenient solution. Its collection includes well-designed money order templates that can be easily customized to meet your specific requirements. Whether you're sending money to a friend, making a payment, or managing financial transactions, these templates will assist you in creating professional and organized money orders effortlessly.
Stating a few of the free most demanded templates from Sample Templates:
Pros
It provides extensive Money order templates

Understandable and easier template classification

It does not contain any malware
Cons
It does not support any editing of templates
WPS Office stands as a powerhouse among office suites, offering a remarkable blend of robust features and exceptional affordability. Recognized as a high-performance suite that seamlessly integrates with Microsoft, WPS Office has garnered a reputation for its cost-effectiveness. Within their website, they boast a remarkable Template Store, resembling a virtual shopping mall of professionally designed templates. Among these treasures, their collection of money order templates stands out as truly phenomenal, surpassing all expectations.
These money order templates are meticulously crafted to meet your diverse needs, providing an array of options that cater to various preferences and styles. Whether you require a traditional or modern design, WPS Office's templates encompass a broad spectrum of aesthetics. These templates not only fulfill the functional aspects of a money order but also exude a sense of professionalism and reliability.
The most relevant money order form that is free and in use from WPS Office is
Pros
Provides many preloaded templates for presentation slides.

A wide variety of designs
Cons
Dependence on internet connection
This platform again amazes us with a huge variety of templates, and it focuses on handmade and vintage touches in its items. Etsy templates, often called Canva templates, provide diverse sample sizes that can be conveniently customized to your demands for templates. The variety of templates this website produces is unique in itself.
It offers money order forms as payment plan forms.
Pros
It supports editing

The templates are unique in themselves
Cons
The templates are not for free, and they are costly.
Pinterest has become a go-to platform for individuals seeking inspiration and ideas across various domains. However, what many people may not realize is that Pinterest is also an excellent source for professional templates, including unexpected treasures such as money order templates. Users not only upload their own templates that you can freely access, but they also provide links to numerous other resources, offering a wealth of options for creating impressive and functional money orders.
Pros
It provides you with a free sample of money order forms

It supports editing as well
Cons
You might need more customer support here as sometimes the interface takes time to process.
With SignNow's user-friendly platform, creating and customizing money order templates has never been easier. This cloud-based electronic signature technology empowers individuals and businesses alike to effortlessly design and modify their most frequently used documents to suit their specific needs. Whether you require signatures, want to manage existing templates, or need to generate new documents, SignNow provides a versatile solution that can be accessed from any location. Streamline your workflow and enhance efficiency with SignNow's comprehensive suite of features for seamless template creation and editing.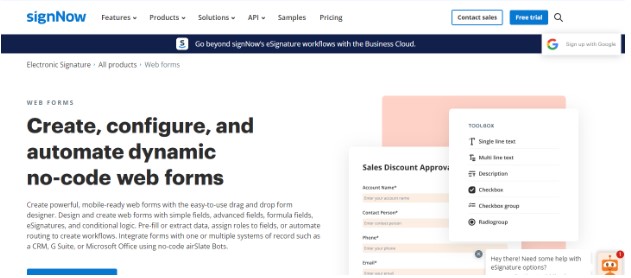 Pros
Its interface is easy to use to direct templates

It provides you with a variety of templates for free

Supports online working on templates
Cons
You might face issues with the signature part
Creative Template offers a plethora of free and user-friendly money order templates, empowering you to effortlessly create polished and professional designs. With an array of options at your fingertips, you can easily customize templates to suit any specific niche or purpose. Stay ahead of the curve with access to cutting-edge trends and styles, ensuring your money order stands out as a testament to your creativity and attention to detail.
Below, we have a list of the following free samples for money order forms it provides:
Pros
It provides you with effective and efficient work through its pre-made templates.

It helps you with suggestions for templates with a variety of templates.
Cons
Some features might take time to load, making your work delays a little longer.
Whether you've come across various expert-designed samples or not, example.com offers the ultimate solution for transforming your ideas into a professional money order template. It provides you with the opportunity to explore and enhance your skills, even if you're not an expert. With example.com, you can confidently create a template that perfectly reflects your thoughts and requirements

Pros
Highly user-friendly and easy-to-navigate layout system

Provides you with reliable suggestions and extensive services
Cons
USLegalForms is the ultimate subscription-based platform offering a vast array of online forms and money orders. Their extensive collection caters to officers, businesses, and students alike, providing a comprehensive resource for all your legal documentation needs. Whether you're drafting contracts, creating invoices, or processing financial transactions, their user-friendly templates empower individuals from every walk of life to confidently and efficiently handle their paperwork.
Pros
They offer a variety of documents and forms

Easily accessed
Cons
You have to subscribe to use it.

If you want a refund, you might face issues with it.
The Verizon platform offers an extensive selection of money order templates, designed to simplify your process. With a diverse array of pre-made options created by top-notch designers worldwide, you have access to a wide range of templates that are both visually appealing and easy to use. Whether you need a professional design or a more creative approach, Verizon's templates are here to cater to your specific needs, ensuring a seamless and efficient experience.
Pros
Abundant printable templates
Cons
Have pop-up ads

Incomplete interface
How to Fill out This Money Order Template?
WPS Office, a free office suite, is packed with a variety of templates for you to choose from. With free templates available to grab, users can download and personalize the template of their choice using the WPS Office range of editing tools. Pretty convenient right? Lets help you get started with WPS Templates.
How to use:
Step 1: Launch WPS Office on your system. Forgot to download WPS Office, don't worry, click here to get your WPS Office app now.
Step 2: Browse your system and open the downloaded Money Order Template PDF to edit and customize.
Step 3: Visit the ribbon menu and select the "Edit". Select "Add Text" to enter your official contact details along with your identification details.
Step 4: Use a check mark to point to the choice if needed.
Step 5: Double-check all the fillable fields to make sure full accuracy.
Step 6: Use the Sign Tool to create and add your electronic signature to sign now the Money order template form.
Step 7: Save the form in your system for later use
Step 8: Now, it is possible to print, or share the form.
FAQs
Q1: What font is used on money orders?
Money orders use font E13B, this font is used to help the Magnetic Reader capture data more efficiently.
Q2: What is the difference between a money order and a certified money order?
A certified money order provides an added level of security as it is issued from a certified institution. A money order, on the other hand, does not offer this verification.
Q3: How long does a money order take to clear?
The time taken for a money order to clear varies depending on the issuing institution. Usually, it can up to 1-3 business days for a money to clear, but institutions can hold your fund for longer. It is good practice to check this information with your bank before proceeding forward
The Perfect Money Order Template for Hassle-free Transactions
We have not only examined the most popular money order templates available but also delved deep into their specific purposes and functionalities. Our aim is to provide you with all the necessary information to make an informed decision when obtaining your money order report.
Among the array of templates we explored, one standout choice that consistently exceeds expectations is WPS. Known for their exceptional quality and wide selection of templates, WPS continues to impress users with their offerings. Whether it's the variety of options or the unwavering commitment to excellence, WPS Office remains a trusted and favored choice for many.