Download Nitro PDF Converter with Free Trial Now
Nitro Pro is a free pdf software for creating, editing and signing pdf files (Portable Document Format). It can be downloaded online and offline for different devices and systems. We can save and secure the pdf files. It is an easy to use software where perfection can be achieved within a good budget. It is available for both individual and business use. It is compatible with most of the developers and boot systems. It has effective features and bug fixes as well.
What can We do for PDF Files with Nitro's Free Trial Version?
With the free version we get unlimited pdf editing, sharing, creating and signing for 14 days.
The downloading procedure is easy and provide the following features in free trials:
You can have faster and sophisticated PDF files.

You can work on scanned files that can be edited.

Documents can be more secure using encryption.

The files from Nitropro can be directly uploaded to google, Gmail, one drive.
You can get a free trial for 14-days without any limitations and you can discord the trial if you aren't satisfied.
How to Download and Install the Nitro's Free Trial Version?
You can download the free trial version from website by following these steps:
1. Open the webpage for Nitro pro.
2. Click on "Try for free" to start downloading and fill in the required information to start downloading your application.
3. Once you fill in the information, the free version is available to use.
4. A window appears that shows that the application has started to download.
5. Once the window shows that the application has downloaded click on " Run"
6. A window appears that asks for your language and location where you want to install the software. Click on the install button and the installation procedure has started.
7. A window appears that tells the progress of your installation procedure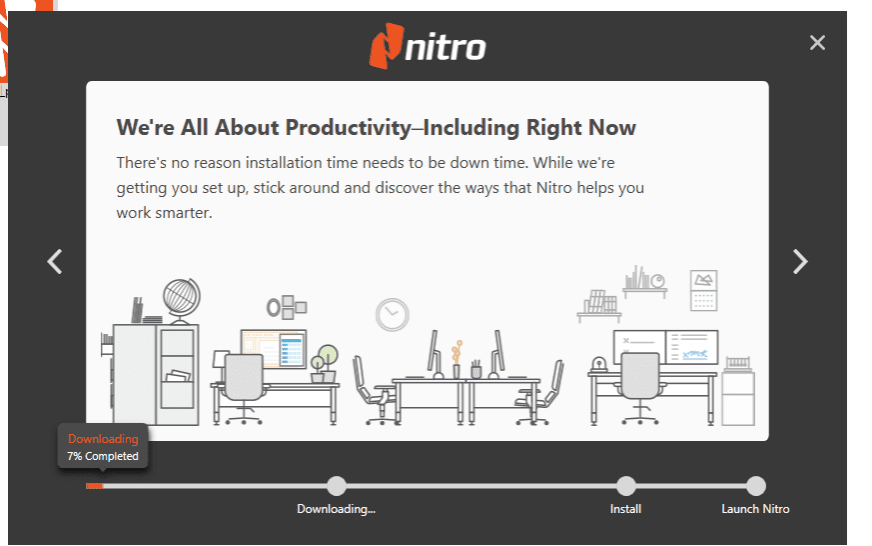 8. A window pops up that asks for launching the Nitropro set up.
How to Get a Free Trial After Downloading Nitro?
1. The application has launched and click on 14-day free trial to enjoy unlimited features of Nitro pro.
2. Activate your free-trial using a serial number that has been mailed to the email address provide by you while filling the form before starting download, once you paste the 18-digit serial number click on agree to terms and conditions to start your free trial.
3. Once you have agreed to the terms and conditions your trail version has started. You can create, edit and convert PDF files. Using Nitro pro you can sign PDF easily.
How to Cancel the Subscription of Free Trial?
1. Open your app and select the Settings gear icon at the bottom-left side of your screen.
2. Click on subscription button and a window shows your subscription details.
3. Click on the cancel button to end you subscription.
4. Your subscription has been cancelled.
Download the Best Alternative: WPS PDF Editor
WPS Office is a free, high-performing, efficient and fast way to edit pdf, whereas nitropro pdf converter offers free trial versions for 14-days only. WPS Office has a vast range of applications where one can perform a task related to MS Word, Powerpoint, pdf and excel; hence it is all in one application for educational, office and business-related tasks.
WPS PDF Interface