How to Compare PDF Files in 3 Easy Ways
Sometimes you may need to proofread a crucial document against the original PDF file to scale down the errors. Comparing two files manually can be exhausting and time-consuming, and even multiple rounds of revisions in a file can make changes slip through the cracks. In this sitch, a question arises, how to compare PDF files effectively?
The answer is simple, online and offline PDF comparison tools can perform this task conveniently with just a few clicks in a matter of seconds. This article will discuss how to compare PDF files using WPS Office, PDF24 compare tool and Aspose online.
1. How to Compare PDF Files Using WPS Office
WPS Office is a versatile office suite that can edit, convert, annotate, split, merge and compare PDF and other documents offline. However, this software has no direct way to compare PDF files, but we've got a solution that can assist you in finding the difference between 2 PDF files. To get this, follow the below step-by-step guide:
Step 1 - Convert PDF to WORD
First of all, download and install WPS Office on your device. Launch the software, and open its PDF to Word tool.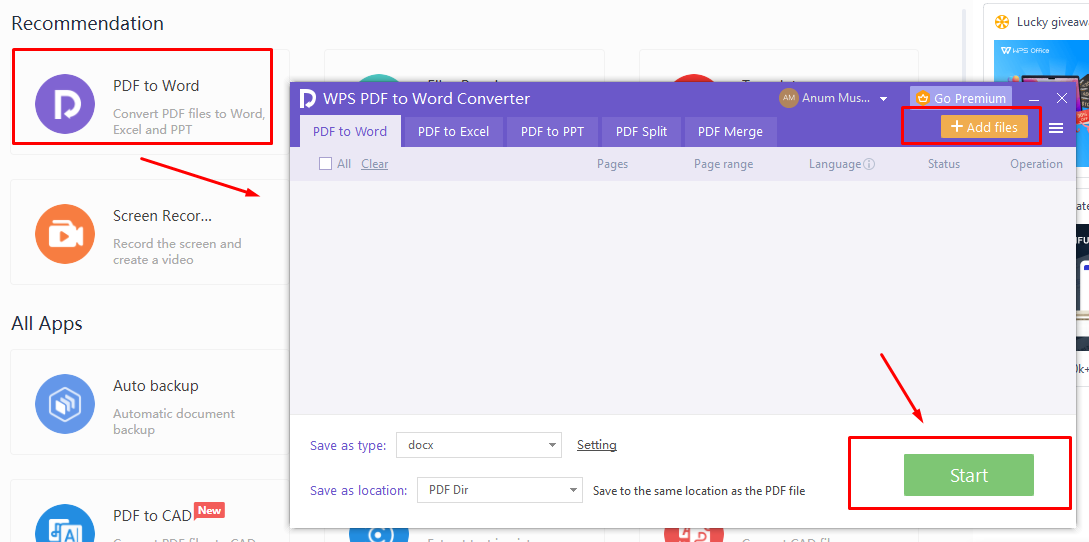 Select both files whose content you want to compare, and hit the Start button.This will change the PDF files to editable Word documents.
Step 2 - Compare WORD Files
Now open the WPS Office's WORD editor, hit Review, and then the Compare option.Now select the files that need comparison and click Ok.
The 2 files will open side by side, with differences highlighted in red text. This way, you can easily point out the dissimilarities and correct any if needed.
Step 3 - Convert WORD to PDF
Once you're done with the changes, convert the word file to PDF using the WORD to PDF in WPS Office.
This is all! These 3 steps can liberate you from the tension of how to find differences in PDF files with the WPS office when no other option is available.
2. How to Compare PDF Files Using Aspose
Aspose is an online editor with various tools like a PDF editor, splitter, converter and PDF comparison. To compare PDF files using this Online utility, follow the below steps:
Open the Aspose online editor in your favourite browser. Two sections with the drop or upload files option will appear on the screen. Simply drag and drop your files here or upload them manually to the editor's window and then click the Compare button.A quick scan will run that highlights the differences in both files.You can then download the final report to analyze further.
Note: This software doesn't provide a side-by-side comparison, and most of its features cost hundreds of bucks.
3. How to Compare PDF Files Using PDF24 Online
PDF24 is a secure and free online utility that is easily accessible to Compare two PDF files to find out differences. The process is quite simple if you follow the right steps mentioned below:
Visit the PDF24 website and open its Compare PDF Files tool.Choose the files you want to compare, then hit the Compare button.
The tool will undergo some processing and then give the complete comparison overview of files with differences highlighted as red text with a strikethrough.This way, you can analyze the differences easily.
Using Tips
👍Always use different finder tools to compare PDFs because manual comparison can take hours.
👍Create a checklist of the elements you want to compare to stay organized and ensure that you don't miss any important differences
FAQs
1 - Which is the easiest way to carry out a PDF comparison?
Online comparison tools are the most straightforward way to point out differences between two files.
2 - Is there any shortcut to compare PDFs using the WPS office?
We're sorry there is no shortcut, as the comparison tool is not yet introduced in the WPS PDF editor. It's only available to compare Word files. Thus, you must convert the PDF to a word document first.
We've left no stone unturned to provide you with the best solution on how to compare PDF files. Without bias, we can confidently say that the WPS office outshines all other ways. This software is our top pick because it can easily handle all files. You can now download this software and compare PDF files efficiently, along with many other functionalities.