Now you can edit your PDF files and one way to do it is changing them to an editable file format so you can make all the edits you want in a few minutes.
If you want to convert PDF to Powerpoint presentation, WPS is your one-stop solution. It's a sturdy online software for businesses of all sizes. Create your PDFs and convert them to other file formats with ease, including a PPT presentation.
This free guide explains the concern -how to convert PDF to PowerPoint presentation.
Convert Your PDF to PowerPoint Presentation
WPS PDF is a complete office suite and it comes with three in-demand products. You can use:
PDF
Writer
Spreadsheets
Presentations
All these are great replacements for the offline office tools, such as Microsoft Word, Excel, and PowerPoint for Windows and Android. You can use all the powerful features from earlier software on the market here. The features include Auto-spell check, inserting images, and more.
WPS Office File Formats in 2022
WPS backs them up so you can create, open, and save again in any of these formats at all.
Following are the WPS Office file formats (types):
DOC -DOCM -DOCX -DOT -DOTM -CSV -DBF -DPS -DPT -ET -ETT -HTM -HTML -MHT -MHTML -POT -PPS -PPT -PPTX -PRN -RTF -TXT -WPS -WPT -XLS -XLSM -XLSX -XLT -XML
That's impressive, right?
TIP: DOCX, PPTX, and XLSX are the most popular formats.
How to Convert PDF to PowerPoint Presentation?
Down here in this free tutorial, you will learn how to convert PDF to PPT in WPS PDF with a few simple steps:
1-Load your PDF file that needs a PDF conversion.
2-Go to the Tools tab.
3-Click on the PDF to PPT option.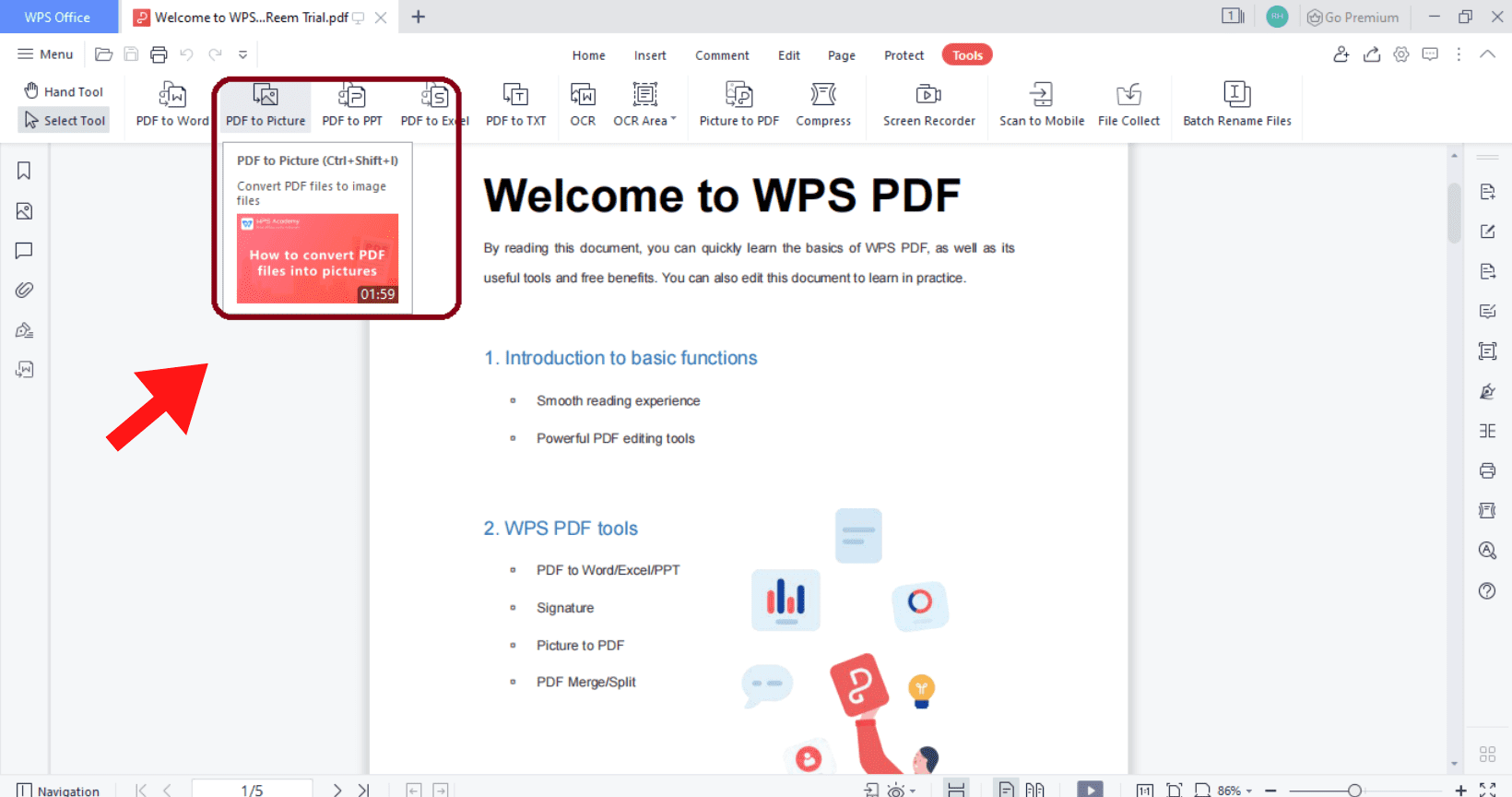 4-Confirm the convertible file.
5-Set the file format for the exported file in the Save as type section.
6-In the Save as location section, set the location where you want your file to be saved.
7-Tap Start.
This is how to convert PDF to PowerPoint presentation. After getting the PPT presentation ready, you can edit it the way you want! If you want to know how to convert ppt to pdf on Windows, click here: How to Convert PPT to PDF on Windows 10 Online for Free
See, it is that easy!
Conclusion
Above are the easy steps for how to convert pdf to PowerPoint presentation. You must try them out yourself to maximize efficiency!
Download WPS Office to maximize your productivity with unlimited access to the ever-ready PDF tools to use online and offline. The good news is that you can download it for Windows, Linux, MAC OS, iOS, and Android in 2022. Click here to get your WPS Office Free Trial: [WPS Office Premium Free Trial 2022](https://pdf.wps.com/blog/wps-office-premium-free-trial-2022-post45/
Say on target with WPS!