The Ultimate Guide to Free Photo Software: Everything You Need to Know
Free photo software has gained significant popularity as a cost-effective alternative to paid and premium software, especially for individuals seeking to edit photos without investing in pricey software. They offer diverse features and capabilities, catering to various editing needs. Although these free photo editors provide an extensive selection of excellent editing tools, they are prone to limitations in organizational functions and access to more advanced capabilities. In this regard, finding a suitable photo editor can be challenging, and we are here to help you find the best free photo software available.
Part 1:Top Free Photo Software Programs
Let us explore the ten best free photo editing software for Windows 10 that are must-haves for photographers.
1. GIMP
free photo software
Overview of GIMP
GIMP is a powerful open-source software for image editing, retouching, and creating digital artwork. It comes with advanced editing features such as layers, masks, filters, customizable brushes, and selection tools to enable its users to achieve professional-level results. It is an amazing platform for creating digital work art and is used by millions of professional and amateur photographers.
Features of GIMP
GIMP Offers you a wide range of editing tools, including layers, masks, filters, and customizable brushes.

It supports many formats, including JPEG, PNG, TIFF, and RAW.

As open-source software, users can create personalized workspaces, customize toolsets, and make shortcuts.

This photo editor is available for multiple operating systems, including Windows, macOS, and Linux.

It supports non-destructive editing techniques, allowing users to change images without permanently altering the original data.
Pros
Extensive file support

Advanced Editing Capabilities

Free and Open Source

Cross Platform Availability
Cons
Limited Raw Processing

It may be hard to learn for beginners
2. WPS Office
free photo software Windows
Overview of WPS Office
Although WPS Office is a comprehensive office productivity suite and not a typical photo editing software, it offers basic editing options like adjusting brightness, contrast, saturation, cropping, rotating images, applying filters, and adding text or shapes to images. It has a collection of filters and effects that can instantly transform the look and feel of your photos. You can use this software for text and shape overlay that allows you to add text and shapes directly onto your photos, giving you the flexibility to create captions, labels, or annotations.
Features of WPS Office
With WPS Office, you can make basic level image adjustments like brightness, contrast, and saturation, making your photos visually appealing.

It lets you crop, resize, and rotate images which is very handy in focusing on specific elements within the photo.

By default, WPS Office has an array of filters that adds an artistic touch to your photos and change the mood of your photos.

With its transparency and layering feature, you can overlay or combine multiple images to create composite visuals.

The best thing about WPS Office is it's free, and you don't have to pay anything to use it.
Pros
Easy to Use

Filters and Effects

Text and Shape Overlay
Cons
Limited Editing Capabilities

File Format limiation
3. Photos App for Windows 10
free photo software for Windows 10
Overview of Photos App
Photos App is a pre-installed application in the Windows operating system that serves as a hidden gem that packs a punch for photo editing and offers a simple and intuitive platform for basic photo editing needs. It has a user-friendly interface, and basic editing tools let you crop, rotate, and straighten images to achieve the desired composition. Additionally, you can adjust brightness, contrast, saturation, and color balance to improve the overall look of your photos.
Features of Photos App for Windows
It has a versatile pack of filters, including vintage, black and white, sepia, and more, to give your photos a unique and personalized touch.

Intelligent algorithms power this app to enhance your photos by adjusting to optimize exposure, color balance, and other parameters, helping your photos look their best effortlessly.

You can effortlessly add text captions or annotations to your photos using the text tool in the Photos app.

You can use it for Red-Eye Removal and Blemish Retouching, which is very handy in portrait photography.

Images App seamlessly integrates with OneDrive to save your pictures and easily share them with others.
Pros
Filters and Effects

Automatic Enhancements

Integration with OneDrive

User-Friendly Interface
Cons
Lack of Specialized Editing tools

Limited file format support
4. Adobe Lightroom
free photo editing software
Overview of Adobe Lightroom
Lightroom is a product of Adobe, and it is a professional-grade photo editing software used by professionals across the globe. It has powerful features to enhance, edit, and manage digital photographs. Lightroom is known for its versatility, user-friendly interface, and comprehensive features tailored specifically for photographers.
Features of Lightroom
Adobe Lightroom is a complete photo editing software from basic adjustments like exposure, color, and tone to more advanced features such as selective editing, gradient filters, and precise retouching.

Its non-destructive editing workflow keeps your original image untouched while all the edits and adjustments are stored as metadata.

It has one of the best and most efficient photo organizations using keywording, tagging, and rating systems.

It also allows your photos and edits across multiple devices, including Android and iOS smartphones, making it convenient to edit, share, and showcase your work wherever you go.

It seamlessly integrates with other Adobe products, allowing a seamless workflow between editing, retouching, and enhancing your images.
Pros
Comprehensive Editing Tools

Raw Imaging Processing

Efficient Photo Organization

Non-Destructive Editing
Cons
Subscription-based model

Requires high-end PC
5. Fotor
free online photo software
Overview of Fotor
Fotor is a versatile and comprehensive photo editing and design software that caters to the needs of both beginners and advanced users. It has stunning features offering a wide array of adjustments, filters, effects, and retouching options, allowing users to fine-tune every aspect of their images. Moreover, it comes with a batch-processing feature that will enable users to simultaneously apply edits or effects to multiple photos, saving time and effort.
Features of Fotor
Fotor has many editing tools, including basic adjustments, filters, effects, retouching options, and more.

It offers one-click enhancement features that allow users to quickly enhance their photos with just a single click.

With its collage tool, you can create stunning photo collages with customizable templates and layouts.

It supports batch processing allowing you to edit multiple photos in one go saving you time and effort.

It has pre-designed templates for social media posts, posters, invitations, etc.
Pros
Batch Processing

Easy Collage creation

User-friendly interface
Cons
Watermark in the Free version

Limited Advanced Editing Features
6. Darktable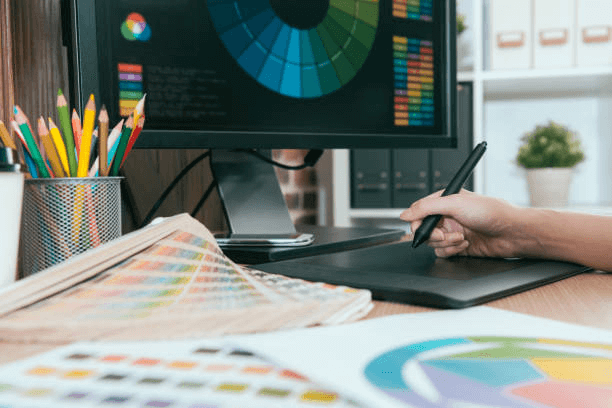 Online free photo software
Overview of Darktable
Darktable is a free, open-source photo editing software very commonly used by photographers around the globe. It is designed with a non-destructive editing workflow, allowing users to precisely adjust their photos without altering the original image data. It has powerful RAA image editing capabilities and efficient image organization features. From exposure adjustments and color correction to lens correction and noise reduction, it equips its users with the best possible tools. It provides a flexible image management system, allowing you to organize, rate, and tag your photos for efficient workflow management.
Features and Benefits
Darktable offers comprehensive editing tools, including exposure and tone adjustments, color correction, noise reduction, lens correction, and advanced masking options.

Its RAW image processing is powerful and lets you enhance RAW files with precision and control.

One of the best features of Darktable is the flexible and customizable image management system, allowing users to organize, rate, and tag their photos for efficient workflow management.

It features a non-destructible workflow in various formats while retaining the non-destructive editing history, providing flexibility for further adjustments.
Pros
Open Source

Potent Raw Editing

Supports Non Destructive Workflow
Cons
Requires GPU

Limited Plugin Support
7. Photopea
free photo software download
Overview of Photopea
Photopea is a powerful and versatile web-based image editing tool that has gained significant popularity among graphic designers, photographers, and digital art enthusiasts. It is equipped with an intuitive and familiar user interface. It offers a wide range of tools and functions, empowering users to accomplish various tasks related to image editing, manipulation, and design. Photopea is more than just a photo editor because you can work with vector graphics, create animations, and handle RAW files.
Features of Photopea
Vector graphics editing capabilities, including shape creation, path manipulation, and text editing.

It supports working with layers, masks, blending modes, and advanced selection tools.

Extensive filters, effects, and adjustment layers exist for enhancing and stylizing images.

It also supports integration with various cloud storage services, enabling seamless file management and collaboration.

Using the web-based software, you can work on Photopea on different platforms, including Windows, macOS, and Linux.

Photopea supports non-destructive editing techniques, preserving the original image and facilitating easy revisions.
Pros
No installation Required

Advance Editing Capabilities

Regularly updated

Online Tutorial and Resources
Cons
Requires Internet

Complex Interface
8. Coral PaintShop Pro
photo editing software free download
Overview of Coral Painshop Pro
Corel PaintShop Pro is a powerful and feature-rich image editing and graphic design software providing a comprehensive set of tools and functionalities for users to edit, enhance, and manipulate photos and create stunning visual designs. It has a wide range of editing tools, including cropping, resizing, retouching, and color correction, allowing users to make precise image adjustments. One standout feature is the RAW editing directly from various camera models.
Features of Corel Paintshop Pro
It offers decent editing tools, including image manipulation, cropping, resizing, retouching, and color correction.

PaintShop Pro allows users to import and edit images directly from various camera models with maximum control and flexibility.

Corel PaintShop Pro will enable you to work with layers and masks, providing advanced editing capabilities and the ability to create complex compositions.

Some advanced features like High Dynamic Range (HDR) imaging and panorama stitching enable users to create stunning, immersive visuals.

It supports batch processing, where you can edit multiple images simultaneously.
Pros
Integration with Corel products

Impressive RAW file processing

Extensive feature set

Support HDR and Panorama Stitching
Cons
Supports Windows only

Difficult to use for beginners
9. Coral AfterShot Pro
free photo editor
Overview of Corel AfterShot Pro
Corel AfterShot Pro is a powerful application for photographers seeking efficient and flexible photo editing and organization capabilities. Unlike other photo editors, AfterShot features an advanced non-destructive workflow where custom edits are applied to a separate layer, leaving the original image intact and allowing for easy adjustment and experimentation. Its photo management tool will enable photographers to organize, tag, and search for images using customizable metadata.
Features of Corel AfterShot Pro
Utilizing its utter support for RAW processing, it allows editors to work with maximum data and flexibility, ensuring optimal image quality during the editing.

It has advanced adjustment tools, including exposure adjustments, white balance correction, noise reduction, sharpening, tone and color adjustments, curves, and more.

Like its competitors, AfterShot Pro supports batch processing, saving time while minimizing efforts.

It offers excellent plugin support that lets photographers customize and enhance their editing capabilities based on their specific needs and preferences.

It supports multiple languages, ensuring accessibility and ease of use for photographers from various regions.
Pros
Advanced Non Destructive workflow

Third-party plugin availability

Efficient photo Management tool

Supports batch processing
Cons
Not available for Linux

Limited content creation features
10. Pixlr
free photo editor download
Overview of Pixlr
Pixlr is a feature-rich and accessible photo editing software that caters to beginners and advanced users. It is a full fledge editing software offering comprehensive editing capabilities, cropping, and color correction to advanced features such as layers and blending modes. It has an eye-catching user interface that a beginner can easily navigate and start using instantly. In short, Pixlr empowers you to create captivating visuals that will leave a lasting impression.
Features of Pixlr
It offers 360-degree photo editing services, from basic adjustments like cropping and color correction to advanced features such as layers, blending modes, and retouching.

One amazing feature is the On-the-go editing on your smartphone, allowing you to seamlessly edit, save, and share your photos across all your devices.

It seamlessly integrates with cloud storage like Google Drive, Dropbox, and OneDrive, making it easy to work with your files without hassle.

Pixlr is designed with an intuitive interface that caters to beginners and experienced users.

It offers a free version with impressive capabilities and a premium version with additional features.
Pros
Mobile Accessibility

Cloud Integration

User-Friendly Interface
Cons
Requires Internet

Performance issues with large files
FAQs
Q1: How does free photo software compare to paid options?
The choice between free and paid photo software depends on individual requirements, budget, and the level of functionality and support needed. Free software can be suitable for basic editing needs, while paid options are preferred for professionals or those seeking advanced features and comprehensive support.
Q2: Can free photo software handle professional-level editing tasks?
While free photo software can offer a wide range of editing tools and capabilities, they may sometimes provide different functionality and precision than professional-grade paid software. Free options often have limitations regarding advanced features, specialised tools, and workflow efficiency that professional photographers or designers may require for complex editing tasks.
Q3: Is it legal to use free photo software for commercial purposes?
It depends on the specific software's terms and licences. If the free software is released under open-source licences like GNU, it generally allows commercial usage as long as you comply with the terms of the license.
Summary
Photo editing might be a profession for some but a hobby for others. Therefore, having a reputable photo software on your PC is mandatory. While there are many paid tools, we have explained some of the best Free Photo Software you can use to enhance your images. If you are starting your photo editing journey, we recommend you use a free tool like WPS Office.
WPS Office is a free Office Productivity software that lets you perform basic level photo editing like crop and resize images, use predefined filters and effects, and adjust brightness and exposure. Try this free tool, and you will enjoy using it.