Top 10 Cornell Note Pdf Templates Free Download In 2023
Whether you're a high school student or a college scholar, you would love to structure your notes in an organized way. In this regard, the Cornell note-taking method provides you with well-structured and organized notes that help greatly to fuel your exam preparation. We have compiled a list of 10 free Cornell note templates PDF ready to be used for effective learning!
Cornell notes templates PDF
What are Cornell notes?
In the 1950s, education professor Walter Pauk introduced the Cornell note-taking system, which outperformed traditional methods for effective revisions and exam preparation by organizing and summarizing learned content.
Walter Pauk introduced this system in his book, "How to Study in College." He divided the template of Cornell notes into three main sections. The "Cue" column, the "Note-taking" section, and the "Summary" area.
Cue
The Cue section contains the questions, keywords, related vocabulary, or main idea while reading or listening to the lectures in the classroom. These cues work as a memory trigger for later use. It can give a boost to your previous learning, and you can recall the basic points of that particular lesson.
Note-taking
In the note-taking section, you can note down the points comprehensively about what you have learned and understand through reading and lectures.
Summary
The summary area contains the precise and synthesized main key points of the whole page or lesson.
Cornell notes are an innovative note-taking system that enhances learning abilities and helps recall information related to a specific lesson or subject. They act as mystical maps for quick revisions, leading to academic success.
Top 10 Cornell Note PDF Templates Free Download
1. Cornell Note-taking Template
Cornell note-taking template
This clean and versatile Cornell note-taking template free PDF by WPS Office features a clean white background with easy-to-read black text. It includes a "Cue Column" for questions and prompts and a "Note Taking Column" for lecture or chapter notes. With helpful tips like using short sentences, bullet points, and abbreviations, this editable template ensures efficient and effective note-taking, and a "Summary" section at the bottom to capture key points. Save it with a specific name and allow this template to help ease your learning.
Download Steps: Install WPS Office software on PC > PDF > Templates > Search your desired Cornell note-taking PDF templates> Choose the template> Download and open the template>Edit, Personalize, and Save.
Cornell two-column note
It's a simple yet frequently used Cornell note by high school and college students. In the note, the division of two columns enhances your learning. You can add the notes of your in-class learning in the note-taking wider column for future retention. In the cue column, the keyword can be entered that reminds you of which topic you have noted down in the next description.
You can add text to this Cornell note template PDF by editing it in the WPS Office. You can take notes on this template while attending online sessions. Furthermore, you can also download it or print it for manual use. Its easy-to-read font and layout make it a preferable choice to boost your learning.
Cornell note sheet
This free Cornell Note-Taking template PDF is a customizable, and printable template available at WPS Office Templates, optimizing your learning experience. This well-organized Cornell Two-Column Note, designed for effective note-taking, comes with dedicated sections for keywords, notes, and a concise summary; it ensures clarity and easy review. The checklist format, along with subsections labeled 'a', 'b', and 'c', streamlines organization, making it an ideal companion for students and educators alike.
Blue Cornell notes
The Blue Cornell notes pdf template is not only aesthetically pleasing but also provides you with a systematic sheet. Its upper section enables you to write the particular subject and date of your lessons. In the middle section, it provides you with two main columns, one for the Cue/clues/questions and the other for important points of the detailed lecture. The contrasting color combination of both columns appeals to you while writing and makes your writing down process more interesting than ever.
Warm color Cornell notes template
Warm color Cornell Notes is an innovative and stylish template. It has an eye-appealing and well-balanced structure. It enables you to note down all the essentials of your lessons. You can use it for note-taking for multiple purposes, such as lectures, reviews, and research as well.
Additionally, color coding keeps you refreshed even in a stressful and boring environment. This free Cornell Notes PDF template is specifically structured according to human psychology. Its upper section allows you to write your name and related topic.
In the middle action, the cue column is divided into two further sections under the headings of questions and vocabulary. These separate headings save you from messing up the different details together.
6. Printable Cornell Notes Template
Printable Cornell note templates
This printable template is based on the structure of the avid Cornell notes template PDF. Advancement Via Individual Determination (AVID) is a special in-school academic support program that helps students for future success and eligibility. This note-taking template is specifically for high school and college scholars.
Its detailed layout has different sections that make it a specific piece of well-organized content. You can add the topic/objective in the upper left section, and in the upper right section, you have space to add the name, class, date, and period. Under the upper section, you can find another 2-3 lines section for the most essential questions related to the topic. The middle and lower section is structured by following per under standard Cornell notes.
7. Exclusive Cornell Note Template
Exclusive Cornell notes template
This Exclusive Cornell Note template is free to download and use. Its user-friendly and simple layout enables you to fill out all the requirements without any hassle. This essential information helps you to find any specific topic easily. In the upper section, it consists of separate boxes for class, subject, and date. In the middle section, you can add the Ques/questions as a quick reminder. In the note-taking section, you add a detailed description of the lesson or paraphrase the details in your language. It's an easy-to-edit and printable template.
Fillable Cornell notes
The fillable Cornell notes template PDF from TemplateLAB has an attractive white sheet with tidy purple lines that is ideal for taking notes in an orderly fashion. With sections for class, date, topic, questions, notes, and summary. It is a fantastic option for students, professionals, or anyone looking to improve their note-taking experience because of its user-friendly design and versatility. This Cornell Notes Template can assist you in remaining focused and organized while studying, attending lectures, or conducting research.
9. Multiple Topic Cornell Notes
Multiple topics Cornell notes
This is a distinctive template in the whole list. It's a multiple-topic Cornell notes template that is specifically designed to take notes on multiple topics or subjects. This template has two sections with similar 3 blocks in each section. You can use these templates for dual topics. Each section consists of cues, notes, and summary blocks to write down your learning outcomes for future retention.
10. Cute Cornell Note Template
Cute Cornell notes
This Free Cute Cornell Notes PDF Template is thoughtfully designed for high school students to excel in their studies. This attractive layout, complete with an interesting font, will make note-taking a joyous experience. Begin with the main topic to keep your notes organized, followed by cue and detail columns to capture all essential details. The summary area ensures concise results for quick reviews.
Perfect for students of all ages, this template guarantees optimal advantages and enhances the learning journey. Take pleasure in taking notes with this user-friendly and aesthetically pleasing Cornell Notes
How To Take Cornell Notes Using A Cornell Note Pdf
You can create your own Carnell note template using WPS Office- an all-in-one free Office Suite that offers free PDF editing tools. You can create your customized template according to your requirements within seconds. Here is the step-by-step process that makes you master generating a personalized Cornell Template.
Step 1: Open a new WPS document
Step 2: Firstly, we need to set the Page Dimensions. In the ribbon menu, visit Page Layout > Margin > Custom Margins.
WPS Office Page layout
Step 3: For an appealing Cornell note-taking template, we will be setting our left and right margins at 0, the top margin needs to be set at 1in, and the bottom margin at 2in. Press "OK".
WPS Office page dimensions
Step 4: Next, we will be creating a table for our Cornell Notes. In the ribbon menu, visit Insert > Table > Insert Table
WPS Office insert table
Step 5: Specify the columns and rows needed in respective fields. We want our table to consist of 2 columns and 34 rows.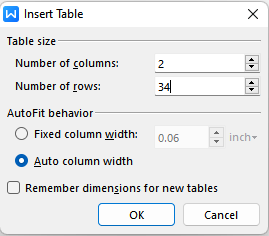 WPS Office insert table dialog box
Step 6: Time to adjust the table properties. In the ribbon menu, visit Table Tools > Table Properties
WPS Office Table properties
Step 7: In the Table Properties dialog box, visit the row tab and enter the row height to 0.25in.
Step 8: In the "Row height is" field, select "Exactly"
WPS office table row
Step 9: Now visit the column tab in the Table Properties dialog box, and set the current column width to 2.4in.
WPS Office current Column width
Step 10: Click on Next Column and set the column width to 6in.
WPS Office next Column width
Step 11: Time to save your personalized Cornell Note-taking template as PDF. Simply visit the Menu and select Other Formats.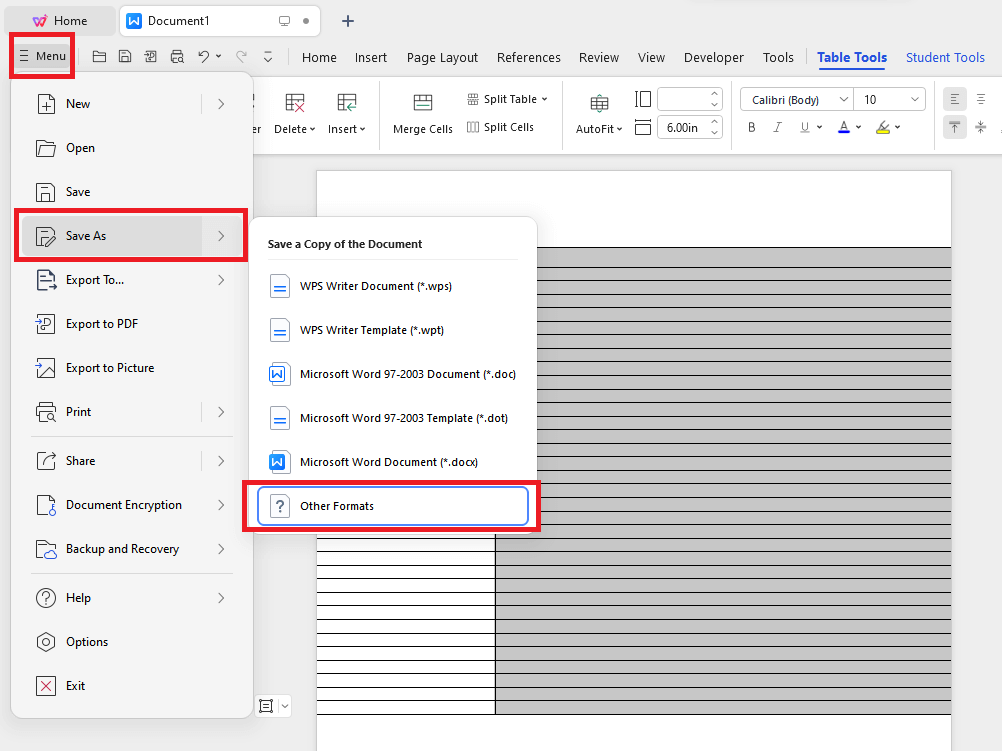 WPS Office Menu
Step 12: Change the File Type to PDF, give your template a name, and press "Save".
WPS Office save as PDF
How Are Cornell Notes Effective For Students?
The Cornell notes PDF templates offer a system for taking notes in a structured and organized way. Cornell Notes are useful for students because they encourage active involvement with the subject matter, improved understanding, and information retention.
The Note-Taking Area invites students to paraphrase and summarize in their own words, the Cue Column aids in the creation of memory signals for simple recall, and the Summary section enables speedy review and reinforcement of key ideas. This systematic approach encourages successful academic learning.
FAQs
Q1: Is there a Cornell Notes template for Word?
Yes, the free Cornell notes templates for Word are available in WPS. You just go to WPS software and search for your required template, and download it. You can also download the Cornell note templates in any format from any site and then import them into the WPS Office. WPS allows you to convert your templates into Word format.
Q2: Is Cornell the best note-taking method?
Yes, the Cornell note-taking method is one of the best methods to enhance learning ability and boost exam success by quick content retention for revisions and exam preparations.
Revolutionize Your Note-Taking: Elevate Learning with Cornell Note Templates
In this guide, you'll discover the optimal approach to note-taking, complete with a selection of versatile and commonly used Cornell note template PDFs. Amongst the websites discussed, what sets WPS Office apart is not only its provision of free Cornell Notes templates PDF, but also its remarkable capability to enable editing and conversion into your preferred print-ready format. WPS Office's suite of office tools, students, teachers, and scholars can achieve more than just taking Cornell notes. Download WPS Office today, a complete solution for all your academic needs!