Top 5 Free PDF Flyer Templates Downloadable 2023
Marketing has changed drastically over the years, with more and more people moving digital, advertising their products on social media. However, amidst the digital revolution, the power of a well-designed flyer remains unrivaled and with Flyer Template PDF, businesses can create captivating visuals and convey your message effectively.
Are you wondering where to find downloadable flyer templates for free?
In this article, we present the Top 5 free flyer templates PDF available for download in WPS Office and guide you on how to use them efficiently.
WPS Office Flyer templates
TOP 5 PDF Editable Flyer Templates
1. Hand Painted Food Drive Flyer
Hand-Painted Food Drive Flyer
Hand-painted food drive flyer designs are visually appealing and aesthetically pleasing templates. These flyers are specifically worthy promoters for those who want to launch and promote their food drive to a specific community. It consists of charming hand-drawn illustrations that depict real images of delicious street food times with lively colors.
These hand-painted life-like images showcase your mouth-watering signature dishes and unique cuisine. This attractive structure of hand-painted food flyer design persuades your visitors to turn into potential customers. These flyers depict the features of your cuisine in such a persuading way that entices the visitors to give your food a try.
They also have a particular text section that allows you to shed light on the launch date, menu details, special discounted offers, and location that attract food lovers. You can edit the text section according to your food items and offers.
You can use these PDF flyer templates digitally and take out the printed hard copy. You can customize your food drive flyer by putting on the specific food items that help you magically entice hungry customers and food enthusiasts.
Orange Business Corporate Flyer Design Template
If you want to take your business to new heights, the Orange Business Corporate Flyer Design Template is the best source of promotion. Its orange color combination with contrasting text color provides it with an appealing look.
Its sleek layout showcases the attractive graphics of your business infrastructure, typography, and description of your services/products in a strategic way. It not only looks aesthetically pleasing but also conveys the desired message to your potential customers just at a glance.
If you are launching a new business, organizing a specific event, or want to sell some particular services/products, this flyer design can cope with your business advertisement requirements. Just keep your target audience in your mind and customize it with an enticing call to action. Add your contact details and venue, and most important, put in your company's logo.
This PDF flyer template is free to download from WPS Office. WPS allows you to personalize it according to your business or event details. You can use it digitally for social sharing and through email marketing.
Women Fashion Flyer Design
Women Fashion Flyer Design is the best PDF flyer template that can be used to promote fashion-related business. Whether you are dealing with boutiques, cosmetics, fashion ware, foot ware, jewelry collection, or any other field of the fashion industry, this flyer design cam leads your business to the next level.
Its chic and elegant layout consists of attractive graphics and delicious color combinations. You can showcase your trendy fashions and specific brand accessories that can appeal to window shoppers and intrigue them to buy them.
Its captivating designs provide you with ample space to display the necessary details of your fashion ware. You can attract fashion lovers and fashion-conscious folks by enhancing your events, new launches, discounted offers, seasonal sales, or special event offers. This strategy ensures to enhance your conversion rate.
You can use its digital version to share on social media and your official brand site for online shoppers. Alternatively, you can also print it as a handout to distribute during fashion events and gatherings. It guarantees to promote your brand among the masses and collect a valuable crowd of buyers.
Entrepreneurship Training Flyer for Students
Entrepreneurship Training Flyer for Students is a dynamic template with a straightforward layout specifically designed for professional entrepreneurs. It helps entrepreneurs to launch their courses to train students who want to be aspiring entrepreneurs.
Its empowering design showcases the appealing blend of your creativity and knowledge with your achievements. It also presents your enthusiasm to convert your life-long experience into your potential students. This flyer provides a gateway into the realm of the innovative world of ideas, personal development opportunities, and modern business strategies.
Its vibrant visuals and detailed descriptions of learning ideas make it aesthetically attractive as well as informative. You can display your entrepreneurship training programs in an empowering way that appeals to the aspiring young generation to take admission in this training.
You can ignite the excitement and curiosity of students by displaying the limited discount offers. Then presents a clear call to action to grab this opportunity. This PDF brochure template free download is available in WPS Office. You can customize it as per your needs and print it as a hard copy to distribute in educational institutes and gatherings.
Blue Photo Background Science Flyer
The blue photo background flyer is an elegant blend of science and aesthetics. This flyer design is a perfect fit for science seminars, scientific events, educational programs, and conferences. The vibrant blue background provides a professional look. You can display the main theme of your event by representing the graphics of your instruments, laboratory, scientific types of equipment, and any other illustration for an abstract idea.
Its clear and educational layout boosts the curiosity and excitement to attend the event to seek scientific discoveries. In the text section, it provides you with a concise area to demonstrate the time, date, venue, and key features of the event. Whether you are going to organize an on-site public lecture, online events, a scientific exhibition, or a fair, this PDF flyer template comes in handy to buzz the crowd around you.
In WPS Office, this PDF flyer template is free to use and editable as well. You can personalize it to change the graphics as well as text or other information according to your event's preferences. WPS allows you to save it digitally to use for social media and email marketing. Contrarily, you can print it to distribute it among your target audience.
How to Design My Own PDF Flyer Template in the WPS Office?
WPS Office is a dynamic Office Suite that elevates your productivity with its multitude of features and functionalities. Among its remarkable offerings is a wide range of editing tools that extend beyond working with Office files. With WPS Office, you can also master the art of designing flyer templates effortlessly.
WPS Office interface
This incredible feature empowers you to infuse your business with the uniqueness it deserves, showcasing your essence and creativity. The best part? WPS Office is entirely free and incredibly user-friendly. Let's try designing a stunning PDF Flyer Template using WPS Office:
Step 1: We begin with creating a fresh new document for our flyer template on WPS Office
WPS Office new document
Step 2: Let's change the Page setting to make sure our flyer fits perfectly on our page. Visit the "Page Layout'' in the ribbon menu. We will be setting the Page size to A4 and all the Page Margins will be set to "0"
WPS Office Page Layout
Step 3: Let's design the background of our Flyer template. Visit the "Insert" tab in the ribbon menu and add a "Rectangle" shape to give your template a consistent background.
WPS Office set flyer background
Step 4: We can edit the color of the shape by simply visiting the "Drawing Tools" tab. Make sure you have clicked on the shape for the Drawing Tool tab to appear in the ribbon menu.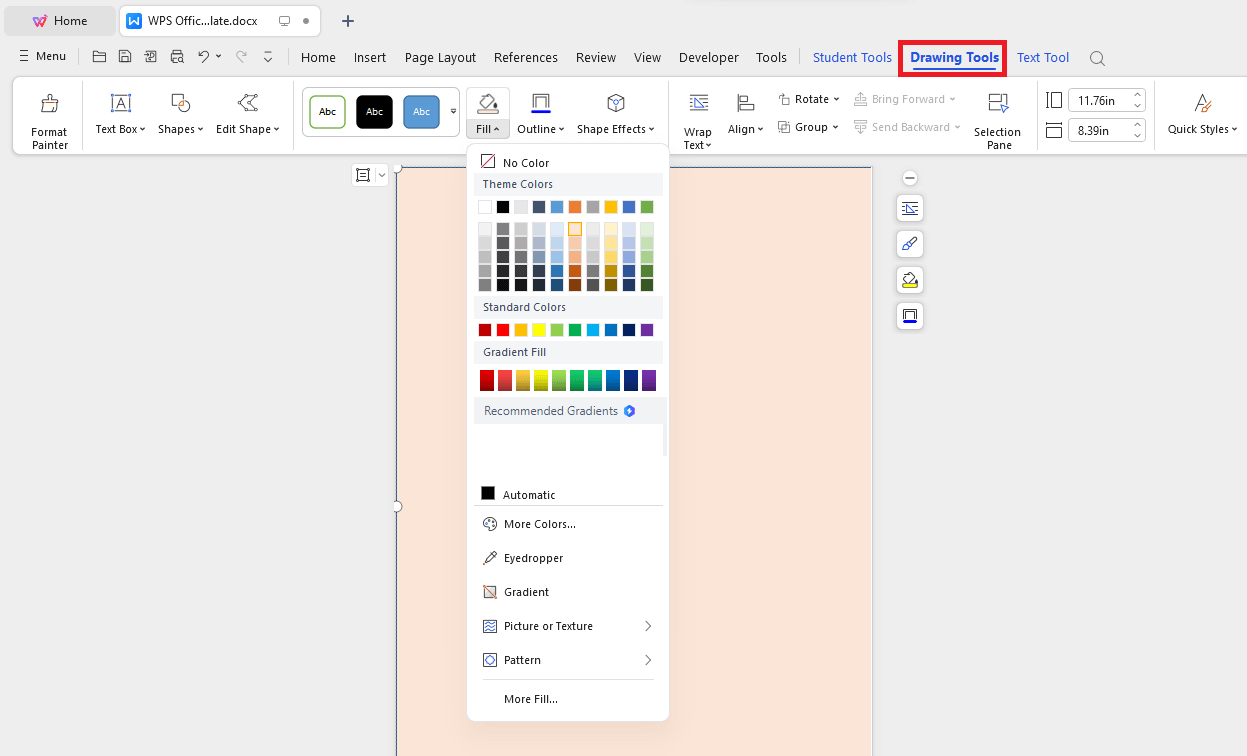 WPS Office shape settings
Step 5: Users can add more shapes and adjust their size and color according to their preferences and brand image. To fill a shape with an image such as your logo, visit drawing tools > Fill > Picture or Texture > From Picture...

WPS Office add picture or pattern to shape
Step 6: To insert text in your Flyer Template, visit the Insert Tab and select Text Box. Place the text box accordingly and fill the text box with your message.
WPS Office insert the text box
Step 7: Using different combinations of Shapes and Text Boxes, beautify your template to make it attractive.
WPS Office Flyer template design
Step 8: Once the flyer template is complete, don't forget to save your flyer template. Visit Menu > Save
WPS Office save flyer template
WPS Office lines for alignment
How to Convert Word to PDF in WPS Office?
Follow these steps to convert a word document to a PDF:
Step 1: Open the Word Document in WPS Office
Step 2: On the ribbon menu, visit the Tools tab and select Ëxport to PDF
WPS Office tools tab
Step 3: In the Export to PDF window, select the file and click on Export to PDF to create a new PDF file of your document.
WPS Office PDF Export
FAQs
Q1. What is a flyer in design?
A flyer is a type of promotional material that is designed digitally or on paper. It's a printed ad similar to a brochure or a poster. Flyers are used to advertise the products and services of a brand, business, or organization. The flyers are also designed to promote an event. It enables you to call your targeted audience and give particular information to your potential customers.
Q2. What is the best flyer design site?
You won't need to pay for a graphic designer or deal with challenging design software when you use WPS Office. We designed our drag-and-drop free flyer builder with non-designers in mind. Use of the flyer maker in the WPS Office is free. Your flyer creation, downloading, and sharing are all free of charge.
Best Flyer Design Template Free Download in WPS
Whether you are a businessman, an educationist, or a marketer, the pre-designed PDF flyer templates seem indispensable for promotion. Designing these templates manually is time-consuming and costly. So, here is a kicker, WPS Office provides you the exclusive PDF flyer templates free of cost. So why wait, get the WPS Office to win this marketing competition.