Top 5 Websites to Get Lesson Plans Template PDF [2023]
Teachers receive abundant praise for their exceptional dedication in crafting top-notch lesson plans. Meanwhile in the education industry, a subtle but noteworthy revolution is brewing. Fortunately, there exists a multitude of websites designed to assist teachers in enhancing their lesson plans. The question is, where to find these websites to obtain free editable lesson plan templates PDF that we may download? This article aims to delve into these invaluable websites and the plethora of lesson templates they offer. So, let's embark on the journey and explore five websites where you can download editable lesson plan templates in PDF format and make your teaching career effortless.
WPS Office is a user-friendly office suite that provides a straightforward solution to generating and altering PDF lesson plan templates. Its simple interface allows you to easily create personalized lesson plans, making it excellent for instructors and educators. WPS Office works with various major office formats resulting in smooth collaboration and sharing. It simplifies preparing and organizing lesson plans, whether you're a novice or an experienced user, making your teaching journey more effective and productive.
WPS Template Lesson plan Templates
Pros
User-friendly interface simplifies template navigation and modification.

Numerous formatting and customization options are available.

Lesson plan templates are also available on WPS Office's desktop programs.
Cons
There are only a few free templates available.

Some templates may not be suitable for specific educational requirements or courses.
Some Good templates in WPS Office
Kindergarten Lesson Plan Word Template
Kindergarten Lesson Plan
English Lesson Plan
Simple Study Plan and Notes
Simple Study Plan and Notes
Simple Grid Lesson Plan
Green Elegant Roses Lesson Plan
Basic Weekly Lesson Planner Word Template
Class-templates.com offers a variety of lesson plans template pdf designed for simplicity and organization, allowing teachers to create effective, well-structured plans tailored to their specific needs. Explore their collection for efficient lesson planning and fruitful classroom experiences.
Class Templates
Pros
Provides free and organized PDF lesson plan templates.

Templates simplify lesson planning for teachers.

Offers diverse lesson plan templates for different subjects, grade levels, and teaching styles.

Provides PDF templates for easy sharing and compatibility.
Class Templates printable simple lesson plan
Cons
The website interface may be cluttered and confusing, which may bother the users during navigation.

Limited template selection compared to other websites.
Teacher Planet is a reliable source for accessing free lesson plan templates in PDF format. Teachers can find numerous templates suitable for various subjects and grade levels in their vast collection. It makes lesson planning seamless by providing simple templates that save time and work. Whether you're a beginner or a seasoned educator, Teacher Planet offers a dependable platform for accessing high-quality lesson plan templates, assuring an untroubled devising experience.
Teacher Planet
Pros
Offers a user-friendly platform with extensive lesson plan templates for effective instruction.

Template library is frequently updated, providing teachers with up-to-date tools.

Provides a variety of template forms, including PDF, Word, and Google Docs, allowing you to select the best format for lesson planning.
Cons
Ads on Teacher Planet can distract users.

Offers limited free templates.

Teachers might have to invest time and effort in personalizing templates to match specific instructional styles or curricular requirements.
Teachers Pay Teachers is a renowned platform that offers free and premium lesson plan templates in PDF format. It works as an online store for educators to access and download content shared by their peers. TPT offers numerous templates for various subjects, grade levels, and teaching methods. TPT provides a user-friendly platform for teachers to find and use high-quality lesson plan templates to enhance their teaching experience, whether you're looking for a ready-to-use template or a personalized alternative.
TPT Lesson plan templates
Pros
Has a large collection of PDF lesson plan templates produced and shared by other educators.

The templates are designed by skilled educators, making them handy and relevant for usage in the classroom.

Offers a platform for instructors to collaborate and exchange resources, providing a wide range of top-notch templates.
Cons
The quality of lesson plan templates available on TPT varies, demanding a thorough review and selection.

Teacher Planet offers limited free templates. A subscription fee is required to access the premium options.

Teachers may need to customize templates for specific instructional styles.
Canva is a renowned supplier of various design resources, including free lesson plan templates pdf. Canva provides educators with a convenient platform to access and customize lesson plan templates based on their individual needs, owing to its user-friendly interface and huge template library. Canva offers an easy-to-use solution for producing professional-looking lesson plans, whether you're looking for a visually appealing lesson plan template or one that caters to specific subjects or grade levels.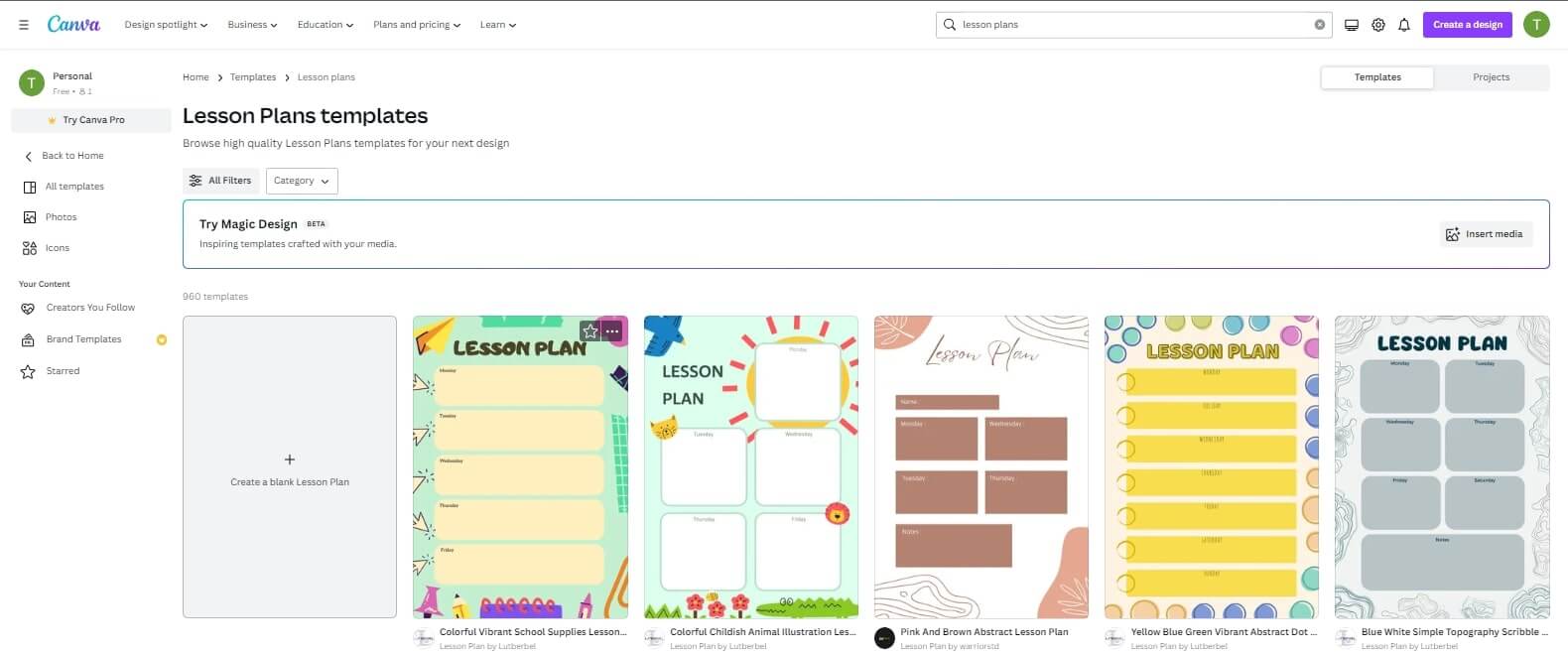 Canva Lesson plans
Pros
Wide range of aesthetically appealing and professionally created lesson plan templates in a PDF format.

Teachers can personalize the templates to their individual teaching styles, subjects, and grade levels because they are highly adjustable.

Educators can easily create engaging and visually appealing lesson plans using Canva's simple-to-use interface and straightforward editing skills.
Cons
Some advanced Canva features and premium templates might require a paid subscription.

Customizing templates to meet specific curricular standards or specific teaching needs might demand more effort and time.

While Canva has multiple designs, selecting the ideal one that perfectly suits individual needs may require some exploration.
What Should Be Included in the Lesson Plans Template PDF?
A lesson plan is a guide for teachers that outlines the instructional goals, learning objectives, activities, and assessments for a particular class or teaching session. The main elements to include in a well-constructed lesson plan are;
Learning objectives: Define lesson objectives based on national or state standards, ensuring achievable, reasonable, and related to student understanding.

Lesson Aim: State the lesson's objective clearly at the top of the page to give a clear focus and ensure everyone understands the lesson's purpose.

Incorporate real-life examples: Connect lessons to real-life situations for meaningful learning experiences.

Incorporate relevant content: Prioritize relevant lesson plans for clear goals, student engagement, and meaningful learning experiences.

Student self-assessment: Incorporate self-assessment activities for student evaluation, progress tracking, and responsibility.

Consider Student Profiles and Individual Needs: Adapt teaching methods to cater students' needs and styles, creating an inclusive environment with visual aids, activities, and group work.

Effective Time Management and Lesson Planning Flexibility: Create lesson schedules, allocate time, be flexible, provide resources.
An educator can generate an impactful lesson plans template pdf by incorporating the above-mentioned key elements.
FAQ
Q1. Does Google have a lesson plans template pdf?
Yes, Google Docs, its online platform, provides lesson plan templates in PDF format. By going to Google Docs and searching for "lesson plan template," users can find a variety of options to download and customize based on their specific teaching requirements.
Google Docs lesson plan templates
Q2. What are the 5 parts of a lesson plan?
A lesson plan consists of five key parts: Anticipatory Set, Introduction of New Material, Guided Practice, Independent Practice, and Closure.
Anticipatory Set: Activate students' prior knowledge through engaging exercises and questions.

Introduction of New Material: Teachers explain concepts, skills, and examples to help students understand.

Guided Practice: Students apply new content through teacher guidance, feedback, and group discussions.

Independent Practice: Students work independently to enhance learning and demonstrate knowledge.

Closure: The closure stage summarizes lecture points, reviews concepts, and concludes with reflection.
Q3. What 4 key components must be included in a lesson plan?
A lesson plan is an organized map designed by a teacher that describes the objectives, activities, and materials for a particular lesson, guiding instruction and supporting student learning. The four key components which must constitute a lesson plan are as follows;
Lesson details: A lesson template considers students' characteristics, learning styles, abilities, and needs, ensuring alignment with desired outcomes.

Lesson topic: Lesson plan should align with curriculum standards for meaningful, engaging learning.

Benchmarks and Performance Standards: Teacher planning involves benchmarks, performance standards, time allocation, and curriculum alignment.

Teaching Materials: Instructional resources enhance learning through diverse materials, styles, and active participation.
Create a Brighter Future with Editable PDF Lesson Plan Templates
While we have provided an overview of various websites offering lesson plan templates, it is highly encouraged to engage in independent exploration. Notably, the WPS website boasts an extensive template store, encompassing a wide array of options, including lesson plans. We recommend visiting the website promptly to discover templates that resonate with your preferences and needs. Embark on this exploration today and uncover a template that suits your liking by visiting WPS Template Mall today!