Adobe Acrobat Reader Review 2023
Adobe Acrobat Reader DC is a great free PDF reader that fulfills its primary purpose of allowing users to read and manipulate PDF files. It is a reliable tool that ensures compatibility with the popular PDF file format.
However, it's difficult to ignore the constant marketing of its premium version within the interface.This marketing tactic could be a little annoying to consumers who are primarily interested in the free version. Despite this, the core functionality of Acrobat Reader DC remains intact and fully functional without the need to upgrade to the paid version Adobe Acrobat DC.
Part 1:What Can I do on Adobe PDF Reader?
Adobe Acrobat
Adobe PDF Reader offers a wide range of features and functionalities, making it a versatile tool for managing and working with PDF files. From basic tasks like viewing and reading PDFs to advanced editing, collaboration, and document security, Adobe PDF Reader provides a comprehensive solution for all your PDF needs.
1. Easy to View: Adobe PDF Reader allows you to open and view PDF files with ease. You can always rely on Adobe PDF Reader to accurately display the content, maintaining the original formatting and layout.
2. Annotate and Highlight: With Adobe PDF Reader, you can annotate and mark up PDF files, making it convenient to highlight important sections, add comments, or draw attention to specific details.
Adobe edit a PDF
3. Sign and Fill: Adobe PDF Reader enables you to fill out interactive forms directly within the PDF file. You can input text, you can digitally sign documents using the built-in eSign tool, check checkboxes, and more.
Adobe fill and sign a PDF
4. Search and Navigate: Adobe PDF Reader offers powerful search functionality, allowing you to quickly locate specific words, phrases, or information within a PDF document.
5. Extract Text or Images: Users can easily extract text or images from a PDF file, Adobe PDF Reader provides a straightforward solution. You can select and copy text to the clipboard, making it easy to paste it into another document or application.
6. Organize and Manage: Adobe PDF Reader allows you to access and view the properties of a PDF file. You can find information about the document, such as the author, creation date, file size, and security settings.
7. Print Easily: When you need a hard copy of a PDF document, Adobe PDF Reader enables you to print it directly from the application. Additionally, you can easily share PDF files via email or other communication channels.
8. Customize: Adobe PDF Reader download offers various customization options such as adjust zoom level, page display mode, background color, and more, according to your preferences and needs.
Part 2:Is Adobe PDF Reader Free?
Yes, Acrobat Reader PDF lite free download is available as a free software, allowing users to access its core features without any cost. This makes it an ideal choice for individuals who primarily require a reliable PDF viewer and basic editing capabilities.
Free Adobe Reader
Part 3:How to Download Adobe PDF Reader
Step 1: Open your web browser:
Step 2: Go to the Adobe website:
Step 3: Click on "Download Adobe Reader"
Download Adobe Reader
Step 4: Once the download is complete, Adobe installer will launch, review options and start the installation process.
Adobe Acrobat Installation windows
Step 5: After the installation is completed, launch Adobe Reader
Adobe Acrobat Reader installation complete
Part 4:How to Use Adobe PDF Reader
Step 1: Launch Adobe Reader PDF.
Adobe Acrobat Reader User Interface
Step 2: Open a PDF file by clicking on Menu at the top left of the page followed by Open.
Adobe Menu tab
Step 3: Once the file is opened, users can easily access all the tools available on Adobe Reader
Adobe all tools
Step 4: Users can sign or fill their PDFs by clicking on "fill & sign" under all tools.
Adobe fill and sign
Step 5: Users can use various Filling features to edit their documents
Adobe Acrobat edit, comment and highlight
Step 6: Users can also add their signs on pdf
Adobe Acrobat edit, comment and highlight
Step 7: Users can also combine PDFs into one. Simply click on "Combine PDFs" under the All tools section and drag and drop PDFs which need to be combined.
Adobe Acrobat edit, comment and highlight
Step 8: Users can customize the PDF further by clicking on "View More"under the all tool drop down menu.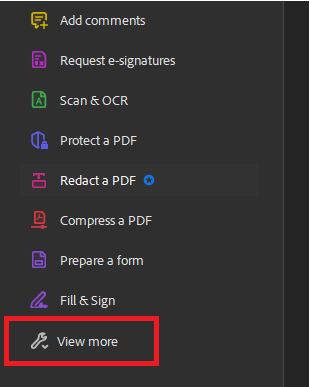 Adobe reader view more
Step 9: Users can Add a stamp, certificates or even pictures to their PDFs
Adobe reader more customization tools
Part 5:Pros and Cons of Adobe PDF Reader
Pros
Free to use: Free of charge, making it accessible to a wide range of users

Easy to use: Intuitive user interface for seamless navigation and reading experience

Search: Efficient search function to quickly locate specific information

Annotate: Basic annotation and highlighting tools for easy document markup
Cons
Limitation: Limited advanced editing capabilities compared to paid versions

Frequent prompts to upgrade to premium Adobe Acrobat DC

Pro Version: To access advanced features, users are required to upgrade to Adobe Acrobat Pro.t
Part 6:How to Unlock More Advanced Features of Adobe
Adobe reader only provides basic features on its free version. Tto access more advanced features, Adobe offers subscription plans such as Acrobat PDF Pack. This upgrade allows you to unlock functionalities like PDF creation, conversion, and advanced editing tools. By subscribing to Acrobat PDF Pack, you can elevate your PDF experience and gain greater control over your documents.
Upgrade to Acrobat PDF Pack
To upgrade to Acrobat PDF Pack, visit the Adobe website and select the subscription plan that suits your needs. With Acrobat PDF Pack, you can create PDF files from various file formats, convert PDFs to editable documents, protect sensitive information with password encryption, and collaborate seamlessly with others using built-in sharing and commenting features.
It's important to understand the distinction between Adobe Reader DC free and Adobe Acrobat DC. Adobe Acrobat DC is a comprehensive PDF editor with a wide range of capabilities, such as viewing, printing, signing, annotating, creating, editing, combining, and protecting PDFs. On the other hand, Adobe Acrobat Reader DC is a more limited PDF viewer that caters to users who primarily need to view, print, sign, annotate, and search PDF documents.
Part 7:Adobe PDF Reader Alternatives
WPS PDF is a user-friendly PDF reader and editor that aims to simplify your PDF experience. It offers a range of features that make working with PDFs a breeze. With a clean and intuitive interface, WPS PDF ensures that even beginners can navigate through their PDFs seamlessly.
WPS PDF
Top Features:
Comprehensive editing tools

Advanced document collaboration

PDF conversion to various formats

Annotation and markup features

Password protection and permissions management
WPS PDF homepage
Free or Paid:
Free version available with essential features

Paid subscription for advanced functionalities
Devices:
Available for Windows, Mac, iOS, and Android
Pros:
User-friendly interface

Wide range of editing tools

Comprehensive collaboration features

Cross-platform compatibility

Conversion options
Cons:
Some advanced features only available in the paid version

Limited cloud storage for free users
Foxit is another popular PDF reader and editor known for its speed and efficiency. It offers a range of features designed to enhance your PDF experience.
Foxit PDF
Top Features:
Speed and efficiency

Editing tools

Collaboration features

PDF conversion options

Security features
Foxit PDF Features
Free or Paid:
Free version available with basic features

Paid version for advanced functionalities
Devices:
Available for Windows, Mac, iOS, and Android
Pros:
Fast and efficient performance

Comprehensive editing and collaboration features

Cross-platform compatibility

Security options
Cons:
Some advanced features may require a paid version

Limited features in the free version
iLovePDF is a web-based platform that provides a suite of PDF tools, including merging, splitting, compressing, converting, and editing PDFs. It offers a simple and straightforward interface to streamline your PDF tasks.
Top Features:
Merging, splitting, and compressing PDFs

PDF conversion options

Editing tools

Web-based platform
ilovePDF Features
Free or Paid:
Basic features available for free

Premium subscription for additional functionalities
IlovePDF pricing and plans
Devices:
Web-based platform accessible on any device with an internet connection
Pros:
Simple and straightforward interface

Wide range of PDF tools

Convenient web-based access

Free option available
Cons:
Premium features require a subscription

Reliance on internet connection
FAQ
Q1: What does PDF mean?
PDF is an abbreviation for "Portable Document Format." It is a file format that may be used to exhibit and exchange documents regardless of software, hardware, or operating systems. PDF files preserve a document's formatting, fonts, photos, and other features, ensuring that it looks consistent across devices.
Q2: How to Set Adobe as the default PDF Reader?
To make Adobe Acrobat viewer your computer's default PDF viewer, perform these general steps:
Step 1 Navigate to your computer's Settings or Control Panel.
Step 2 Go to the "Apps" or "Default Programmes" tab.
Step 3 Look for the "Set Default Programmes" or "Default Apps" option.
Step 4 In the list of file types, look for the PDF file type or extension.
Step 5 To select the PDF file type, click on it.
Step 6 Select Adobe Acrobat Reader from the list of programmes.
Step 7 If Adobe Acrobat Reader isn't listed, go to "More Apps" or "Choose another app" and look for it among the installed programmes.
Step 8 After you've chosen Adobe Acrobat Reader, click the "Set as default" or "Choose defaults for this programme" button.
Step 9 Close the control panel or settings.
Q3: How to Encrypt PDF files with Adobe Reader?
The Free version of Adobe Acrobat Reader does not include a built-in feature PDF files. However, users can upgrade to Adobe Acrobat Pro which has a dedicated file encryption feature.
Q4: How do I make a PDF?
You may use WPS Office to create a PDF by following these steps:
Step 1 Launch WPS Office on your computer.
Step 2 Create or open the PDF-to-Word document (for example, a Word document, an Excel spreadsheet, or a PowerPoint presentation).
Step 3 Once you've opened your document, navigate to the "File" tab in the top menu.
Step 4 Depending on the version of WPS Office you're using, choose "Export to PDF" or "Save as PDF" from the dropdown menu.
Step 5 A dialogue box will pop-up, allowing you to specify the PDF file's save location and name.
Step 6 Choose a location on your computer to save the PDF file and give it a name.
Step 7 To begin the PDF converting process, click the "Save" button.
Step 8 WPS Office will convert the document to a PDF file and save it in the location you specify.
Step 9 When the conversion is finished, you can find and open the freshly produced PDF file.
Conclusion
Adobe PDF Reader is the holy grail to viewing and manipulating PDF files. It's a trusted and widely used software that offers essential features for working with PDFs. However, if you're looking for alternatives that go beyond the basic functionalities, there are several great options available.
One of the best alternatives to Adobe PDF Reader is WPS PDF. WPS PDF offers a comprehensive set of features that surpasses the capabilities of Adobe's software. With WPS PDF, you can not only view and annotate PDFs but also edit them extensively. The advanced editing tools, collaboration features, and document conversion options make WPS PDF a powerful choice for working with PDF files.