WPS PDF, All-in-One PDF Tool
To easily and quickly edit, merge, split, compress, convert, sign, and add watermarks to PDF documents , WPS PDF is your better choice.
Download for All Features
Download WPS Office and Edit PDF
Download WPS Office to get more PDF management features such as OCR (image scanning and conversion), adding watermarks and e-signatures, and PDF to image conversion.
Free download for PC
WPS Office for
Windows
Download WPS Office Desktop Editor to get a lightweight PDF tool that provides complete solutions for all PDF problems.
Free Download
4.8MB / Jul 4 2022
WPS Office for
Mac
WPS Office, perfectly compatible with the macOS system on Mac, and supports Intel and Apple chips to help you edit PDFs easily.
Free Download
532MB / Nov 25 2021
WPS Office for
Linux
WPS Office is a free office suite that supports Linux. Download the WPS Office app to access PDF tools anytime.
Free Download
DEb Package
Rpm Package
Free Download for Mobile
WPS Office for
Andriod
Google Play Best of 2015
WPS Office for
iOS
App Store Best of 2015
About WPS PDF
WPS PDF is a useful all-in-one PDF online tool. It is easy to edit, convert and manage PDF files, you can try it for free. For efficient PDF processing, please use WPS PDF.

WPS PDF is also compatible with a variety of file formats, including Adobe PDF. PDF is now a component of WPS Office application, providing collaborative viewing, annotation, and editing.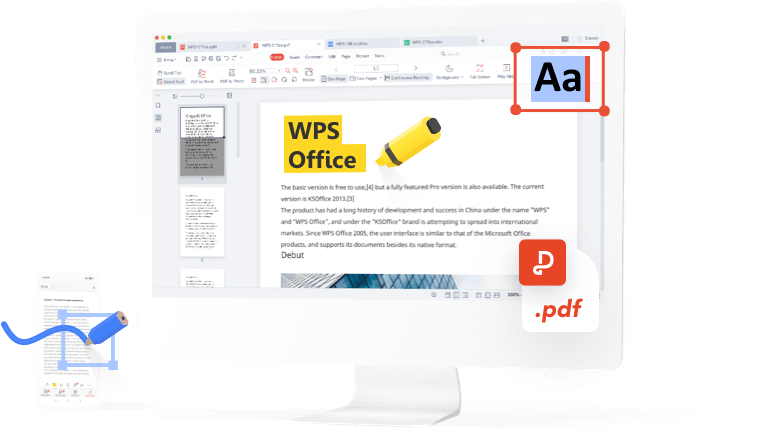 PDF Guide - How to instructions
WPS PDF Blog
PDF Blog helps you fully understand how to use PDF tools, provides you quick access to software news, recommends different types of office software worth downloading, and offers you information about PDF version update.
More Articles >
Software News

WPS Office: Best Free PDF Converter to Download in 2022

2022 is the year of digitization. Almost every company has realized that they need to have an online presence to survive. Even if you have a physical product, you need to be able to sell it online. And to do that, you need to be able to convert PDFs to other formats. That's where WPS Office comes in. WPS Office is a suite of tools that includes a PDF converter. With WPS Office, you can convert PDFs to a variety of formats, including Word, Excel, PowerPoint, and more. This is why WPS Office is your best choice: [WPS Office: Best Free PDF Converter to Download in 2022](https://pdf.wps.com/blog/wps-office-the-best-free-word-to-pdf-converter-in-2022-news-post1032/) WPS Office is available for free download on Windows, Mac, and Android. There is also a paid version with more features. ## Online WPS PDF converter tool ![??2.png](https://wpsstrapicms.cache.wpscdn.com/2_e455a4135a.png) The WPS converter tool is a great way to convert your PDF documents into the WPS format. It is an easy-to-use tool that can be used by anyone, regardless of their technical expertise. - The tool is available for free online and can be used by anyone with an internet connection. Go to the website https://pdf.wps.com/free-pdf-converter/ and use the online PDF converter tool. ## Features in WPS PDF converter WPS PDF converter is amazing in its features. You can Download the WPS PDF converter to use its amazing features. The features that are in WPS PDF converter are as follows: - Merge PDF - PDF to Word - PDF to Excel - PDF to PPT - Split PDF - Word To PDF - Excel to PDF - PPT to PDF - JPG to PDF - Organize PDF ## Benefits of using WPS PDF WPS PDF is a powerful PDF editor that offers a wide range of features and tools to make working with PDFs easier. Here are just a few of the benefits of using WPS PDF: - Edit PDFs easily: WPS PDF lets you edit PDFs quickly and easily, without needing to convert them to another format first. You can add and remove text, images, and other elements from your PDFs with just a few clicks. - Annotate PDFs: With WPS PDF, you can easily add comments and annotations to your PDFs. This is great for collaboration or for adding your own notes to a document. - Protect your PDFs: WPS PDF lets your password-protect your PDFs to keep them safe from unauthorized access. You can also set permissions to control what others can do with your PDF. Get more information about WPS PDF Editor here: [Brief Overview of the WPS PDF Editor ](https://pdf.wps.com/blog/brief-overview-of-the-wps-pdf-editor-news-post761/) ## 4 Reasons Why You Should Use WPS Office To Convert Your PDFs ![??3.png](https://wpsstrapicms.cache.wpscdn.com/3_0dbb6d2d7f.png) If you're looking for a PDF converter that is both powerful and easy to use, then you should check out WPS Office. Here are four reasons why WPS Office is the best PDF converter out there: - WPS Office can convert PDFs to a variety of formats, including DOC, DOCX, PPT, PPTX, XLS, and XLSX. - WPS Office is extremely user-friendly, meaning you can convert your PDFs with just a few clicks. - WPS Office offers a free trial so you can try out the PDF converter before you buy it. - WPS Office is affordable, so you can get all the features you need without breaking the bank. If you're looking for a PDF converter that will make your life easier, then use WPS Office PDF converter. ## Download the WPS Office ![??1.png](https://wpsstrapicms.cache.wpscdn.com/1_da9eb9b7c9.png) WPS Office is one of the best free office suites available. It is compatible with all major operating systems, offers a wide range of features, and is regularly updated. You can Download the latest version of WPS Office from their website.

How To Tutorials

What is PDF and How to Open a PDF on Windows 10 for Free Easily:

PDF documents are used widely because of their high-quality viewing and reading interface, it looks attractive and engaging and you can easily view and read e-books, magazines, invoices, and much more in a pdf document. But the question is how to open it on windows 10, so don't worry about that, read this article completely and know about the easy way to open Pdf. ## What is a PDF? PDF is a word that means Portable Document Format, it is a type of file format similar to docs, exe, pptx, jpg, etc. It is used highly as compared to other formats. The main use of pdf is to view, read, share and print documents with high quality. It contains images, links, text, objects, icons, etc. The big disadvantage of PDF files is that they can't be edited but it is not a big problem nowadays, you can easily edit your document with pdf editor tools like WPS Office, Adobe Acrobat, PdfElement, etc. ## What is Adobe Acrobat and How to Open PDF on Windows 10 by Using it: ![??46.png](https://wpsstrapicms.cache.wpscdn.com/46_8fde00cff4.png) Adobe Acrobat Reder is an all-in-one high-quality pdf software developed by the popular company Adobe. It is an easy and feature-rich program that provides multiple tools which are used to work with digital documents. It has a user-friendly interface it displays all the functions in good sequence. If you use Adobe, you will never be bored but also you will enjoy it. Here we provide you an easy way to open Pdf on windows 10 by using Adobe Acrobat. - Download Adobe Acrobat Reader DC on your windows 10 operating system. - Then go to the pdf file you want to open. - Move your click on the file and press the Right Click. - There will be a popup window that opens, then move your click on "open with" and select "Adobe Acrobat Dc". - After that, your pdf file will open with Adobe Acrobat and now you can view and read your document. Related: [How to Open PDF on Android ](https://pdf.wps.com/blog/how-to-open-pdf-on-android-post628/) ## If You Don't Have Acrobat Reader DC You Can Use WPS Office: Adobe Acrobat is the best pdf software But what if, you can't run Acrobat? so the second and best option for you is WPS Office. you can download it for free and use it for multiple purposes and if you Download it now, you will get a free 7-day trial to try its premium, without a credit card. ## Final Words: Written by MaWriter, an experienced article writer who has written numerous informative articles related to pdf applications and software. It is the best and simple way we told you in this article to open pdf files on windows 10. You have to only download the Pdf tool and follow some easy steps and then you can easily open your pdf on windows 10. Adobe Acrobat is the best pdf software But what if, you can't run Acrobat? so the second and best option for you is WPS Office. you can download it for free and use it for multiple purposes and if you Download it now, you will get a free 7-day trial to try its premium, without a credit card. [Free download WPS Office Software for Windows with 7-day free trial right now! ](https://wdl1.pcfg.cache.wpscdn.com/wpsdl/wpsoffice/onlinesetup/distsrc/601.1042/wpsinst/wps_office_inst.exe)

How To Tutorials

How to Remove Electronic Signatures from PDF on iPhone for Free - Step by Step

Add, remove, edit, and change anything in a pdf document is impossible because the Pdf is an uneditable format, and to edit anything in a pdf document, it is necessary to use pdf tools, which are available on pdf applications and software. Similarly, for removing electronic signatures from pdf we use the pdf tool. The way of using the pdf tool for removing electronic signatures is a little bit hard and people are not aware of it. In this article, you will read about the use of the online tool that is Google Docs. ## Step by Step guide to Remove Signatures from PDF with Google Docs: Google Docs is a product of Google, it is an online web-based word processor that performs your different types of document work fastly with high quality. It is simple, easy to use, and full of high-quality features. You can easily add charts, graphs, tables, emojis, images, and much more to your documents. It is mainly used to create new documents and also you can edit anything in your document by using it. Plus, it helps us to remove Electronic signatures from pdf, read below how we can use it. ![??30.png](https://wpsstrapicms.cache.wpscdn.com/30_394ea6adb2.png) ### Step 1:Make Pdf Document Editable The first thing in this process is making a pdf document editable. Open Google Drive and click the "+ New" button, then upload your pdf file. After uploading the file is appear at the bottom of the screen, Click it to open. ![??31.png](https://wpsstrapicms.cache.wpscdn.com/31_ebc54a68eb.png) ### Step 2:Open with Google Docs After clicking the file, your pdf document will open on the screen, there is an option of "Open with Google Docs" at the top, Click it. ![??32.png](https://wpsstrapicms.cache.wpscdn.com/32_ebacc6c46e.png) ### Step 3:Remove Electronic Signature: After that, the pdf file will open in google docs as an editable form. Then click on the signature you want to remove and then press "Backspace". Related: [3 Quick Ways for How to Add Signature to PDF ](https://pdf.wps.com/blog/3-quick-ways-for-how-to-add-signature-to-pdf-post462/) ## If You Don't Use Google Docs You Can Use WPS Office: If the online way of removing signatures isn't better for you and you want to work offline, So the WPS Office is for you. Because it provides you the best experience for working with pdf documents offline. It is a complete office-suite program, that provides you high-quality office tools like Writer, Presentation, Spreadsheet, and PDF. It provides you thousands of free templates and helps you to collaborate with others and also it provides numerous offline and online pdf tools like converter, editor, annotator, viewer, and much more. If you want to use a 7-day free trial of WPS Office premium subscription, so Download WPS Office now and get it without a credit card. ## Conclusion: Written by MaWriter, an article writer who has written numerous articles and blogs about software and applications. Sometimes we have to remove signatures from pdf, but we don't know which tool is best and how can we remove signatures from pdf by using it. The way of removing signatures from the pdf we provide above is the best and easy way, to follow it and do your work easily. [Free download WPS Office Software for Windows with 7-day free trial right now! ](https://wdl1.pcfg.cache.wpscdn.com/wpsdl/wpsoffice/onlinesetup/distsrc/601.1042/wpsinst/wps_office_inst.exe)
Download App to work offline