How to Convert PDF to JPG with Smallpdf (Easy Ways)
November 8, 2023
115 views
Amid the digital document landscape, PDF files stand as vital tools for information exchange. Yet, the task of transforming these files into JPG images using Smallpdf has left many puzzled. The solution to this puzzle lies herein.
This article navigates through uncomplicated approaches, revealing the means to tap into Smallpdf's capabilities. With these methods, the conversion from PDF to JPG becomes as simple as it is efficient.
How to Convert PDF to JPG for Free using Smallpdf?
Smallpdf PDF to JPG Solution
In the realm of digital file transformations, Smallpdf converts PDF to JPG online for free. If you've ever pondered the possibilities of turning your PDF documents into versatile image files, wonder no more—Smallpdf has your back.
With its user-friendly interface and efficient process, you can achieve this transformation in just a few swift steps.
Step 1: Navigate to the PDF to JPG Tool: The journey begins by making your way to Smallpdf's PDF to JPG tool. A few clicks will lead you to the gateway of image conversion possibilities.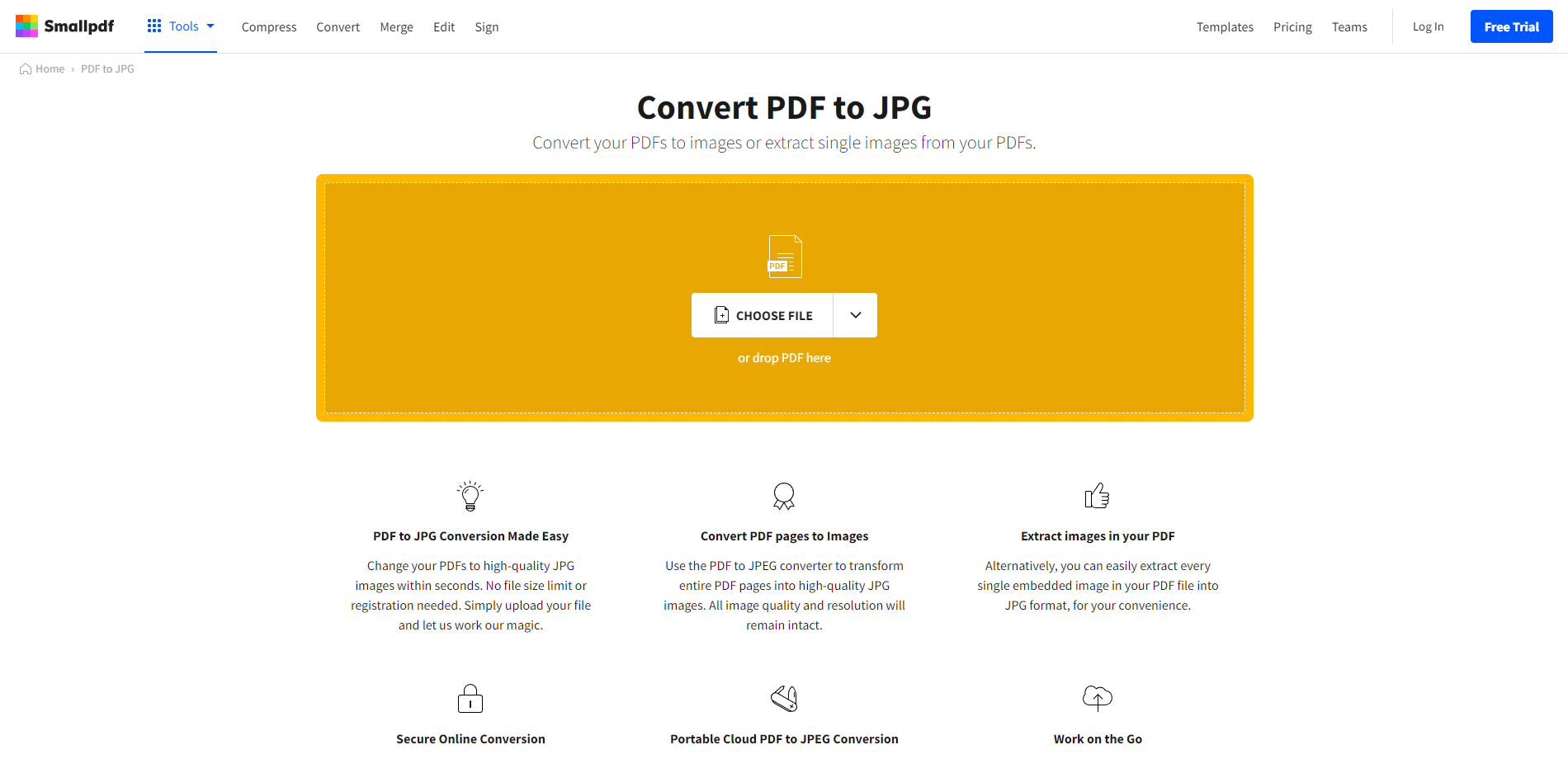 Smallpdf Dashboard
Step 2: Upload Your PDF Documents: Once you're within the realm of the PDF to JPG tool, the next step involves selecting and uploading the PDF documents you intend to convert. Smallpdf ensures that this process is as straightforward as it gets.
SmallPDF file
Step 3: Choose Your Conversion Method: Smallpdf acknowledges that needs vary, so it provides you with options. You can either opt to "Extract Single Images" or perform a broader conversion by selecting "Convert Entire Pages." The power of choice is at your fingertips.

Step 4: Make Your Selection: After choosing your desired conversion method, it's time to take the final step before transformation. Select the "Choose option" button and let Smallpdf know your preference.

Step 5: Let Smallpdf Work Its Magic: Now, it's time to let the magic happen. Smallpdf's efficient conversion engine gets to work, diligently transforming your PDFs into JPG images. Sit back and witness the transformation unfold.

Step 6: Download Your JPG Image Files: With the conversion complete, the stage is set for the grand finale. Smallpdf presents you with your newly minted JPG image files, ready for download. Just a click, and they're all yours to utilize, share, and enjoy.
Smallpdf takes pride in its ability to seamlessly convert PDFs to JPGs, catering to both online and offline needs. Best of all, this service comes without the burdens of registration, installation, or downloads.
So, if you're looking to embrace the world of visual content derived from PDFs, Smallpdf is your trusted companion, offering a quick, easy, and cost-free solution.
How to Convert PDF to JPG using Smallpdf Desktop App?
Embracing the ever-evolving digital landscape, Smallpdf introduces its Desktop App as the best free converter download. Whether you're a part of the vast Windows 10 community or someone new to the realm of digital paperwork, this comprehensive guide will navigate you through the process seamlessly.
Step 1: Access Smallpdf's PDF to JPG Tool
In the comfort of your Windows domain, begin the journey by launching the Smallpdf Desktop App. Within its virtual walls lies the key to unlocking the magic of PDF to JPG conversion.
Step 2: Import Your PDF File
Once within the realm of the Desktop App, the next move involves selecting or effortlessly dragging and dropping your desired PDF file into the designated box. It's about to get personal—your PDF is now on the verge of transformation.
Step 3: Choose Your Desired Output
As with any transformative journey, choices must be made. Decide whether you want to preserve individual images or embark on a grander conversion journey by opting for entire pages to be converted into JPG format. The power of customization is at your fingertips.
Step 4: Let the Conversion Begin
With your selections made, it's time for the Smallpdf magic to unfold. The conversion process commences, and you'll be amazed at how swiftly your PDF is transformed into vibrant JPG images. Blink, and it's almost done!
Step 5: Download and Revel in Your Success
The final crescendo of this transformative symphony arrives. Smallpdf presents you with the fruits of its labor—the freshly minted JPG image files. These images are yours to wield, share, and celebrate with a simple download.
No Signup, No Hassle
Smallpdf recognizes that simplicity is key. The Desktop App experience embodies this philosophy, offering you the means to convert PDFs to JPGs without the constraints of signups or complicated processes.
Best Alternative—WPS Office: Empowering Your Office Needs
WPS Office
In the ever-evolving realm of office productivity tools, WPS Office stands as a modernized powerhouse, offering robust solutions for both the online and offline world. As we explore this alternative to Smallpdf, it's evident that WPS Office has gained well-deserved recognition for its versatility and user-friendly interface.
Introduction to WPS Office: A Comprehensive Office Suite
Smallpdf is just a pdf to jpg converter, while WPS provides a comprehensive Office Suite
WPS Office is more than just a collection of office tools; it's a comprehensive suite designed to elevate your productivity. With its offerings in word processing, spreadsheets, and presentations, WPS Office equips users with the tools needed to conquer various tasks seamlessly.
What sets WPS Office apart is its broad accessibility—it's available for free, and it operates on multiple platforms, including Windows, Mac, and even iPhone.
The WPS Advantage Over Smallpdf
While Smallpdf offers an excellent service, it's important to acknowledge WPS Office as a potent contender. Unlike Smallpdf, WPS Office doesn't limit itself to PDF to JPG conversion alone. WPS Office's suite includes word processing, spreadsheets, and presentation software, making it a well-rounded office companion.
How to Convert PDF Files into Pictures with WPS
For those seeking a seamless PDF-to-picture conversion, WPS Office offers a straightforward solution.
Begin by opening your PDF file within the WPS Office.

Navigate to the Tools tab, then click on "PDF to Picture."

A dialog box will emerge, offering various customization options.

Set your desired parameters, such as Watermark, Pages, and Quality.

Choose between "Output By Page" or "Output Long Picture," depending on your needs.
Unlocking Premium Features for Enhanced Customization
A world of enhanced possibilities opens up for users who opt for WPS Premium.
WPS Premium users can eliminate watermarks or customize them according to their preferences.

By selecting "Custom," users can edit their watermarks with parameters like Text, Color, Opacity, Style, Rotate, Size, and Tile.

Once the desired style is achieved, simply confirm and proceed.
Experience WPS Office Today
WPS Office offers a dynamic alternative to traditional office tools. Whether you're in need of PDF conversions or comprehensive document editing, WPS Office has you covered. To explore the capabilities of WPS Office and elevate your office experience, visit WPS Office today.
Frequently Asked Questions (FAQs)
Q. Can I Convert PDFs Back to Editable Formats?
A. Absolutely! Smallpdf provides a seamless solution for converting PDFs back into editable formats. Here's how:
Start by uploading your PDF file to the converter.

Choose the desired output format, be it Word, PowerPoint (PPT), or Excel.

Download the newly converted file and make any necessary edits.
If you wish to revert the edited document back to PDF, you can easily do so using the converter. And that's it—your task is complete!
Q. Does Smallpdf offer any image editing options for the extracted JPG files?
A. As of now, Smallpdf focuses primarily on PDF-related tasks such as conversion, compression, and editing. While Smallpdf does not provide specific image editing functionalities for extracted JPG files, it offers an efficient platform for PDF-related operations. For more robust image editing needs, you might consider using dedicated image editing software alongside Smallpdf for a comprehensive solution.
Summary
In the digital landscape of 2023, the demand for converting PDFs to versatile JPGs has never been higher. Smallpdf emerges as a user-friendly solution, enabling effortless conversion for efficient image extraction. Smallpdf: PDF to high-quality JPG converter
However, WPS Office shines as a modern powerhouse. With cross-platform compatibility and robust features, it offers comprehensive office solutions beyond conversion, elevating productivity.
In a world where digital document demands vary, both Smallpdf and WPS Office stand ready as valuable tools to empower your workflow. Choose the right ally for your needs and unlock the true potential of your documents today.