Step by Step Guide: 3 Ways for How to Password Protect or Encrypt a PDF
Is Protecting Your PDF File Important?
PDF means Portable Document Format. This format is not editable and easy to share over different mediums. You must be wondering how to password protect a PDF and why is it important. A PDF file must be saved as well as protected by a password so that someone who has access to the PDF file doesn't make changes to the PDF file as per their wish. The PDF file can be in use simultaneously and any edits made by an unauthorized person can cause a lot of issues.
Having your PDF protected by a password or having it encrypted means that you ensure the safety of the authenticity and the originality of the date in the file. There are other benefits of having password-protected PDF files, such as:
To prevent others from copying, editing, printing the information in the PDFs without permission or due credit.

If the PDF file is password protected, you can easily track your document.

You can keep a check on who is using or editing your PDF file.

No one will be able to make changes to the PDF file if they don't have access to the password.
3 Easy Ways of How to Password Protect a PDF File
For different human crowds, there may need to protect different info in PDF files. How to password protect a PDF is a usual question that is asked while converting a file to a PDF format. PDF files have the nature of not being editable but by using certain software or online tools, a PDF file can be edited.
Method 1:How to Password Protect a PDF with PDF Tools in WPS Office
WPS Office tool is known for making it easy to convert files to PDF or creating normal format files to PDF. The conversion needs to be safe and for that, we need to password-protect a PDF or encrypt PDFs. You can password protect a PDF on WPS Office:
Step 1: Create the PDF File on the WPS Office.
Step 2: Click on "Protect" on the tool tab at the top of the page.
Step 3: Then choose "Encrypt" on the Protect toolbar.
Your document is now encrypted, and you can share the PDF file without worrying about unwelcome changes and edits being made by unauthorized people of your PDF file.
Method 2:How to Password Protect a PDF Online
On an online platform, you must be careful and be sure that your PDF file is not being misused. You can password protect a PDF file online easily.
Step 1: Choose an Online platform that you trust like WPS Online Docs.
Step 2: Sign into your chosen online website for Password protecting your PDF file.
Step 3: Open the PDF file you want to password protect.
Step 4: Click on Password protect or Encrypt the PDF.
Step 5: Set a password on the PDF file and save the password for future use of the PDF file in case you want to edit the file you will need the password to access editing.
To lock a PDF, you have to create passwords, and locking a PDF is important in order to secure a PDF file. You can password protect PDF or encrypt PDF documents on Windows, Mac, laptop, mobile phone, or any other devices, you just need to know about the correct website that offers a free trial or has a free download available.
Method 3:How to Encrypt PDF Documents with Adobe
Adobe is a name that is most trusted and relied upon when it comes to documents and literature articles. Adobe has proven to be user-friendly and efficient once you get the hang of it. You can password protect your PDF file on Adobe through easy steps.
Step 1: You can do it online if you prefer: Go to Adobe.com.
Step 2: From the tool bar on top choose "PDF & E-signatures."
Step 3: Choose "Share and Protect" on PDF and E-signatures.
Step 4: Select "Protect PDF".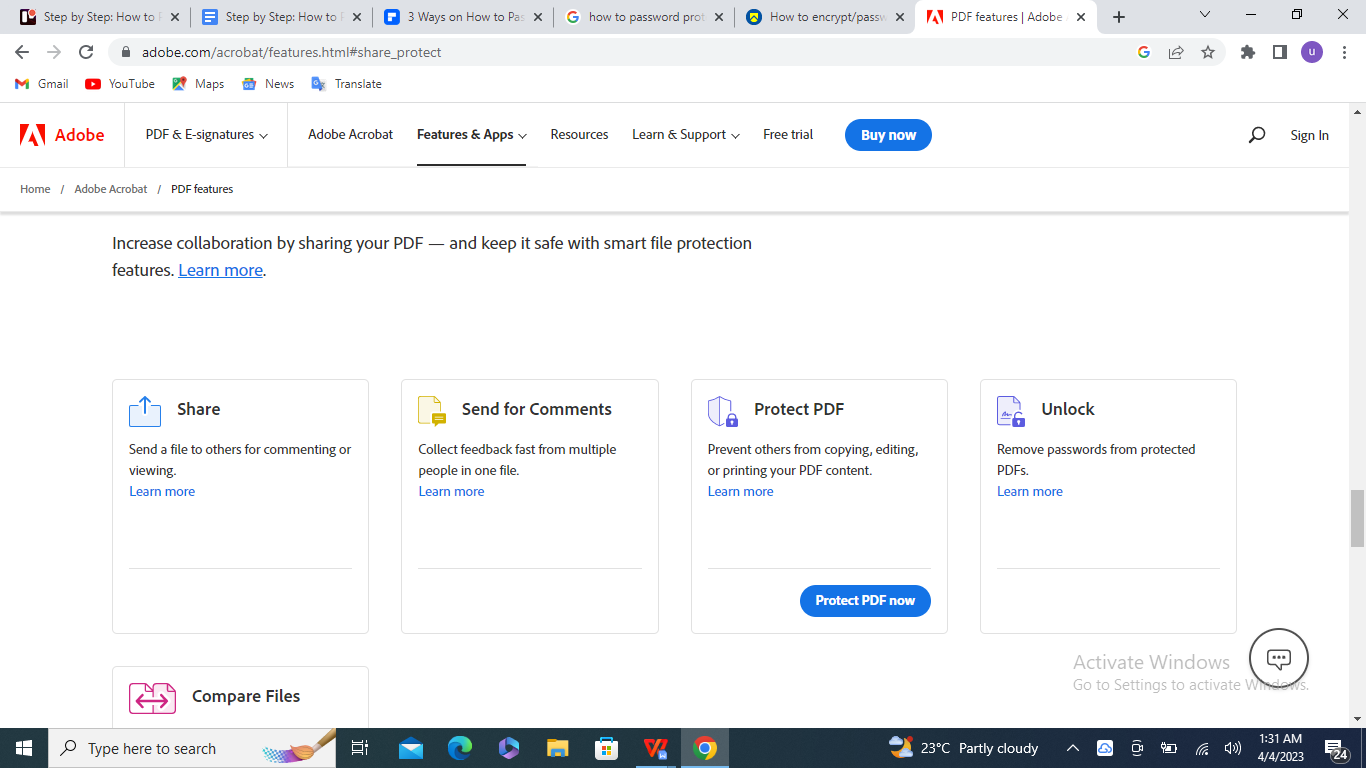 Step 5: When you click on Protect PDF, a window will open where you will have to open the PDF file that you want to protect.
Step 6: Open your PDF file here and then create a password for your PDF.
You have now created a password to protect your PDF. You will have to confirm the password twice to ensure the password you entered the first time is right and confirmed from your end. And then you can enjoy te benefits of a password protected PDF.
There are however a few disadvantages of password protecting your PDF with Adobe:
It is time consuming to password protect each file.

You can forget the password and then it can create issues when you want to edit the PDF or want to give access to someone else
Tips to Password Protect a PDF
It can be confusing when you want to encrypt, or password protect your PDF file. Here are a few tips to make it easy for you:
When keeping a password, make sure you keep a copy of the password somewhere so that you don't forget the password.

Keep a password that is not easy to guess and is strong.

Always save the password when you are done deciding on the password.

On most of the password protecting websites where you see how to password protest a PDF, you must enter and re-enter your password for the software or website to be sure of your password

Make sure someone on your team has access to the password protected PDF in case you are not available.

Track your PDFs through password protection.

Don't keep the same password for all your PDFs.

Use encryption.

Test your password protection by trying to edit the PDF on your own or ask someone else to do it

Consider other security measures for the safety of your PDF file
FAQs of Protecting or Encrypting a PDF
Q1: How to password protect a PDF without Adobe Acrobat?
A1: You can password protect a PDF without Adobe Acrobat by using other reliable software like WPS Office. While choosing software make sure the software is trustworthy and has all the features you require.
Q2: How to add password on PDF for free?
A2: You can use free online websites that let your password protect a PDF file for free. There is also software that allows you free trials and free downloads such as WPS Office.
Q3: Is password protection the only way to secure your PDF file?
A3: There are other measures that you can take to protect your PDF. the methods include; locking on the PDF, not sharing the PDF, keeping track of the PDF, etc. But having password protection is the easiest and the most common way to protect your PDF.
WPS Office - The Best Way to Encrypt a PDF
Password protection in a PDF file is now easy as you know multiple ways of doing it. The most important factor to consider is having a reliable forum to password protect your PDF. There are online as well as offline places where you can password protect your PDF document. Just keep the tips in mind while selecting a password. Make sure your PDF is used by the right people.
WPS Office is one of the top software used for converting and securing PDFs. You can download the WPS Office for free and enjoy its perks and password protects all your PDF files.