Top 5 Word to PDF Converter iLovePDF 2023
September 14, 2023
634 views
Word documents and PDFs are among the most commonly used file formats. However, transitioning between these two formats has sometimes been challenging. To convert a Word document to PDF was by purchasing expensive software. Freeware options often produced inconsistent results or watermarked files. Some users faced issues like distorted formatting or missing elements in the converted PDFs. Word to PDF converter iLovePDF is one of the most sought-after apps in 2023.
How to Convert Word to PDF Using iLovePDF?
Multiple tools are Word to PDF converters free; iLovePDF is one of the most popular PDF conversion tools that allows you to convert Word to PDF in simple steps. iLovePDF is a Word-to-PDF converter online, and it can secure documents without going through a long downloading and installing process.
With an application as good as iLovePDF, there are benefits to the users that outweigh other applications.
Pros:
User-Friendly Interface: The website is designed to be straightforward, even for users who are not tech-savvy. The process to convert Word to PDF and to convert the PDF to editable Word is easy to do with simple steps.

Fast Processing: The time process of converting a Word file to a PDF depends mainly upon your file size, but iLovePDf is generally quick, taking only a few seconds to a minute.

Multiple Options: Apart from converting Word to PDF, you can merge PDFs, split them, and even edit them. iLovePDF has many options to manage and digitise your files and share them with your team members.

Cloud Integration: iLovePDF is easy to use, and you can upload files from and save them to Google Drive and Dropbox.

Cross-platform compatibility: With iLovePDF merge and other options, you can combine more documents in one and then share the files on different platforms with ease of access cross-platforms.
Cons:
Limited Free Usage: Word to PDF converter iLovePDF is free, but certain advanced features require a premium subscription. This means you have to buy subscriptions to access the app after some time.

File Size Limit: While using the free version, a file size limit might be insufficient for large documents.

Internet Connection dependency: For using iLovePDf, you need to have an excellent connection to the internet; otherwise, the task may take longer than anticipated.
Step-by-Step Guide
Word to PDF converter iLovePDF is easy to navigate and use, and you can convert your document to a PDF file in minutes. Here's a step-by-step tutorial on how to use iLovePDF for Word to PDF conversion:
Navigate to the iLovePDF Website:
Go to the homepage
Open your web browser and go to the iLovePDF website. This is the first step as you will convert Word to PDF using iLovePDF online.
Sign up on iLovePDF:
Sign up
You can sign in using your email ID to keep everything in sync.
Select the 'Word to PDF' Option:
Choose your option
On the homepage, click the 'Word to PDF' option. By clicking the option of "Word to PDF," you will be taken to another page.
Upload Your Word Document:
Select the word file
Click the 'Select Word file' button to upload the document from your computer, Google Drive, or Dropbox. This is the file of Word that you want to convert to PDF.
Start the Conversion: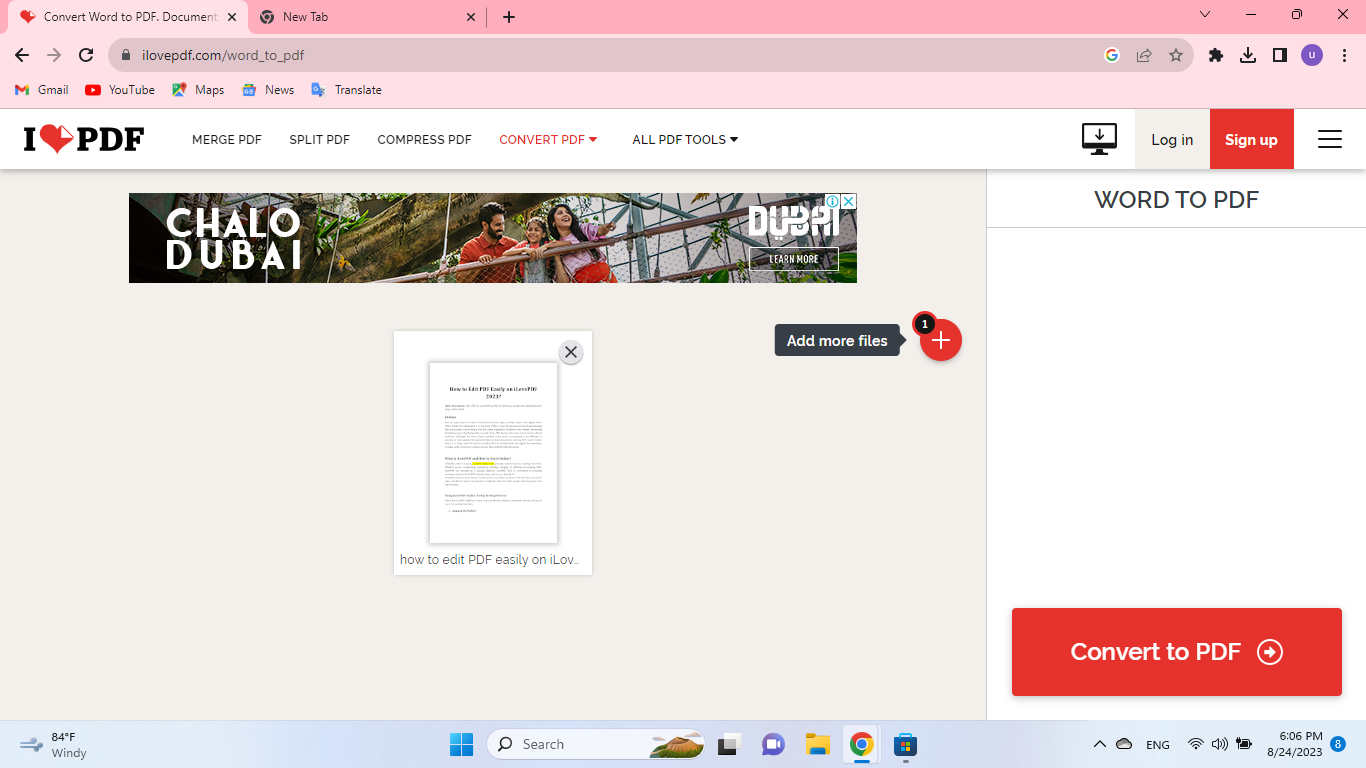 Click on the red button
Once the document is uploaded, click the 'Convert to PDF' button. By clicking this button, you can convert Word to PDF.
Wait for it to finish
Depending on the file size, it will only take a couple of seconds.
Download the Converted File:
Download the PDF
After the conversion with the help of Word to PDF converter iLovePDF for free, you can download the converted PDF to your computer or save it to your cloud storage services. You can also easily share the now-secured document with whoever you want without fearing the document can get manipulated or edited.
The Best Alternative: WPS Office
Multiple apps are available online to convert Word documents to PDF format, but not all apps are reliable or do the job without any issues. One should only trust the apps that will surely deliver the result without lagging. If you want an alternative to iLovePDF, WPS Office provides a robust Word to PDF conversion solution.
Benefits:
Offline Conversion: Unlike iLovePDF, which is web-based, WPS Office is a Word to PDF converter offline and online.

Batch Conversion: With WPS Office, you can convert multiple Word documents to PDF simultaneously, saving time and effort.

High Compatibility: WPS Office supports many file formats, not just Word and PDF. It is a highly dependable app that has cross-platform compatibility, like iLovePDF.

Integrated Office Suite: WPS Office is not just a conversion tool; it's a complete office suite that can replace Microsoft Office for most users.

Preserved Formatting: The formatting can be secured and saved per the user's choice. You can make edits and then convert the Word file to PDF.

Security: WPS Office has multiple built-in features besides converting Word to PDF. The Office suite is password protected and has a high-security level to keep the confidentiality of the documents and data in check.

Interactive Elements: WPS has many other features in the Office suite that help the user go beyond conversion, making the document usable and of more excellent value.
Step-by-Step Guide:
WPS Office suite is a tool that can be downloaded and worked with online.
Go to the Website:
Go to WPs homepage
On the homepage, you will get te option to download the WPS Office, or you can sign up for the online tool. There will be multiple options before you download the app; you can download it for various operating systems like iOS, Linux, etc.
You can go to the web app to use the tool online.
Choose the three lines of the top left.
Export the document
On the WPS 365 web page, you get an option to export the document as a PDF on the top left of the ribbon. The best Word to PDF converter offers to export the document without going through the process of converting the document to PDF before and by sharing or exporting the document by converting it to PDF in one go.
Save the document
You can also save the document in different formats like Word to jpg, etc.
Other Conversion Tools
The top 5 Word to PDF converters iLovePDF 2023 is a list that includes a few more options other than the two best Word to PDF converters; the following are three more options that are on the top of the list.
Soda PDF
Pros:
User-friendly interface

OCR capabilities.

Accurate Conversion

Easy Sharing and Printing
Cons:
Limited free features

Requires software installation.

Formatting Inconsistencies

Privacy and Security Concerns
Step-by-Step Guide
Soda PDF is another good option in the market. You have to download the software to be able to use it. But it is easy to use, and the user can share the files easily.
Go to the Soda PDF website.
Go to SodaPDF homepage
Get the free download.
Click on free download
Select the Word to PDF option on the software.
Select Word to PDF
Upload the Word document.
Upload the document
Convert the document to PDF format.
Save the PDF format document.
Adobe Acrobat
Pros:
Industry-standard

High-quality conversions.

High-Quality Conversion

Advanced Security Features
Cons:
Expensive,

Not user-friendly for beginners.

Resource Intensive
Step-by-Step Guide
A few steps must be followed to convert the Word file to PDF.
Go to Adobe's homepage.
Go to homepage
Go to Word to PDF
Upload a Word file
Upload a Word file and convert the Word file to PDF.
Convert Word file to PDF
Save the changes and Download the PDF.
Save the changes
PDF Converter
Pros:
Supports many different types of conversions.

Offline Conversion

Cost-Effective
Cons:
The free version has limitations on the number of conversions and file sizes.

Lack of Customer Support

Security Concerns
Step-by-Step Guide
Go to the PDF Converter homepage
Go to the best Word to PDF converter.
Go to the homepage
Upload the Word file and convert it to PDF.
Upload the Word file and let it convert
Save and download



Frequently Asked Questions
Why should I convert Word files to PDF?
Ans. There are multiple reasons for one to convert a Word file to PDF; the following are the most important ones:
Word format is not acceptable on an official level

PDFs are more secure compared to Word document

Word files take more space than the PDF format
Why can't I convert a document to PDF format or annotate the document?
Ans. If a password protects the document, you might be unable to convert it. It is better to check that you can access the document and make changes. If you don't have access or the document is password protected, M-files cannot add annotations to the document or change its format.
Can I convert multiple documents to PDF at once?
Ans. Yes, there are multiple ways to convert more than one file simultaneously.
Using PDFelement. This software lets you convert multiple Word documents all at once. You can also batch convert the Word documents to PDF.

PDF Converter Pro This software also allows the user to convert multiple files to PDF.

Multiple forums that convert Word to PDF online have a feature that enables you to convert more than a single Word document to PDF format simultaneously.
Summary
In the increasingly digital landscape, Word-to-PDF conversion tools have become indispensable. iLovePDF stands out for its user-friendly interface and cloud integrations. However, its limitations, such as file size restrictions and the need for internet connectivity, make WPS Office an excellent alternative. Word to PDF converter iLovePDF is still an easy choice for online and free converting.
WPS Office allows for offline and batch conversions, offering an all-in-one office suite. While there are other tools like Soda PDF, Adobe Acrobat, and PDF Converter, each with pros and cons, WPS Office shines for its versatility and ease of use. Therefore, for those looking for a reliable and comprehensive Word-to-PDF conversion tool, WPS Office remains a compelling choice in 2023.