9 Useful PDF Reader Extensions for Chrome, Firefox, and More
Have you heard of PDF reader extension?PDFs are one of the best formats to read documents offline and there are multiple paid and free applications for this purpose. You don't need to use any application for online reading because there are extensions for different browsers like Chrome, Edge, Firefox, and Safari that you can add from the respective extension store. This article will elaborate on nine best PDF Reader Extensions that you can add to your browser, so make sure to stick until the end of this article.
Part 1:9 PDF Reader Extensions
It is a comprehensive PDF toolkit with conversion, editing, merging, and splitting features. It offers a user-friendly interface, cloud storage integration, and mobile apps for on-the-go access.
Compatible with: Chrome, Firefox, and Edge-
Pros
View and Edit

Full-featured

Desktop software also works well

Cloud integration for seamless document management.
Cons
Some features are only available to premiums.

Compatibility issues with complex PDFs



2. Adobe Acrobat
Adobe Acrobat is an industry-standard PDF editor with advanced editing, commenting, and security features. It includes OCR technology for scanned document conversion and integrates with Adobe Document Cloud. With this extension, you can try tools to export to and from PDF, create a PDF, merge PDF documents, organize a PDF, reduce PDF size, and more.
Compatible with: Chrome, Firefox, Edge, Safari
Pros
Stunning PDF editing and management tools.

Advanced OCR technology.

Integration with Adobe Document Cloud
Cons
Expensive subscription plans

Resource-intensive
3. Kami
Kami is a collaborative PDF editor with real-time annotation and commenting features. It integrates well with learning management systems and provides document markup and highlighting tools. It seamlessly integrates with OneDrive and Microsoft Teams that ensures instant accessibility.
Compatible with: Chrome, Firefox, and Edge
Pros
Real-time collaboration and annotation.

Integration with Google Classroom.

Document markup, text highlighting, and drawing tools.

Free editable teaching templates
Cons
Advanced features require a paid subscription.

Limited offline functionality
4. Awesome PDF Viewer, Reader
It is a lightweight and fast PDF reader with a simple interface. It allows page navigation, zooming, and text selection and supports bookmarking and search functionality. '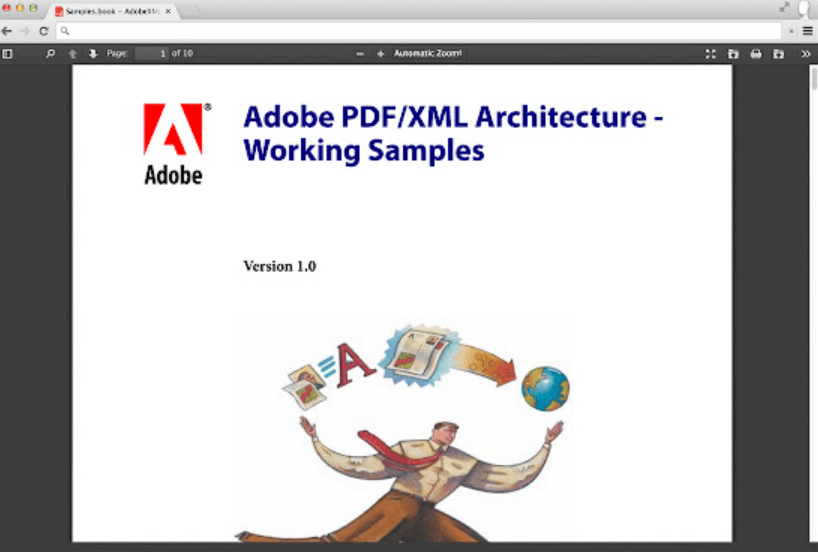 Compatible with: Chrome, Firefox, and Edge
Pros
Lightweight and fast performance.

Basic PDF reading and navigation features.

Bookmarking and search functionality for easy document access.
Cons
Lacks advanced editing capabilities.
5. PDF Reader
PDF Reader is a simple browser extension for viewing and editing PDF documents. It supports page navigation, zooming, text selection, form filling, and annotation. It supports light and dark themes to suit your visibility. You can also see PDF signed and unsigned signatures, and it Partially supports executing PDF scripts.
Compatible with: Chrome, Firefox, and Edge
Pros
Easy-to-use interface.

PDF viewing and basic editing features

Supports form filling and annotation.
Cons
Limited advanced editing capabilities.

Compatibility issues with complex PDF files.
6. SmallPDF
SmallPDF is an online platform offering various PDF tools, including conversion, compression, and editing. It provides a simplified interface with drag-and-drop functionality and supports integration with cloud storage services. With this extension, you can merge, split, extract PDF Pages, and rotate and delete PDF pages.
Compatible with: Chrome, Firefox, Edge, Safari
Pros
Easy-to-use Interface

Supports conversion, compression, and editing.

Integration with cloud storage services.
Cons
Limited advanced editing features

File Size constraints
7. BeeLine Reader PDF Viewer
BeeKLine Reader PDF Viewer is an online PDF converter that converts various file formats to PDF. It supports batch conversion, preserves document formatting, and offers a simple and user-friendly interface.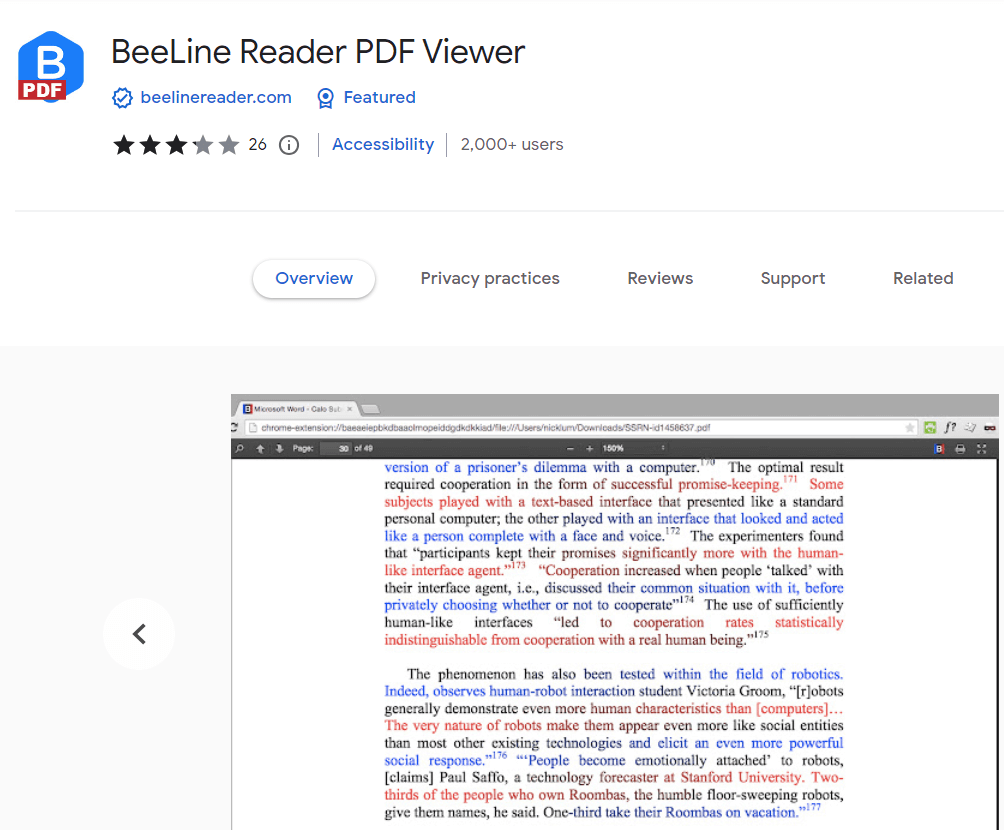 Compatible with: Chrome, Mozilla, and Edge
Pros
Improves reading speed and comprehension.

Supports PDF files, a widely used document format.
Cons
Potential color perception difficulties

Limited Editing features
8. Inkit
Inkit is a versatile direct mail automation tool that helps businesses streamline offline marketing campaigns. It automates sending personalized direct mail, postcards, and letters.
Compatible with: Chrome, Firefox, and Edge
Pros
Simplifies the direct mail process, saving time and effort.

Personalization and customization of mailings

Integrates with CRM systems
Cons
Limited design and creative options
9. Save As PDF
Save as PDF is a utility available in various applications that converts files into PDF format for easy sharing and printing while preserving the original formatting and layout.
Compatible with: Chrome, Firefox, and Edge
Pros
Convert files to the widely supported PDF format.

Preserves original formatting
Cons
Limited advanced PDF editing capabilities.
Part 2:How to Add PDF Reader Extension in Your Browser?
Adding PDF Reader Extension to your browser is easy. Although it is different for different browsers, we have provided you with a procedure for all famous browsers.
1. For Chrome
Step 1:Launch your web browser and Go to the Chrome Web Store.Search for the extension you want to add Like Grammarly chrome extensions and tools below.
Step 2:Click on it, and select Add to Chrome.

Step 3: Open your browser and click on the three-dots icon in the top right corner, where the toolbar is present.
Step 4: Then click on More Tools> Extensions.
2. For Firefox
Step 1: Launch Mozilla Firefox. And Click the Alt key to bring up the Firefox menu bar.
Step 2: Click on the Extension Menu as shown in the below snapshot.
Step 3: It will take you to Firefox Extension Store where you can Search for your preferred extension.
Step 4: Click Add to Firefox and wait a while until the extension is added.
3. For Microsoft Edge
Step 1: In Microsoft Edge, select Extensions, located to the right of your browser address bar.
Step 2: Select Open Microsoft Edge Add-ons.
Step 3:Find the extension you'd like to add and select Get.
Step 4: At the prompt showing permissions required by the extension, allow it and then select Add an extension if you wish to proceed
Step 5:You'll see a final prompt confirming the extension has been added.
4. For Safari
Step 1:Launch Safari and choose Safari > Preferences.
Step 2:In the Preferences window, click Security, then click Website Settings next to Internet plug-ins.
Step 3:Select the pdf reader extension in the list of plug-ins.
FAQs
Q1. How to Change the Default PDF Viewer in Windows 10?
Right-click on a PDF file > "Open with" from the context menu. Then choose "Choose another app." Select the desired PDF viewer from the list of available applications or click "More apps" to explore additional options.
Q2. Why can't I view PDFs in Chrome?
If you are experiencing issues viewing PDFs in Chrome, there can be several reasons behind it. It could be due to problems with the PDF, compatibility issues with Chrome, or conflicts with certain extensions.
Q3. What is the free PDF editor extension for Chrome?
One popular free PDF editor extension for Chrome is "Smallpdf." Smallpdf offers a range of editing features, including adding text, annotations, and images to PDFs. It also provides options for merging, splitting, and compressing PDF files.
Summary
PDF reader extension is fun because it keeps the original formatting intact, but online PDF reading can be hectic due to limitations of online tools. With the help of the 9 PDF as mentioned earlier tools, you can take the online PDF reading game to the next level. These PDF Reader Extensions are available for Chrome, Firefox, Edge, and Safari.
Some of these are paid tools, while others are free. If you are looking for the best free PDF reader extension for Chrome, WPS PDF Tool is the best choice. With WPS PDF Tool, users can view PDFs and annotate, highlight, and add comments, making it an ideal tool for collaborating on documents. Additionally, the extension offers reliable performance and stability, ensuring a smooth and efficient PDF reading experience.