Introduction WPS PDF to Word Converter App
September 19, 2022 |
 PDF Softwares
( 324 )views
In this article, you will learn:
WPS PDF to Word Converter app - Offline
WPS PDF to Word converter app is a fast, high quality PDF converter that is easy to use and is able to retain all formatting. WPS PDF to Word converter is a built-in app of WPS Office along with other amazing PDF converter apps. WPS PDF to Word converter app can keep your fonts and layouts intact, including bullets and tables. Adobe PDF files can be converted to DOC/DOCX easily, without unnecessary registration required. This app also has the ability to split-merge PDF pages for your PDF conversion, and the PDF files can then be selected to convert according to the format you need such as JPG, PNG, Excel etc.
WPS PDF to Word Converter app - Online
Besides WPS PDF to Word offline app, you can convert your word documents with WPS PDF tools online. If you are in a hurry to convert PDF to word then the online method is good. But you can convert only 5 files at a time. For unlimited file size and conversion, you can buy a premium plan for WPS online tools, which are the cheapest in the market. Many other PDF tools like nitro pro and foxit are far more expensive than WPS PDF tools.
Related: WPS PDF Updates 2021 and 2022
How to download WPS PDF to Word converter app
Visit this webpage to download the WPS PDF to Word converter app / tool / software; https://pdf.wps.com/convert-pdf-to-word/ . It is free for download and use, no sign in required like others.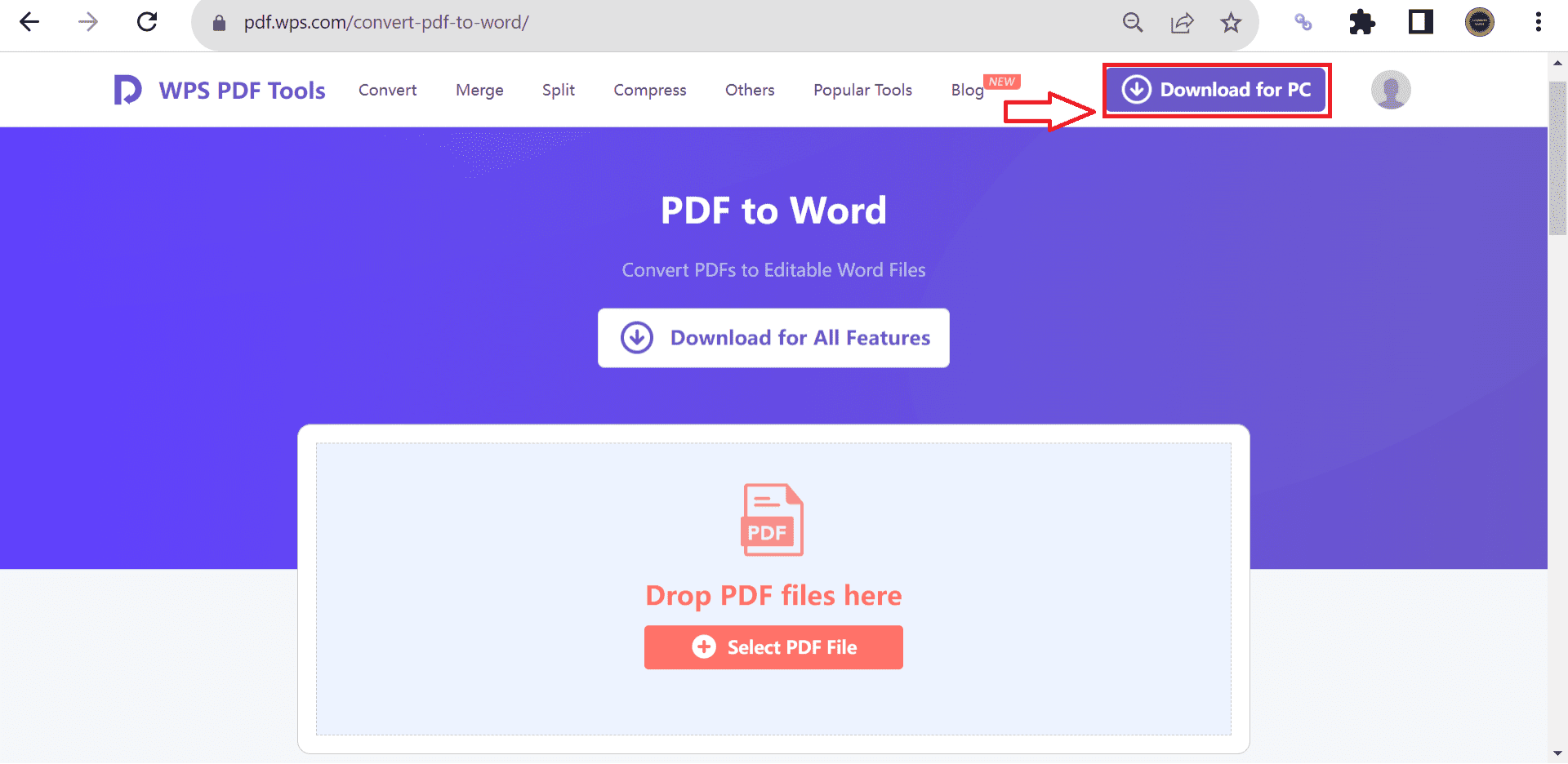 When downloaded, click on the setup to install on your system. Remember WPS PDF to Word converter are available separately for windows, Mac and androids.
When installed, follow the below section to convert your PDF file into a word format.
If you need other WPS PDF converters like Picture to PDF, Excel to PDF and vice versa, then consider downloading the WPS Office or WPS PDF app, available totally free for all operating systems with all PDF converters, compressor and editor.
You can also has the option to convert online;
How to convert with WPS PDF to Word Converter
Getting efficient conversion with WPS PDF to Word is very easy. Follow the steps to convert your PDF into Word editable format;
Simply, launch the WPS Office app and open the 'PDF to Word' tool from the tools option in the "Special Features" section of the top menu. OR if you want to convert online then use WPS PDF tools online, and select PDF to Word converter.
Now, drag or open the PDF file from your local file storage.
Then, click on the "Start" button to begin conversion, and the newly created, editable file will be opened automatically after it is converted. That's it!
Please note that the free version of WPS PDF to Word has the following limitations:
Convert PDF document upto 5 pages
Convert only 5 documents at once
Wrapping Up
In this blog, we have uncovered the best online and offline WPS tools to convert PDF to Word. WPS PDF to word for windows is an offline app for windows, available for free. However there is an online tool which lies under WPS online PDF tools. But the best suggestion is to download and use the WPS Office app which has all necessary built-in PDF converters. Download the WPS Office app now.
Free download WPS Office Software for Windows with 7-day free trial right now!