Smallpdf vs iLovepdf vs WPS (2022 Pro Version)
You are working with different file editing software and tools and somehow you do not have a standard premium version to get the best result. Are you tired of working for hours just to edit and convert your documents? Are you conscious of the pricing of the pro version?
Introducing, the best three editors that most professionals used are now applied in this one article. If you're on a low budget and need an all-in-one premium application that can edit, modify, compress, convert, annotate, and print PDF files, we have the perfect pro tools for you. lots of professional pro templates are within your grasp and are just waiting for you. You can customize your creative work on workplace or study-related papers including project plans, reports, analysis, courseware, research, and resumes with these templates.
Whether you are an expert professional or a student, we will help you show creativity, and passion, spark creativity, and stand out among your peers by choosing the finest application. We have listed the best premium tools starting with the top best-recommended software.
About WPS Pro Version
Next on the topic is the WPS Office software that manipulates file editing in all sizes and converted multiple platforms for professional purposes and business productivity. It is a smart office suite designed to edit files in the writer, presentation, spreadsheet, and PDF to improve our work efficiency.
Although it is not a specialist PDF editor since PDF is just a part of it. But it can handle all types of professionals in converting, sharing, and editing files with clients. This tool has been widely appreciated for its high compatibility, true synchronization, and feature high editing in customizing your preferred designs on your project plans resumes, reports, and courseware.
It supports all kinds of files and can fulfill your requirements without facing any trouble formatting problems. Reaching your desire to work fully. WPS can help your passion and innovation in your work-study life. The Premium version for WPS at $18.99 for half a year and $29.99 a year. It is applicable for macOS, iOS, Windows, and Linux, Android.
About Smallpdf Pro Version
Smallpdf packs 21 tools that are well-optimized for real work processing and production of PDF documents. Smallpdf has the goal of reaching its software to everyone. This can be observed in their clear and easy interface, which makes operation easier and smooth for both old and new users. They do not have any file converting limit; thus, users can convert an unlimited number of files for processing.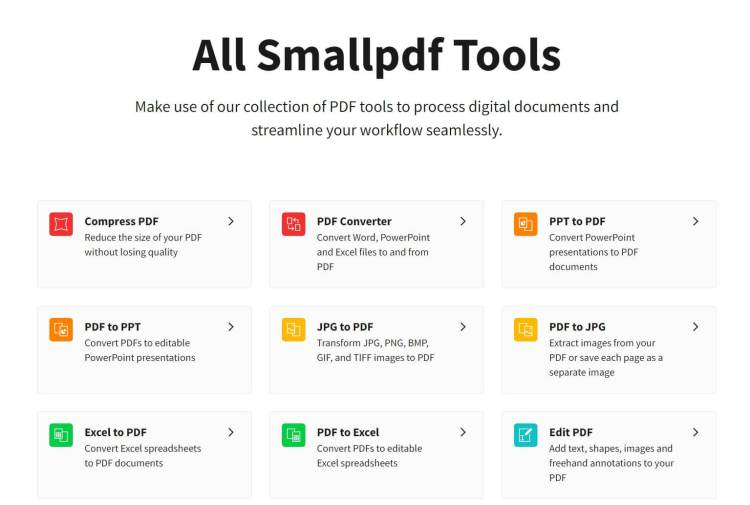 Their premium tool allows freelancers or business owners to easily upload their work and find it within a short time. Smallpdf charges USD108 per year or USD12 per month offer to users—centering around tools made for work, for office, and for life.
About iLovePDF Pro Version
Users can download the iLovePDF for desktop free and select from the following two pricing options. Price begins at $6.61 per month and increases as you choose through the tiers. iLovePDF is much cheaper than other tools and its working system is so comprehensive for users.
Related: Best PDF Premium Editors: Adobe Acrobat DC and iLovePDF Compared
Similarities Between Smallpdf, ILovePDF, WPS ( Pro Version)
All three tools have some similarities between them like all have a special premium version for completing a difficult task. These applications provide not only premium facilities but also excellent free online PDF editing tools for PDF users by using a fast and comfortable user interface. They can work from I-clouds, Google Drive, and Dropbox. They also protect the file security of users and guarantee the quality of file transfer and sharing. all three have a special supporting system for users.
Differences Between Smallpdf, ILovePDF, WPS ( Pro Version)
Compared with iLovePDF and Smallpdf, the WPS pro version has some converting tools, such as organizing PDF. However, iLovePDF and Smallpdf have lacks many editing tools, so it is inconvenient to use iLovePDF and Smallpdf to edit PDFs. WPS has a mobile app version that helps you to use a mobile phone to edit a file, you don't need to access the website through the browser. So it is more convenient than Smallpdf and iLovePDF. You may cost some money for the WPS pro version but the service will be accurate and worthy of business.
Guide to Download WPS
WPS Office download comes in different devices like desktop, mobile, and a one-time purchase. Annual subscription and several price options with a 7-day free trial for WPS Office in 2022. However, if you want to connect with people online, you'll need a subscription to the Document Cloud. WPS premium gives you the best premium facilities for file editing and updating the system. enjoy the premium WPS Office for your business or academic purposes.
Free download WPS Office Software for Windows with 7-day free trial right now!