Free PDF Tools Online
WPS Office®
Best online PDF editor, converter, merger, form filler and organizer for easy editing page, text or layout on pdf documents like Word for FREE in seconds.
Download for All Features
Download WPS Office and Edit PDF
Download WPS Office to get more PDF management features such as OCR (image scanning and conversion), adding watermarks and e-signatures, and PDF to image conversion.
Free Download for PC
WPS Office for
Windows
Download WPS Office Desktop Editor to get a lightweight PDF tool that provides complete solutions for all PDF problems.
Free Download
4.8MB / Jul 4 2022
WPS Office for
Mac
WPS Office, perfectly compatible with the macOS system on Mac, and supports Intel and Apple chips to help you edit PDFs easily.
Free Download
553KB / Feb 6 2023
WPS Office for
Linux
WPS Office is a free office suite that supports Linux. Download the WPS Office app to access PDF tools anytime.
Free Download
Deb Package
Rpm Package
Free Download for Mobile
WPS Office for
Android
Google Play Best of 2015
WPS Office for
iOS
App Store Best of 2015
About WPS PDF
WPS PDF is a useful all-in-one PDF online tool. It is easy to edit, convert and manage PDF files, you can try it for free. For efficient PDF processing, please use WPS PDF.

WPS PDF is also compatible with a variety of file formats, including Adobe PDF. PDF is now a component of WPS Office application, providing collaborative viewing, annotation, and editing.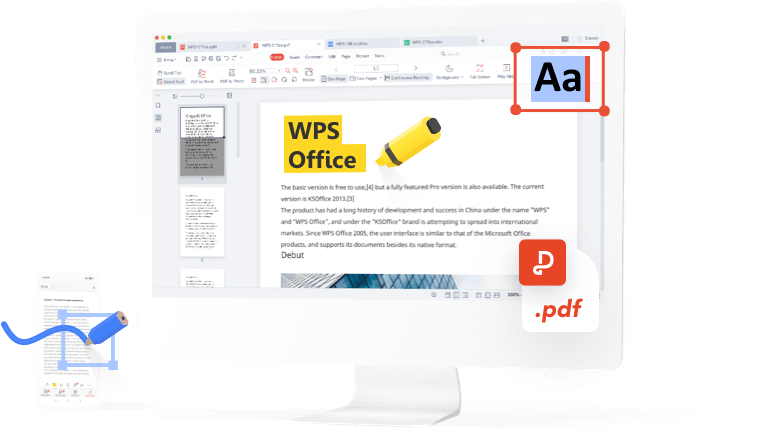 PDF Guide - How to Instructions
WPS PDF Blog
PDF Blog helps you fully understand how to use PDF tools, provides you quick access to software news, recommends different types of office software worth downloading, and offers you information about PDF version update.
More Articles >
WPS Extension VS WPS Office: How to Download and Install WPS Office

Are you confused between WPS extension and WPS office? Well, you're not the one; many people around the globe do the same. It's a misconception that the WPS extension is only used for the files created with WPS office software. In this article, we'll walk through the differences between these two with a complete guide to downloading and installing the latter. Keep reading to clear your doubts. What is WPS Extension? Are you Wondering what a WPS extension is? It's the format extension u....

Get the Free Key for WPS Premium and Download WPS Office Right Now

As a both lightweight and powerful office suite, WPS Office has become more and more popular and competitive among its competitors. WPS Office has provided free access to its four programs which are rolled in one place, namely, Writer, Presentation, Spreadsheet, and PDF. In the free standard version of WPS Office, users can enjoy all basic functions that meet their demand for daily work and study with high compatibility with different file formats, systems and devices. Basic Informatio....

What is WPS Office? Best Methods on How to Convert PDF to WPS

Editing documents is a routine task for many individuals and organizations. Many different ways allow you to modify a PDF document content, and WPS office is one of them. WPS Office is a free file editing application similar to Adobe Acrobat and Microsoft Office. WPS Office allows you to create, open, edit, convert and manage PDF files to increase work productivity. This software is widely used in schools, offices, and homes. Why Need PDF to WPS Conversion? Nowadays, most documents com....