Are you looking for the best online and offline software that provides a free trial of PDF splitter? There're the times when you might require a portion or just a few pages from a big PDF file. That way, you can mark up, send or save a part you need. At that time PDF splitting comes to cover you. To know why people use PDF splitter and a few premium editors that facilitate that work with few trials, Continue reading!
What is the Reason for PDF Splitter?
A PDF splitter can hew a massive document to our desired size or pull out specific pages from a PDF. This comes in handy whenever you want to send a large file through email or other means to your colleagues or friends but can't due to the file size limit. Then use this function offered by plenty of software to split a larger file into smaller fragments that can be sent to anyone in a matter of seconds. You can also split a PDF to remove unwanted pages from it and save the important ones. Here is the list of some platforms that provide a free trial.
Related: A Quick Guide on How to Split PDF for Free 2022
PDF Splitter with 7 Days Free Trial : WPS Editor
WPS Office is an all-in-one document editor that comes to save you from any hurdle in PDF splitting. It extracts or separates pages from a PDF without compromising the original file's quality. You can access this handy software for 7 days for free, after which affordable monthly subscriptions are required.
For fast PDF editing, you can use an online WPS PDF that can split a file anytime, anywhere. The ball is in your court whether you use the online version or download the offline desktop application.
Get Free Trial of Adobe Acrobat to Split PDF
Adobe Acrobat is a dedicated software to create, edit, view, split, convert, compare and merge PDFs. It's a premium application that offers a 7-day free trial to facilitate its users. The PDF Splitter by adobe is the most convenient way to split a large PDF file into multiple smaller files. Its built-in split PDF function is widely used to extract or separate pages from PDF documents. To specify the page range in your document, adobe permits you to add a divider line. You can split a 500 pages file into up to 20 new PDFs, each with a specific r number of pages using the online or offline adobe desktop application free for 7 days.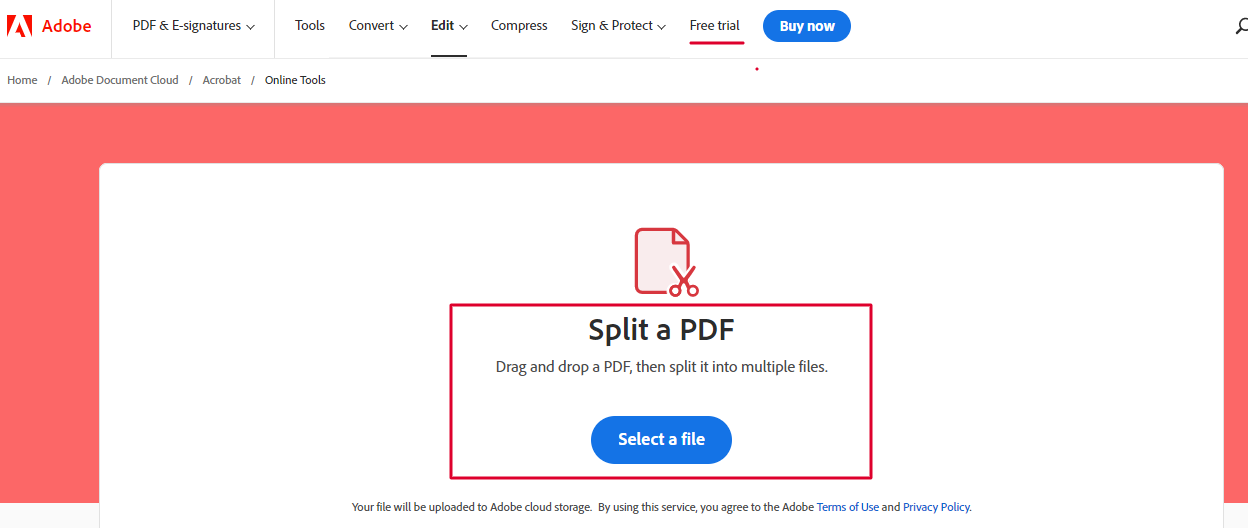 PDF Splitter With Free Trial By Smallpdf Online Editor
Smallpdf is an online PDF editor that, along with many other functions, can instantly split a PDF into multiple smaller files in just 2 clicks without any signup or download. It allows you to deal with 1 file a day for free. After the registration, you can use the pro features with unlimited attempts for 7 days for free, after which affordable monthly rates are applied.
Final Verdict
We hope this post about the software that offers a free trial of PDF Splitter ,is enough to answer all your queries about document splitting. If you want to do more with PDFs other than this, try to download WPS Office Software for PC. This software suite can create, edit, compress, split, merge and bookmark PDFs.