Efficiently Organize PDFs with Open Source Tools
PDF files are an essential part of modern digital communication, and their use continues to grow in popularity. However, as the number of PDF files we use grows, so does the need to organize them efficiently. In this article, we will explore some of the best open source PDF organizer software for Windows 10, Mac, and Linux.
PDFsam Basic is a free and open source PDF organizer for Windows, Mac, and Linux. It provides a simple and intuitive interface for splitting, merging, and organizing PDF files. PDFsam Basic is ideal for individuals who need to manage a large number of PDF files, as it offers batch processing capabilities and can handle large files.
Features
Combine several PDF files into a single document.

Divide a PDF file into several files
Pros
It is available for Windows, Mac, and Linux operating systems, allowing users to access it across numerous platforms.
Cons
Several users have reported minor flaws or crashes when using the software, which may be addressed in future releases.
Review
Dec 17, 2020
"You can now split or merge pdf documents with PDFsam Basic."
What do you like best about PDFsam Basic?
software that is very practical to work in the office or home due to its vast majority of functions that you probably need is exemplary for editing or compilation as well as allowing us to merge or whatever else you have to compose for PDF files. They should add more functionalities to their options menu. I think it is running out of date in terms of its functionality.
WPS Office PDF is a powerful and user-friendly PDF organizer that offers a range of features, including the ability to merge, split, and organize PDF files. It also includes a PDF converter, allowing users to convert PDF files to other formats, such as Word or Excel. WPS Office PDF is available for Windows, Mac, and mobile devices such as iPhones etc both offline as well as online. It also offers a variety of templates and styles to choose from, making it an ideal choice for businesses and professionals.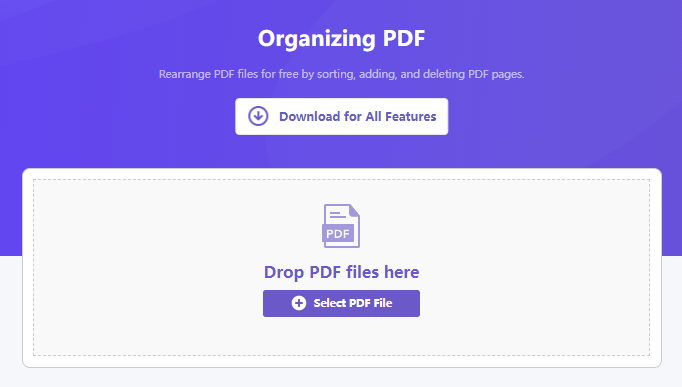 Features
You can merge numerous PDF files into a single file or split a huge PDF into smaller pieces.

You can save selected pages from a PDF document as a separate file.

To prevent unwanted access, you can add password protection to your PDF files.
Pros
The software includes a variety of features that are beneficial for handling PDF files, such as merging, splitting, and password protection.

WPS PDF Organizer is compatible with the Windows operating system and works in tandem with the other WPS Office Suite products.

OCR technology allows you to turn scanned documents into editable documents, saving you time and effort.
Cons
WPS PDF Organizer offers some basic editing options, but it does not have the advanced editing capabilities of Adobe Acrobat.
PDF Shaper is a free PDF organizer for Windows that offers a range of features, including the ability to merge, split, and organize PDF files that can be accessed online. It also includes a PDF converter and encryption tools, making it an excellent option for businesses and professionals.
Features
Text and images can be extracted from PDF files and saved in a variety of formats, including TXT, RTF, and JPG.
Pros
PDF Shaper Organizer's basic edition is free to download and use, making it available to those who do not wish to pay for a PDF management application.
Cons
While the free edition of PDF Shaper Organizer is useful, it lacks features when compared to the commercial version.
Review
"17 pdf tools in one"
howerdferns Jan 16, 2018
I wanted to merge 6 pdf pages into one pdf but I found my existing freeware 7-PDF Split & Merge has a limit of 5 pages unless you upgrade, so I uninstalled it and replaced it with this one. Am I glad I did! Not only will this merge more pages for free, but it is in fact 17 pdf tools in one and I was able to uninstall 3 other pdf softwares that are no longer needed.
FAQs on Open Source PDF Organizer
How can I rearrange PDF pages in WPS Office?
With WPS Office, open the PDF document that you want to reorganize.

In the top menu bar, select the "Page" tab.

Choose "Page Management" from the drop-down menu.

You will see a thumbnail view of all the pages in the document in the Page Management window.

Simply drag & drop the thumbnails to the desired spot to reorganize the pages. You may also change the page order by clicking the "Move Up" and "Move Down" buttons.

After rearranging the pages to your liking, click the "Save" button to save the changes to the PDF document.
To learn more about the features offered by WPS, visit their official website.
Which PDF maker is free open source?
There are several free and open-source PDF makers available, some of the popular ones are: LibreOffice and PDFSam. WPS Office is not open source but it is a free tool.
Find the Right Tool for Your Workflow
Organizing PDF files can be a challenge, but with open source PDF organizer software for your Windows, managing your digital documents has never been easier. While there are many options available, WPS Office PDF stands out for its user-friendly interface, advanced features, and cross-platform compatibility. It's the ideal choice for professionals who need a comprehensive PDF organizer for Windows. Other open source PDF organizer options, like PDFsam Basic and PDF Shaper, provide free and simple solutions for basic needs. For more robust features, PDFtk is an excellent choice. Regardless of which tool you choose, it's important to find one that fits your workflow and needs. Download WPS PDF today and experience the benefits of a top-of-the-line PDF organizer tool that can help you easily organize, edit, and annotate your PDF files.