Mac is a great desktop utility because of the clarity of the screen and the responsive controls at your fingertips. But PDF is a different beast so you don't often find great tools to read PDF on Mac. Of course, there's Adobe Acrobat and even the native Mac Preview app for this, but you'll get the best results on third-party applications that are specifically designed for macOS from the ground up. One such tool is UPDF, the world's first "free premium" PDF reader, editor, annotator, and organizer. Let's look at how it works, as well as other ways to read PDFs on Mac - for instance, how to have a PDF read to you on Mac.
How to Read PDF on Mac - Step-by-Step
Step1: Open the PDF
After you've installed UPDF, you can use multiple methods to open a PDF file.
The easy way is to drag and drop your file into the UPDF interface.
Another way is to click "Open File" inside the interface and then select the file in Finder.
If UPDF is your default application to read PDF on Mac, just double-click the file in its folder.
Step2: Choose your Reading Mode
On the bottom-left corner of the UPDF interface, click on Display Mode.
From there, choose an appropriate viewing mode (one or two pages with and without scrolling)
Aside from the 4 main reading modes, there's also an option to open multiple PDFs.
Open other files the same way and you'll see that they open up in their own respective tabs. This makes it easy to switch from one document to another without leaving the UPDF interface.
Step3: Navigating a PDF in UPDF
Navigation, as we said, is very easy. There are essentially five actions you can perform in the floating navigation toolbar as you read your PDF on your Mac.
These include jumping to the next or previous page, jumping to the first or last page, and landing on a particular page number.
Using these simple navigation tools, you can get to any page in your PDF in just a couple of seconds.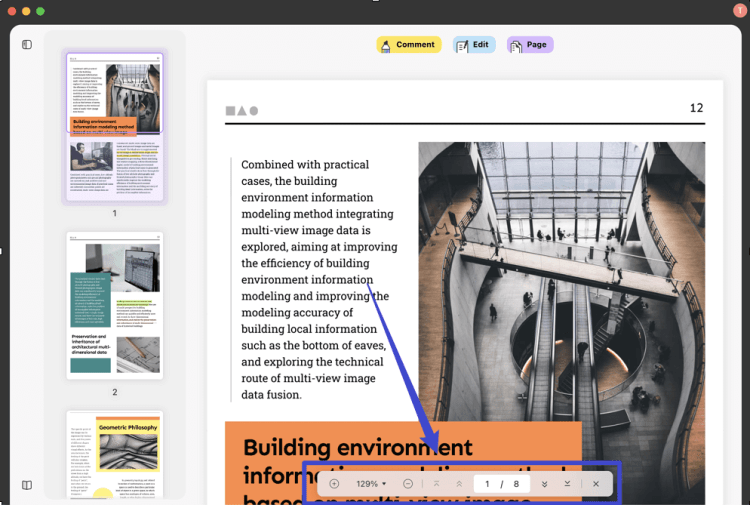 Step4: Bookmark PDF on Mac
You can also 'tag' specific pages in your PDF to act as bookmarks so you can get back to them later.
To bookmark a page, first, navigate to that page.
In the "Bookmark" sidebar, click on "Add Bookmark" and give it a name to help you identify it later.
Once you finish bookmarking pages, you can use this panel to get around your PDF. It essentially acts as an extension to the navigation toolbar.
Conclusion
Of course, Adobe Acrobat and other premium tools certainly give you a good experience when you want to read PDFs on Mac. But why pay money for these expensive options when you can get WPS Office free? Yes, WPS Office is the first premium PDF editor in the free category of PDF readers and editors with extended functionality and lots more to come. Eventually, WPS Office for Mac and Windows is intended to provide all the PDF tools you need but without the burden of a monthly or annual subscription, or even a hefty one-time perpetual license fee.