A smart and easy-to-understand year-end Excel report is key to proving the value of your business yearly plan, showing what you've got, backed up by data. Excel enables office managers and workers with the help of spreadsheets that include columns with the list of tasks and the start and finish date of each task. In addition to it, most businesses rely heavily on spreadsheets to record income, expenditures, and overhead charges. In short, everything a business does to manage their respective budget.
There are different reports to create year-end reports like Word and WPS Writer, that can be used for reporting, but one of the easiest and most popular is making a pivot-table year-end report in excel. This article will shed light on some key topics regarding how to write or create year-end reports in Excel 2022.
Steps to Create Mid-Year Report
1 First of all, import the dataset in Excel from another file or create new entries and make a table. Here, we are using the sales of different products listed daily in May.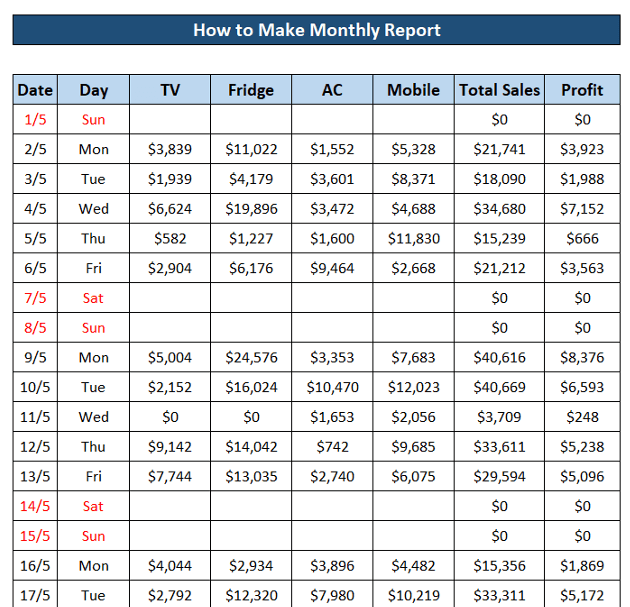 2 The next step is to make a pivot table out of this dataset. To do it, select the entire dataset or click on any cell and press Ctrl+A from your keyboard.
3 Now click the Insert tab and select the PivotTable option from the "Tables'' group. Here "Select From Table/Range" from the drop-down menu.
4 As we have selected the table already so that the range is selected in the popped-up box. Then, select New Worksheet for the pivot table and click OK.
5 After this, go to the new sheet where the pivot table is created. On the right side of this table, select Day and Total Sales columns from the PivotTable Fields.
6 As a result,a pivot table will emerge with the column headers you have selected.
WPS Excel Sheets - The Best Free Tool To Make Year-End Reports
Are you searching for a free software like Excel to make reports and manage data? Welcome to WPS sheets. Get to know about the 5 unique features in WPS Spreadsheet enabling you to work more easily and efficiently.
File Collect in WPS Spreadsheet; you can create a file folder and send a sharing link to colleagues.
Remove Duplicates in WPS Spreadsheet; the function of Removing Duplicates, definitely a powerful assistant.
AutoFilter in WPS Spreadsheet; hide some data temporarily in order that it can be seen clearly. This function meets all your requirements.
Splitting Columns in WPS Spreadsheet; split the columns in a table to make the data display more intuitively.
Reading Layout in WPS Spreadsheet; MS Excel doesn't support reading mode without plug-ins, while WPS Spreadsheet comes with this user-friendly feature.
WPS Office Spreadsheet could be a free alternative to Microsoft Office Excel to enjoy hundreds of built-in formulas, pivot tables, and more to create year-end excel reports. WPS Office also houses a built-in PDF editor, PDF Converters and compressor tool, Word writer and PPT editor. Having WPS Office on your PC does not require any other app to handle documents. Download the WPS Office app now.