Adobe vs Foxit vs WPS (2022 Pro Version)
Have you asked yourself which PDF reader is convenient for work when you are trying to edit any documents in your academic or professional stations? We have introduced lots of PDF readers and editing software. All software is not the same according to their opening and editing file formatting system. Some software has easy access to the reader for different features some are needed to be pro subscription.
PDF pro version can fulfill our regular duties and convert solutions. We may use different PDF Readers in our regular life and see some difficulties with their operating system. Sometimes we are faced with different troubleshot problems and sometimes obviously a budget problem is there. In this article, I am going to show you which PDF Reader Pro is best for us to choose and why we subscribe to this software.
About Adobe Acrobat Pro
Adobe acrobat is familiar with its PDF file opening and reading at any time. Next is the powerful Adobe Reader for Windows 10 which is approved with Adobe's advanced signature trademarks such as different reading modes, title text highlighting, adding different notes, filling forms, digital signatures, organizing PDF, adding stamps, etc. So if you are not satisfied with just reading and opening a PDF file and you want to explore more PDF operations, while desiring more additional capabilities, Adobe Acrobat Reader is the best option. It is starting from Priced at $14.99/month, it is also a useful PDF reader for all users for processing huge files that some lightweight apps cannot provide.
Related: Everything about Adobe Acrobat Latest Version
Pros:
Offers high-end features for signing PDF files
Can convert to every file format accurately and deliver with the highest quality
Can work collaboratively with different users at a time
Can support synchronizing on other Adobe software
Cons:
Adobe Acrobat Reader DC Requires an expensive price to access most features
Can not edit the format or update any text on the trial version.
About Foxit Pro
Foxit Reader is one of the best and the most well-known Adobe Reader alternative in the PDF software market. It also features those converted tools, which many PDF readers lacks. But Foxit reader is neither so normal nor so fast as other heavy PDF readers. But if you need to do more than just reading and opening the document then Foxit Reader Pro is a better choice than other PDFs for sure.
Using Foxit Reader pro you can collaborate PDF documents, also at the same time, you can avoid malicious links within PDF documents because of the Safe Reading Mode. Also, you get control over many programming languages using Foxit Reader. Unlike most PDF readers, Foxit Reader comes with a variety of downloadable add-ons, which make the user more trustworthy for this Reader. With a premium subscription starting from $14.99 per month, you can enjoy a variety of pro features, file support, add-ons, tools, and flexibility Foxit Reader is a complete package for ebook solutions.
Pros:
Free to download and use for professional and commercial purposes
Comes with a variety of PDF annotation tools
"Safe Reading Mode" for avoiding malicious links
Supports multiple add-ons which provide advanced features.
Cons:
Not the lightest alternative to Adobe Acrobat Reader according to size and editing requirements
Not as fast as WPS PDF
About WPS Office Premium
WPS Office (formerly Kingsoft Office) is another all-in-one office solution for all PDF users and professional Office editors. It's mostly an office app and deals with various documents, presentations, spreadsheets, and the like, but also comes with advanced PDF features. You can convert so many various documents to PDF and view PDF files natively. This is useful if you have a WPS Premium version with $3.99 per month to be in a more official format. It's not too heavy on PDF features, but not too lightweight. It is exactly the perfect office software that a user wants to get The subscription adds a few additional, useful features and removes ads.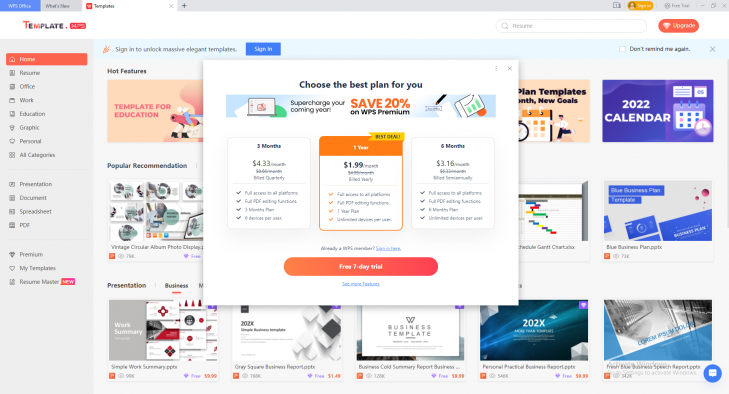 ADVANCED REASON TO BUY
Advanced tools available for all types of PDF operation
Excellent document innovate compatibility
Reliable form filling and signing advanced signature on PDF
Access scanned documents via a free app
Convert all scanned language to PDF
Differences Between WPS, Foxit, Adobe Acrobat DC Pro
WPS is a complete office suite whereas Adobe acrobat and Foxit readers are not. they are totally PDF readers and pdf tools
WPS offers you to achieve 100% project management success and compete with Microsoft Office.
Guide to Download WPS Office
WPS Office Suite is a well-known software for editing and converting any files at any time. Users can get its free version with a 7-day trial and enjoy a subscription offer. Premium users can get a discount offer right now from our WPS Office website. Come and get our premium features.
Free download WPS Office Software for Windows with 7-day free trial right now!