Combining the contents of two or more PDF files is easy, even if you don't have Adobe Acrobat. Many free apps are capable of merging PDF files together, including a Windows app called PDF Merger & Splitter, Mac Preview, and an online PDF merger called PDF Joiner. This tutorial will teach you quick and easy ways to merge several PDF files into a single document.
Steps to Combine PDF Pages
Step 1
Go to http://pdfjoiner.com/ in a web browser. PDF Joiner is a free online tool that allows you to merge multiple PDFs into a single file.
Step 2
Click UPLOAD FILES. It's a teal button in the middle of the page. Doing so will open a File Explorer window in Windows or a Finder window on Mac. Then click any sub folders the PDF may be saved to.
Step 3
Go to your PDFs' location. Click the folder in which your PDFs are stored on the left side of the window.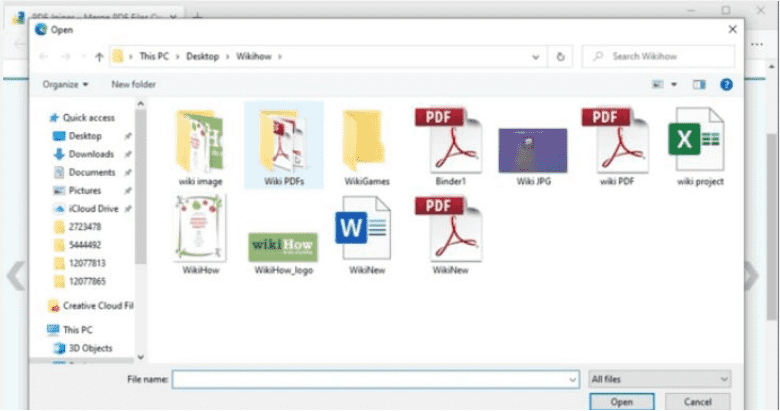 Step 4
Select PDF files. To select multiple files press and hold Ctrl on Windows or Command on Mac. Then click the PDF files that you want to combine.
You can combine up to 20 PDF files at once with PDF Joiner.
Step 5
Click Open. It's in the bottom-right corner of the window. Doing so will prompt your PDF files to begin uploading to PDF Joiner. You will see thumbnail images of all the PDFs you have uploaded in the center of the page.
Click the teal button that says Upload Files to upload additional PDFs.
Step 6
Wait for the files to finish uploading. This can take a few minutes depending on how many files you're uploading.
Step 7
Click and drag the PDFs to change the order. If the order you upload the PDFs is not the same order you want them to be merged, you can click and drag the PDF thumbnail images to the left and right to rearrange the order of the PDFs.
Step 8
Click JOIN FILES. Once the files are done uploading, this option will become available below the list of uploaded files. Clicking JOIN FILES prompts your combined PDF to download onto your computer as a single PDF.
By default, you can find your downloaded files in your Downloads folder
Conclusion
What if you only want to merge a few pages from a second PDF file? Open that files in another PDF window and drag the thumbnails that you want into your first PDF file. If you want better visual cues when merging PDFs, you need a commercial app that lets you see the combined PDF before you save it to disk and also displays thumbnail images so you can drag them up and down in a sidebar and rearrange the pages. You can use WPS Office PDF-editing software for best results.