Top 9 Harvard Resume Templates PDF Free Download
A stellar resume is the key to making an impactful first impression, and what better way to do this than using a Harvard-inspired resume template?

If you've been scratching your head, wondering where to unearth such a resource, breathe easy. We've rounded up the top 9 Harvard resume templates in PDF format, ready for free download and tailored to propel your job applications to new heights.
9 Free Practical Harvard Resume Templates
To access this resource, click on the template title. You will be redirected to a new page where you can initiate the download process with another click. It's as easy as one, two, three!
Type 1: Simple Resume
Template 1: Simple Resume for Nurse
When applying for a nursing position, having a neatly structured and professionally presented resume can significantly influence your chances of landing the job. The first template on our list is an ideal solution for all nurses - a simple, crisp, and attention-grabbing resume.
This template is designed to showcase your qualifications, skills, and experience cleanly and organised. The 'Simple Resume for Nurse' takes a minimalist approach, allowing your potential employer to navigate your credentials without frills. It is essential to remember that in the healthcare sector, precision and clarity trump ornate designs.
Template 2: SEAS Junior Year
Engineers are known for their precision, problem-solving skills, and ability to devise practical solutions. Their resume should reflect the same qualities. That's why we have the "SEAS Junior Year" template on our free practical Harvard resume templates list.
Specifically designed for students in their junior year of engineering studies, this template considers the unique aspects of an engineering career path. It is tailor-made to highlight your technical skills, relevant coursework, internships, and project experience.
The structured layout and focused format aim to spotlight your expertise, creating a strong impression on potential employers in the engineering field.
Template 3: Simple Resume for Minimalist
This Harvard Resume Template pdf is a testament to the power of simplicity and its impact in a cluttered world. It's about more than just being plain or basic but presenting your credentials clearly and uncomplicatedly.
This template focuses on clarity and readability, perfect for those who resonate with a minimalist aesthetic. It is designed to eliminate distractions, ensuring your prospective employer's attention remains solely on your qualifications, skills, and experiences.
The format of this template is such that it puts your accomplishments in the spotlight, making it easier for recruiters to pick up the critical aspects at a glance.
Template 4:2016 SEAS Senior Year
Education and teaching roles call for a specific set of skills and experience. Presenting these credentials in a comprehensive and attention-grabbing manner can be a challenge. That's where our fourth Harvard resume template pdf, the "2016 SEAS Senior Year," comes into play.
This template is suitable for teachers, for senior-year students or recent graduates in Science, Engineering, and Applied Sciences (SEAS).
The layout strategically emphasises your academic achievements, relevant projects, research work, and teaching experiences. It aims to accentuate your pedagogical skills and passion for educating future generations.
Template 5:Simple Resume for Experienced Doctors
Navigating the medical field demands expertise, precision, and experience. Your resume should be the same. That's why we present the fifth template in our free, practical Harvard resume templates - the "Simple Resume for Experienced Doctors."
Catered specifically to seasoned physicians, this template is structured to underscore the depth and breadth of your medical experience.
It showcases the crucial elements that potential employers in healthcare look for - your medical qualifications, areas of specialisation, internships, residencies, and tangible accomplishments in the field.
With its focused and clean layout, this template helps condense years of medical practice into a digestible format that highlights your most significant achievements. It allows for clearly presenting your skills, ensuring they stand out and do not get lost in a sea of text.
Type 2: Colorful Sample
Template 1: Green Business Resume for Accounting
This Harvard resume template pdf offers a unique blend of professionalism and visual interest, ensuring your application stands out.
Ideal for those in the financial sector, particularly accounting, this template employs strategic colour to draw the interviewer's eyes to your resume. The design isn't just about aesthetics; it's also about highlighting your financial acumen, accounting skills, and relevant experiences in a visually compelling manner.
This colour-coordinated template aids in organising your professional journey effectively. It allows you to lay out your qualifications, achievements, and experiences in a systematic manner, with the added benefit of a visually engaging layout.
Template 2: Resume for Translator
Interpreting languages is no small feat. It requires skill, cultural knowledge, and attention to detail. As we continue our journey through our colourful samples, we present our seventh Harvard resume template pdf, the "Resume for Translator" template, specifically designed for linguists par excellence.
Catering to translators, this template is laid out to showcase your linguistic prowess. It highlights your language skills, translation projects, proficiency levels, and relevant work experience. This format ensures that your competencies in bridging language barriers and facilitating communication are front and centre.
Template 3: Resume for Designer
Designed for creative minds, this template seeks to represent your unique aesthetic and design sensibilities in a professional format.
This layout offers the perfect canvas for your creative career. It enables you to highlight your design skills, showcase your portfolio, and outline your work experience in a compelling and eye-catching format. This format ensures your artistic talents shine through while maintaining a professional and clean presentation.
Template 4: Free Resume for Designer
Rounding out our collection of colourful samples and completing our selection of the top 9 Harvard resume templates, we present our final pick - the "Free Resume for Designer" template. Specially built for creative professionals, this layout helps emphasise the pivotal points of your career.
This template serves designers seeking to highlight the most crucial aspects of their professional journey. The layout showcases your design acumen, significant projects, career milestones, and unique skills.
Doing so ensures your most impressive achievements and experiences are noticed in the details but stand out effectively.
Tips: How to Edit and Save your PDF for Free? Step-By-Step Guide
Step 1: Open your WPS Writer document and click on the 'Menu' button at the top of the screen. From the dropdown menu, select 'Export to PDF.'
Step 2: For the Export Type, 'Common PDF' is the default option. However, you can opt for 'Image PDF' by subscribing to WPS Premium to protect your document from being altered or copied.
Step 3: If you need to tailor the conversion to specific needs, WPS offers more advanced settings. Click 'Advanced Settings' in the 'Export to PDF' dialogue. This will present a new dialogue where you can customize 'Content and Permission Settings.'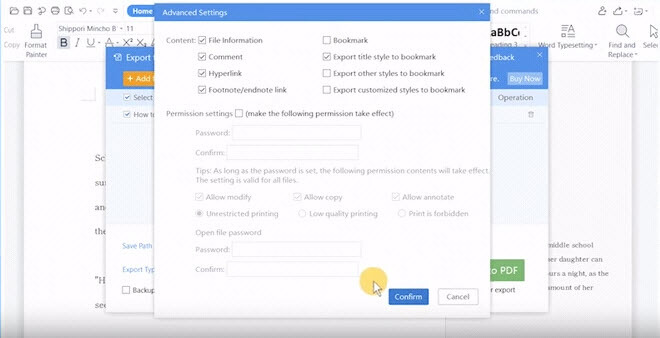 Step 4: For enhanced security, you can password-protect your PDF and set specific permissions, such as 'Allow modify,' 'Allow copy,' 'Allow annotate,' 'Unrestricted printing,' 'Low-quality printing,' and 'Print is forbidden.' To restrict the copying of your document, deselect 'Allow copy.' To copy any content from your PDF, the correct password will be needed.
How to Craft a Cover Letter? Step-By-Step Guide
Below are the 7 easy steps to write s stunning cover letter:
Step 1: Visual Consistency
Your cover letter must exude professionalism; one way to achieve that is through visual consistency. Keep the entire letter to a single page and maintain the same font style and size. Arial, Helvetica, and Calibri are great choices due to their readability, and an ideal font size would be between 10 and 12 points.
Also, ensure your document has one-inch margins on all sides for a clean, organised appearance.
Step 2: Personalize Your Greeting
Instead of a generic greeting like "Dear Sir/Madam," addressing the hiring manager by their name can help you stand out. If the job description needs to provide this information, consider researching the company's website or social media platforms.
Sometimes, a simple phone call to the company asking for the hiring manager's name could give your letter a personalised touch.
Step 3: The Opening Statement
The opening of your cover letter should clearly state the position you're applying for and where you came across the job listing. An effective opening statement might be: "I am writing to apply for the XYZ position advertised on [Job Board]."
Step 4: Highlight Relevant Skills and Achievements
Instead of repeating your resume verbatim, your cover letter should emphasise your skills and accomplishments that align with the role you're applying for.
For example, if you're applying for a sales position, highlight when you exceeded your sales targets at your previous job. It lets the employer see your experiences make you a good fit for the role.
Step 5: Display Your Writing Skills
Your cover letter is an avenue to list your credentials and a means for the hiring manager to assess your writing skills. As such, ensure your letter is free of grammatical errors and displays high coherence and logical flow.
Step 6: Express Your Enthusiasm
Your closing paragraph should reaffirm your interest in the position and thank the hiring manager for considering your application. A potential closing could be: "I am very excited about the opportunity to contribute to [Company Name] and am eager to bring my [specific skills] to your team."
Step 7: Professional Closure
Since most cover letters are sent electronically, you can type your name at the end of the letter. However, if you're mailing or hand-delivering your application, leave a space to sign above your typed name for a more personal touch.
Step 8: Don't Forget to Proofread
Finally, remember to proofread your cover letter several times before sending it. A cover letter free of typos and grammatical errors will demonstrate your attention to detail and professionalism.
This comprehensive guide should help you create an engaging and effective cover letter that showcases your skills and passion and sets you apart from the competition.
Methods to Successful Resume
Here are some methods to create a standout resume, incorporating insights from various resources.
1. Personalize Your Resume
Customizing your resume for each job application is crucial to maximize your chances of standing out. Incorporate keywords directly from the job posting and align them with your skills and experiences.
Similarly, different industries may require different resume styles. Therefore, reviewing industry-specific examples can offer a valuable perspective.
A recent graduate might have limited professional experience, but showcasing relevant academic projects, internships, or volunteer work can demonstrate your potential.
2. Choose the Right Format and Language
The formatting of your resume should be chosen based on your unique situation. For example, a resume in reverse chronological order might suit someone with a clear career trajectory. At the same time, a functional or skills-based format could benefit those with gaps in their employment or those changing careers.
Regardless of the format, using a professional font, managing white space effectively, and maintaining readability is essential.
Additionally, use active language and highlight your achievements rather than listing job duties. It can help demonstrate your impact and effectiveness in your previous roles.
3. Tailor Content to Highlight Relevant Information
Each section of your resume should be designed to highlight information relevant to the job. Include a compelling summary statement to immediately grab the reader's attention.
In the work experience section, include volunteer work or other experiences that align with the job requirements.
The education section, while typically straightforward, can be used to highlight relevant coursework or projects.
Include a section for your skills and interests, as they might help present you as a well-rounded candidate.
4. Review and Revise
Remember that a resume is a living document, continually needing updates and revisions as you gain more experience and skills. Proofreading and seeking feedback from mentors, peers, or professional services can be instrumental in catching any errors and improving the overall quality of your resume.
FAQs
Q1: What Is the Difference Between Harvard and APA Styles?
In citations, Harvard uses a comma between the author and date, allows "et al." for more than three authors, and requires less detail. APA uses an ampersand for two authors, "et al." for more than two, and includes DOIs and specific details.
Q2: How Far Back Should a Resume Go?
Typically, a resume should go back 10-15 years. This timeframe can show your career progression and relevance to the job you're applying for.
Q3: Is It Better to Send the Resume as a PDF or Word?
It's better to send a resume as a PDF. This format ensures the formatting stays the same regardless of the device or software used to open it.
Summary
In the highly competitive job market, standing out is very much important. These nine Harvard Resume templates provide a solid foundation to build a professional and captivating resume. They allow you to highlight your skills and achievements, ensuring that your application captures the attention of potential employers.
We recommend WPS as an exceptional tool for editing and converting any document to PDF for free. Its intuitive interface and robust features will ensure your resume looks polished and professional, enhancing your chances of making a great first impression.