3 Best Free PDF OCR Online Tools
An online OCR allows you to easily convert a scanned PDF document or image into a text document. Such a tool recognizes any text on pictures of hardcopy documents taken by a digital camera or those which have been scanned. Free pdf OCR online tools can help you accomplish such tasks without you paying anything. Here is n overview of what pdf OCRs are and which ones you should choose among the many that exists on the internet.
How OCR works
Optical Character Recognition(OCR) otherwise simply known as text recognition is a tool that comprises both hardware and software to be able to recognize text in scanned images and documents. the hardware part is a scanner while the software incorporates several lines of code including the artificial intelligence(AI) feature. The scanner comes in first by processing the initial hardcopy document. Then the software can recognize the text based on different features.
Why do you need a pdf OCR?
A PDF OCR is an essential pdf tool to have. That is why there are many free pdf OCR online services. Major advantages of having an OCR include:
OCR saves a lot of time when used appropriately. One does not need to type all the information contained in the hardcopy document.
Typing apart from wasting time also increases the chances of incorporating errors in your document. Scanning the document and converting it into a PDF using an OCR tool will help minimize the errors.
More options for the scanned document
With a scanned document that is converted into a pdf by an OCR tool, one has many options at hand compared to having the physical document. For instance, one can compress the file, highlight the document or share it with many people all at once. Having an all-in-one pdf tool like WPS office will greatly enhance how well you utilize the scanned pdf.
Top 3 Online Pdf OCRs
1)WPS Pdf OCR
OCR is one of the many pdf tools available in the WPS office. It is an easy-to-use feature and is available for free.
How to use the WPS pdf OCR feature
Step1: identify the OCR feature in tools many and click on it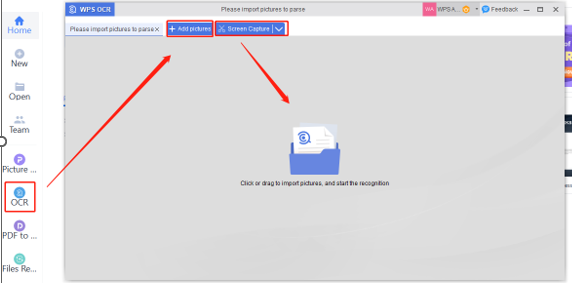 Step2: drag and add a picture in the empty window that appears
Step3: you will have 3 options, extracting text only, converting to word, or converting to Excel.
Step4: the extracted text can then be converted to PDF. save your file with a new name.
Why choose WPS pdf OCR?
The WPS pdf OCR is the best tool available for you to use in scanned documents and images. it is fast, secure, and supported on any device and operating system. It is convenient to use because you can access it anywhere and anytime. Also, you have a lot of other PDF tools which you can use to manipulate the resultant pdf. Many free pdf or online tools offers just one or two of these benefits.
2)NewOCR
Another best free pdf our online tool is this one. One can upload and convert as many documents as possible without being limited. It supports most of the image formats available as well as other document formats.
How to use NewOCR
Step1: visit the home page of NewOcr and click on 'Choose File
Step2:choose a recognition language and adjust the image as needed
Step3: once the recognized text is displayed, download it in the format desired, either as text, pdf, or word document.
Why you should choose NewOCR
It offers you a wide range of languages to recognize and is also secure because it deletes your uploaded document within an hour. This makes it among the best free pdf OCR online tools to use.
3)i2OCR
like the NewOCR and WPS PDF OCR, this is a tool to help convert your scanned document to pdf or word document. It works similarly to NewOCR with as many recognition languages as well. However, it is way faster and gives results in seconds compared to NewOCR.
In as much as there are many free pdf OCR online tools and services, the WPS PDF OCR remains a pacesetter and one of the best OCR tools to use. You can download it from the WPS PDF website here https://pdf.wps.com.